These kind of films are tricky. This one in particular, and even more so.
For one, you're looking at an animated institution. Tom and Jerry have been around for 80 years. Originally created as cinema shorts to amuse patrons before the main feature, these cartoons gained a second life when they became a TV staple during the latter half of the 20th Century.
How do you make something like that relevant to a modern audience?
We need your consent to load this YouTube contentWe use YouTube to manage extra content that can set cookies on your device and collect data about your activity. Please review their details and accept them to load the content.Manage Preferences
Secondly, you're looking at turning a ten-minute short into a full-blown feature film. Considering the amount of successful TV shows that had turgid results when stretched to 90 minutes plus in the cinema, well the pitfalls are pretty obvious.
It's the second theatrical film based on the characters following 1992's Tom and Jerry: The Movie and, in fairness to director Tim Story, there's an undoubted reverence towards the film's source material, even down to the fact that that legendary voice actor Mel Blanc plays a posthumous part in the proceedings.
The story, as ever, is a pretty straightforward tale of cat chases mouse. Jerry moves into New York City's finest hotel on the eve of their hosting a major wedding, forcing the event's desperate planner, the unqualified Kayla (Chloë Grace Moretz), to hire Tom to get rid of him.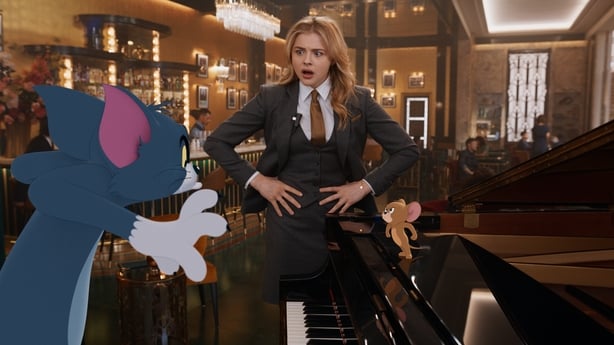 It's all very Roger Rabbit in this mix of live and animated action, and the only genuine complaint I'd have is that there isn't enough Tom and Jerry.
Basically, this is Chloë Grace Moretz's film, though she's ably assisted by the real life likes of Michael Peña (as the scheming event manager of the Royal Gate Hotel) and Rob Delaney, who plays hotel manager Henry Dubros.
For the more mature fans of the cartoon, it offers an opportunity to introduce younger generations to Tom and Jerry. It'll certainly pass an afternoon and offers an enjoyable family experience, and if it encourages today's kids to seek out the classic cartoons, it's job done.
John Byrne
Tom & Jerry The Movie will be available to rent at home from March 25