Some time in the future, someone's going to ask you: "Well, what did you get up to during the pandemic?" All Zendaya, John David Washington and Sam Levinson will have to do is press play on Malcolm & Marie.
And the story behind this film has guaranteed it a special place in cinema history, as the first Hollywood feature to be entirely written, financed, and produced during these COVID times, with filming taking place in June and July 2020.
At the time, Levinson and Zendaya were both involved in the HBO show Euphoria, which had stopped production due to the pandemic. One thing led to another, and here we are.
We need your consent to load this YouTube contentWe use YouTube to manage extra content that can set cookies on your device and collect data about your activity. Please review their details and accept them to load the content.Manage Preferences
Shot in black and white and set in and around a (rather splendid) house in Carmel, California, it revolves around a rowing couple back home after a night out.
John David Washington and Zendaya (who both also produced the film) play the eponymous Malcolm and Marie, a movie director and his girlfriend, whose relationship gets tested on the night of his latest film's premiere.
Levinson got the idea from his own experience, when he neglected to thank his wife, Ashley Levinson, at the premiere of his film, Assassination Nation.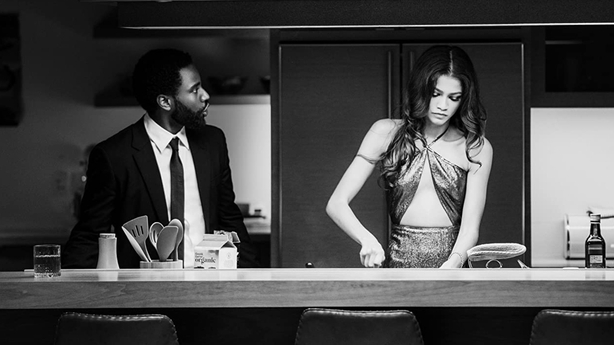 Similarly, Malcolm didn't thank Marie during his speech at his premiere, resulting in a stormy night back at their home. Anyone who's ever been in a serious relationship will get the drift - though it being a movie couple, the drama levels start at 11.
There's no point revealing what's said between the pair, because that's all part of the film's success as a two-hander. At times it's like a Tennessee Williams play. There's a lot of shouting.
John David Washington, in particular, gets to rant and rave quite a lot. In yet another impressive performance from her, Zendaya is superb as Marie, a woman with a troubled past that apparently haunts her present.
It's a powerful study of a relationship that swings one way, then another, with some great writing from Levinson.
But his home life must be nuts.