Well, this was quite a surprise.
I have to admit that when I read the outline of this film, I thought this could be a long couple of hours. After all, an archaeological dig is rather time-consuming, and not the sort of thing that's noted for drama.
In truth, the dig of the film title plays as almost a backdrop to the far more fascinating dig into the human condition. This is a hugely enjoyable, life-affirming film. Especially as it's based on real-life events.
Carey Mulligan and Ralph Fiennes battle it out for best in cast as the two leads. She plays Edith Pretty, a fifty-something widow who lives on a large estate in Suffolk.
We need your consent to load this YouTube contentWe use YouTube to manage extra content that can set cookies on your device and collect data about your activity. Please review their details and accept them to load the content.Manage Preferences
She reckons there could be a serious archaeological find on her land, and she engages local, self-taught archaeologist Basil Brown (Fiennes) to investigate earth mounds on her property.
Brown is pretty convinced that the site is of Anglo-Saxon construction, which would make it one of the most significant discoveries in British archaeological history.
Fiennes plays Brown like a philosophical version of Ted from The Fast Show, and quickly develops a platonic relationship with Pretty, who is clearly still wounded deeply by the loss of her husband.
Like any tale of English people that pre-dates World War II and involves a lot of tweed clothing, it's often about what's left unsaid. There's so much restraint on show here it's quite touching.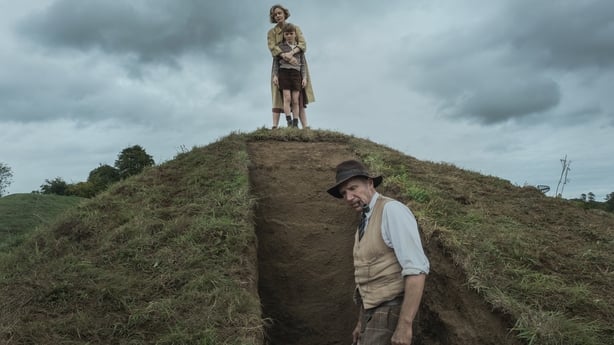 When Brown's dig uncovers a genuine treasure chest of great historical significance, the British Museum, represented with typical snobbish arrogance by Charles Phillips (Ken Stott), comes along to put a claim on the dig.
Brown's work is initially belittled - after all, he clearly didn't attend Eton - but Pretty makes sure he remains an integral part of the venture.
There's a superfluous romantic sub-plot involving characters played by Lily James and Johnny Flynn, made all the more annoying by the fact that their characters are fictional add-ons to the story.
But, other than that, it's simply impossible to find a fault with this charming, intelligent tale of time, loss and yearning.