Back with her third feature film after a nine-year break from directing, Miranda July's beautifully off-kilter and fantastically ambitious offering doesn't always make cents but it won't lose your interest.
They say you can't choose your family and no one wears the t-shirt of that saying better than Old Dolio (an unrecognisable Evan Rachel Wood). Her con artist parents (Debra Winger and Richard Jenkins) have spent 26 years coaching their only child (named from the victim of a dud lottery scam) to rip off, scam and engage in petty theft at every chance.
We need your consent to load this YouTube contentWe use YouTube to manage extra content that can set cookies on your device and collect data about your activity. Please review their details and accept them to load the content.Manage Preferences
Imbued with a deep distrust of the world and longing for a meaningful connection with her low-grade scheming folks, Old Dol is left questioning her swindling parents when a stranger (a scene-stealing Gina Rodriguez) gets coaxed into her family's bargain basement scams.
The Dynes clan may lack charm but Jenkins and Winger skilfully play Robert and Theresa as conflicted characters who have made a choice and are living with the consequences without morphing into caricatures.
The success of this wildly original and edgy melodrama hinges upon Wood's raw performance as an emotionally damaged woman who is yearning to be loved, and July relishes in giving her character a sense of belonging.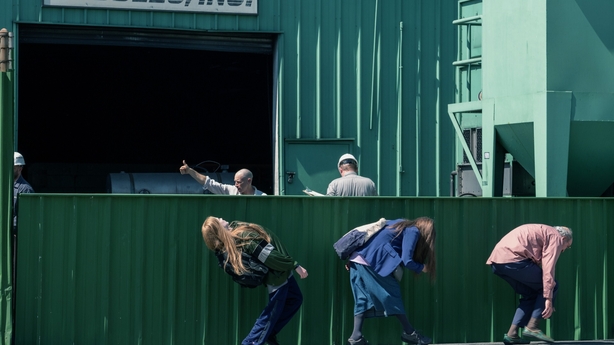 Like her previous two outings - Me and You and Everyone We Know (1998) and The Future (2011), the divinely weird outing is right on the money and revels in its own kookiness.
Beneath all the idiosyncrasies and unabashed absurd nature of the whole affair, Kajillionaire is bursting with symbolism about the construct of unrealistic family relationships and our struggle to carve out our own identities.
Cinematographer Sebastian Winterø invites us into July's wonderfully oddball worldview and creates layers of meaning in every shot, while Sam Lisenco's production design seals the world completely into itself.
Kajillionaire is a poetically rich gem that will alienate some viewers, while proving its worth to others.
Laura Delaney