Bleak and intense, Nocturnal is mildly creepy but curiously credible, upending the lazy cliche viz a viz irresponsible fathers who, it is believed, scarper and forget.
Casual relationships can result in fall-out down the way that must be reckoned with. What might seem harmless enough at the time, born of physical need or loneliness, may exact a price in years to come. That in essence is not so much the matter of Nocturnal rather than the collateral working out of passion's after-effect, years down the line. Nocturnal is not a didactic film by any means, but it looks at what can easily happen and follow through on the consequences in what is a stark but curiously expansive moral tale.
Peter (Cosmo Jarvis) is the 33-year old painter and decorator in the unnamed coastal Yorkshire town, a man who speaks with a broad, almost indecipherable patois (to these ears anyway). He has a kind of closed speech, a verbal locked-in syndrome, with a particular fondness for the usages "bang in" and "hang on."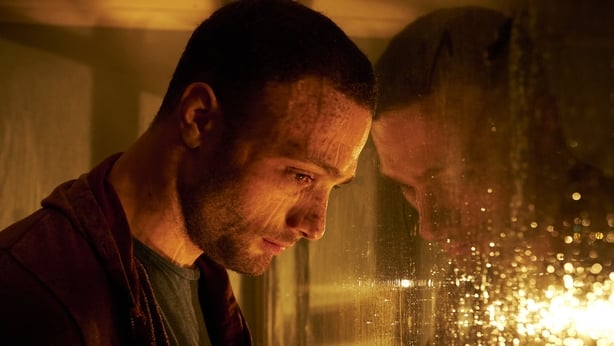 Then there are his constant roll-ups, and the lighting and relighting of the twig-thin cigarettes is a visual language that appears to point at hidden turmoil, angst. Peter is not very articulate, he is hiding something that is consuming him, the roll-ups do the talking. Plus his relationship with his girlfriend Jade (Amber Jean Rowan) is not going too well, they have their differences.
Early on he develops a fascination with the athletic seventeen-year old, Laurie, brilliantly played by Irish actress Lauren Coe. She lives with her mother Jean (Sadie Frost ) who is uneasy with her daughter's brooding secrecy, her going out at night and disclosing little. 
Peter appears to stalk her at the running track and Laurie first speaks to him through the wire fence. She is alert to the fact that she is being watched and puts him down as some kind of Peter Sutcliffe type, a Yorkshire Ripper who, she taunts him, might just as likely kill her and dump her body "in some estuary."
But curiously – and one has to suspend some disbelief here – she eventually falls for his fatal attraction. Despite her misgivings she is soon a front seat passenger in his car on a night-time expedition to a nearby town.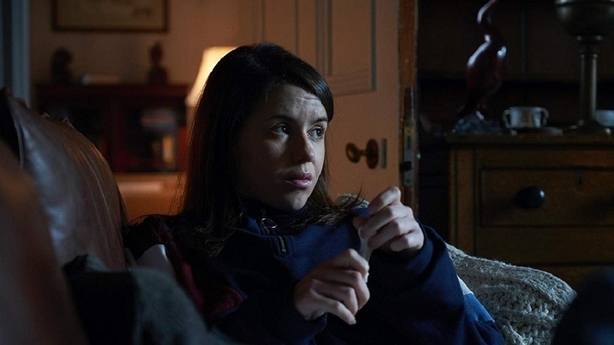 She cannot help but be fascinated, something is drawing her to him, it's a break perhaps from spending every evening with her mother, who, she says, is 'old and stressed.' Mum, ahem, who despite her so-called old-ness is hardly meant to be more than 50  and she is missing a boyfriend who fled the scene just when her own mother, Laurie's grandmother, died in Dublin. Mother and daughter recently relocated back to this town, mother seems frustrated that she has moved back, as though it were a retrograde step. There is a sense of shiftlessness as they both try to settle into the old family home.
Laurie is anxious, there is one brief, resonant scene where she looks at her mother, studying her, trying to read her discontent, too aware of her own. That look that she covertly casts, how she delivers that expression of disquiet is a measure of great promise for this young Irish actress Lauren Coe.
Strange as it may seem, Laurie and Peter hook up, share desultory intimacies, have fun at an amusement arcade and get drunk together in the nightclub to which he drives her. She tells him about her father, whom she says, she never knew. "He was just a random man, he didn't want to have anything to do with me. He was just some loser knocked up my mam and ran."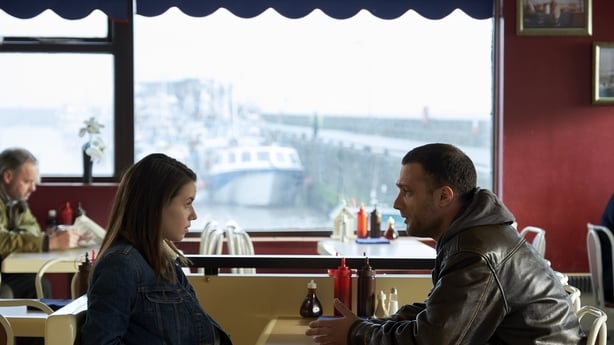 Despite the kitchen sink bleakness, there is a certain rapture in these scenes, and a panning night-time shot of what looks like a nuclear power station is indeed memorable. There is a well-appointed scene where the unlikely pair talk inside his car in the middle of a car wash, with that sense of disorienting movement as the peach-coloured brushes move along the car. The intimacy is enhanced by the confined situation and the gushing of water. That sense of movement is misleading, they aren't going anywhere for the present, they are stuck in something complex that they will not extricate themselves easily from.
Thus it goes, a slice of sordid, regretful life, a challenging situation, but one that is not without its tenderness, and a wistful sense of what might have been, evoked with great intuition and incisiveness by both leads. The film was premiered at the London Film Festival last October and at the Galway Film Fleadh in recent times.
Based on a story by Olivia Waring, who co-wrote the screenplay with director Nathalie Biancheri, Nocturnal is a compelling debut and augurs well for future work, as indeed it augurs well for both lead actors. Ken Loach should put them both in his next one.
We need your consent to load this YouTube contentWe use YouTube to manage extra content that can set cookies on your device and collect data about your activity. Please review their details and accept them to load the content.Manage Preferences
Nocturnal will be released by Wildcard Distribution in Irish and UK cinemas as well as across VOD platforms on September 18.