350 years after his death, the paintings of Rembrandt Harmenszoon van Rijn (1606-1669) are changing hands for vast sums, but your reviewer would have preferred a less consciously sensational film concentrating on the Dutch master and his art. But then you might shrink your potential viewers by half, I know, I know.
Yes, it's good to know about high art and the cloying preciousness of its owners and how it is moved around the world, a commodity like oil. Sure, it's interesting to see internecine, backroom tensions and international rivalry at play. In this new film made with an eye on a mass audience, national pride is at stake - Rembrandt, after all, was Dutch - and the Rijksmuseum in Amsterdam is desperate to secure two Rembrandts that have come on the market.
The French, in the shape of the Louvre, have put €80 million on the table in their bid to acquire the paintings, property of the Rothschild brothers, who are selling them because they are having to expensive 'gift taxes,' as the genial Baron Éric de Rothschild, a French banker and philanthropist explains. The asking price for both paintings is €160 million, the works have been in France for years, you can see why the Netherlands would want to have them back.
In the event, the Netherlands and France end up joining forces in a joint cross-national purchase which looks friendly when the ministers of culture from both countries preside with smiles and bonhomie at the formal announcement. Behind the scenes, however, there is real disappointment in Amsterdam that they didn't manage to buy two Rembrandt paintings.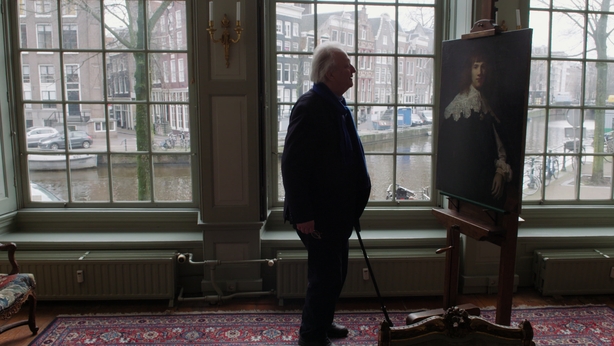 Oeke Hoogendijk, the film's director, has indeed made a bit of a 'thriller' about art, as the publicity dubs it, fair enough, she has. But I'm rather with specialist researcher, Professor Ernst Van de Wetering, the renowned octogenarian, who claims to have no interest in the vast sums involved when Rembrandts change hands. It's the art that matters to him, the paintings should be for us all, he says without further elaboration. (He is, mind you, prepared to go on an oddly vulgar Dutch TV gabfest to defend himself when what is really quite a minor debacle breaks out towards the close of the film.)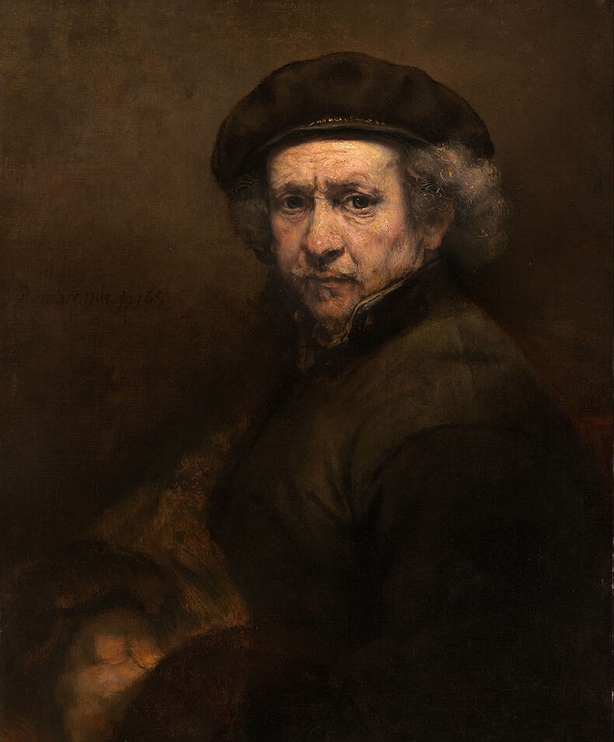 There was once an overproduction of Rembrandts that were not Rembrandts, explains the professor, and he says that pupils learned by imitation. Comparing pictures, he has counted threads of canvas to see if canvases actually came from the same roll. He marvels at how Rembrandt got the texture of a starched linen collar on the young man in the portrait whose provenance he is trying to discover. He tries himself to paint the picture, copying in oils, in efforts to try and understand the method.
The art expert knows that the busy subject of this one particular painting had set aside one day only to have himself painted which makes the artist's detailed, vivid work all the more remarkable. His own efforts at painting the young man's collar end in a kind of voluminous froth of which he is not proud. "Thank God Rembrandt can't see this," he says, as though the artist were alive and ready to judge his work.
We need your consent to load this YouTube contentWe use YouTube to manage extra content that can set cookies on your device and collect data about your activity. Please review their details and accept them to load the content.Manage Preferences
We also meet Richard Scott, the tenth Duke of Buccleuch at Drumlanrig Castle in Scotland ogling his beloved Old Lady Reading, which was painted in 1655. The Duke is the wealthiest landowner in the UK with 240,000 acres to his name and 80,000 of those surrounding Drumlanrig. When we first meet its owner, Old Lady Reading is hanging high on the wall, on a higher floor of the house than where it used to hang, because of the theft here of a Da Vinci years ago. That theft left the present duke's father so shaken he had to take the unusual security measure, although it is hard to see how new positioning could make much difference to skilled art thieves.
Intimacy has been lost in the position in which Old Lady Reading hangs, its 'monumentality' - a visiting art expert's neat usage - is too much. The young man has come to the castle to arrange a new position for the painting, one where it can be seen with greater comfort. "How does he do it?," asks the Duke, his eyes misting over. "We feel it from our utmost subconscious," he says attempting to articulate how the painting works, that tactile 'thereness' of the woman's rapt expression. You could almost imagine her looking up from her reading, he says.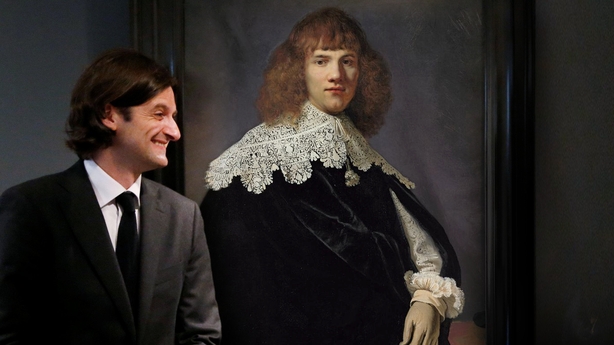 The aforementioned professor Ernst Van de Wetering is summoned by young Jan Six to judge the authenticity of another painting, Portrait of a Young Gentleman. Is it a Rembrandt or not? Young Jan was leafing through catalogues at a Christies auction and came across the painting out of the blue. Why are they calling it 'Circle of Rembrandt' in the catalogue, he asked himself - this was too much like the genuine article, not the work of one of the artist's many students. Jan junior paid a mere £120,000 for the unsigned work and he is so excited that he wonders will there somehow be a lawsuit from Christies imminently.
"An art dealer is only as good as his last painting," he says. "It's the only thing that counts - with that painting, your latest purchase, you can lose everything else." As it happens, the discovery of a new Rembrandt does land him in hot water with a fellow dealer, part of the drama the film whips up with a certain forced air towards the close.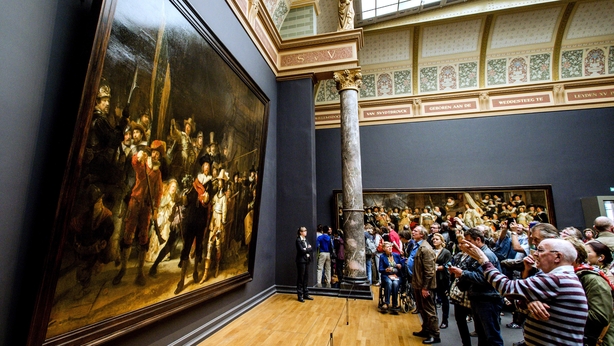 He figures that people thought Jan Six had it easy when when he was growing up, says this charming but ambitious young man. As a consequence, he felt he had to work five times harder than everyone else. "I used my eyes, my brain and I succeeded, " he says referring to the eponymous Portrait of a Young Gentleman, his first book, launched in the course of the film. The book is the story of the discovery of the painting and its eventual authentication. His father Jan Six the elder, as we can call him, is delighted that his son has a book out, it's something rare in the family.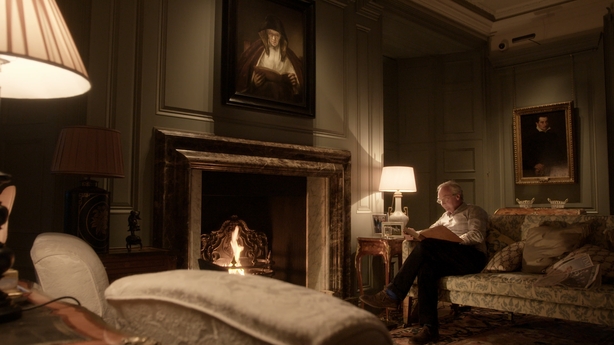 The family is certainly interesting, and we see a family photo of the four Jan Six(s), the first being the one in the frame, who was painted by Rembrandt. Beneath him stands young Jan as a teenager, posing with his father and grandfather, also named Jan. "It's not about Rembrandt, it's about the first Jan Six, here in this household," says Jan père, making a nice distinction, as he proudly shows us the painting of his illustrious ancestor.
Early in the film we also saw young Jan thrilled that he had found a picture which appears to feature the face of a young Rembrandt. It looked like the face had been over-painted on the actual painting in question. Jan compares mystifying works such as this one to crime scenes, there are clues you have to look out for and so on.
An art restorer duly sets to work trying to solve the mystery of Rembrandt's possibly over-painted face. "It's some decision to start scraping but it seems justified, " he says, the subtitles translating from the Dutch, the film's predominant language. He applies a blade to the ancient pigment. "it's uncomfortable ..." he muses .. . restoring old paint." He estimates the task will take him about four years. We got no update on that, he may well still be scraping the layers of old paint to try and solve the mystery.
My Rembrandt is on demand from August 14. Visit Dogwoof for further information