The Mystery Inc. gang and their beloved talking Great Dane are given the CGI treatment in a reboot of Hanna-Barbera's classic cartoon that's more ruff than fetch.
Now a group of 'meddling millennials', the famous five inhabitants of the flower-powered Mystery Machine - Fred (Zac Efron), Daphne (Amanda Seyfried), Velma (Gina Rodriguez), Shaggy (Will Forte) and Scooby (Frank Welker, the original Fred) - face their biggest threat yet...a barking mad script.
When Dick Dastardly (Jason Isaacs) sends shape-shifting killer robots after Shaggy and Scooby, a global chase ensues, leaving the gang, along with the vapid superhero Blue Falcon (Mark Wahlberg), his pilot Dee Dee (Kiersey Clemons) and robo-dog Dynomutt (Ken Jeong) to save the day, making the 94-minute outing far more complex than it needed to be.
Director Tony Cervone and his team of writers - Matt Lieberman, Adam Sztykiel, Jack Donaldson, and Derek Elliott - intertwine elements from the past series into a present-day story with on-trend gags about Harry Potter, Netflix, podcasts, Tinder, Simon Cowell, Chris and Liam Hemsworth and Gérard Depardieu, all while making for a scrappy distraction (sorry, not sorry) from the bogged-down script.
Scoob! lacks the iconic supernatural mystery and detective hijinks from the much-loved cartoon. The overly busy sub-stories of both Shaggy's jealousy and the importance of friendship, along with overwrought superhero action, lose the charm of the treasured franchise.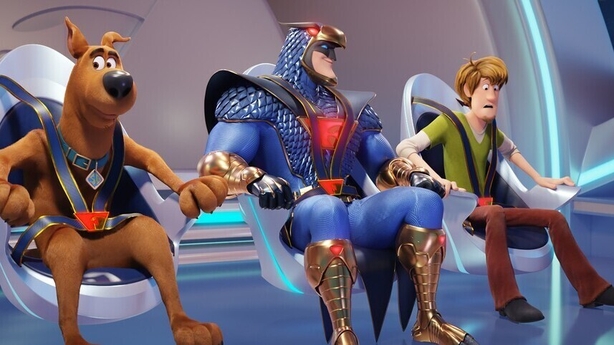 Your little pups will think the crisp and vibrant animation, breakneck mayhem and zany slapstick are pawsome, but longtime fans will be left shouting - "Scooby Dooby Doo, where are you?!"
We need your consent to load this YouTube contentWe use YouTube to manage extra content that can set cookies on your device and collect data about your activity. Please review their details and accept them to load the content.Manage Preferences