Now this is how you do an Irish accent.
In what could be the breakout performance of the year as ungentle giant Douglas 'Arm' Armstrong, British musician-turned-actor Cosmo Jarvis has delivered the best blow-in brogue since Kate Hudson in About Adam.
A former boxer, Arm is now the muscle for the overlords of a town where the Garda station is closed down. "Most people here try to stay on the right side of the Devers family," he says. "I'm what you meet on the wrong side."
The fog of doom swirls around Arm from the moment he appears - a man-child who seems to have given up on getting out of the life he's made, though not on the hope of reconciling with Ursula (Niamh Algar), the mother of his five-year-old son Jack (Kiljan Moroney). But if things go wrong, can Arm really protect them?
This gritty western (it was filmed in Galway and Clare) sees Barry Keoghan forming the last side of a bizarre love triangle and channelling Elisha Cook Jr as underboss Dympna - Arm's friend who, you fear, would sell him out if things became too sticky.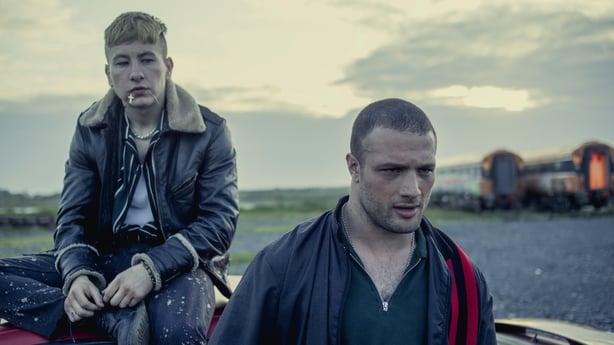 And so the stage is set to see who will ultimately win the battle for Arm's soul.
First-time director Nick Rowland proves more than capable of turning the screw in this adaptation of Colin Barrett's short story from his Young Skins collection. Although there's a road out of this town it also feels that suffocation - mental or physical - will ensure there's no escape.
With Jarvis a powerhouse in every scene, there's superb support from Algar and Keoghan as the opposing forces in his life. Indeed, all the performances are excellent, but more should have been made of Ned Dennehy and David Wilmot as the brothers pulling all the strings - and Rowland could've ditched some trite Tarantinoesque dialogue to facilitate this.
The expectations for the showdown grow by the minute here; when it arrives it's something of a disappointment and doesn't justify the set-up that preceded it. Still, from scenery to screen presence there is much to admire. Jarvis is always welcome 'round these parts.
We need your consent to load this YouTube contentWe use YouTube to manage extra content that can set cookies on your device and collect data about your activity. Please review their details and accept them to load the content.Manage Preferences