This thought-provoking remake of Ruben Östlund's 2014 Swedish-language film Force Majeure deftly juggles dark passages with oddly comic counterbalance.
It's an interesting one, this clever, dark exercise, which for this reviewer, is certainly the equal of its Swedish forerunner. In the original movie, a father and husband in fight-or-flight mode opts for flight as a so-called 'controlled' avalanche over-spills onto an Alpine ski resort. He runs or walks quickly away from the incident.
The same drama is enacted in the remake, with the mother Billie played by Julia Louis-Dreyfus and Will Ferrell as the father Pete. Wife and children remain seated at the outside restaurant table, frozen in fear, until the snow settles and dad returns, phone still in his hand. No one is physically harmed but the man's rapid egress from the table causes a serious family fissure.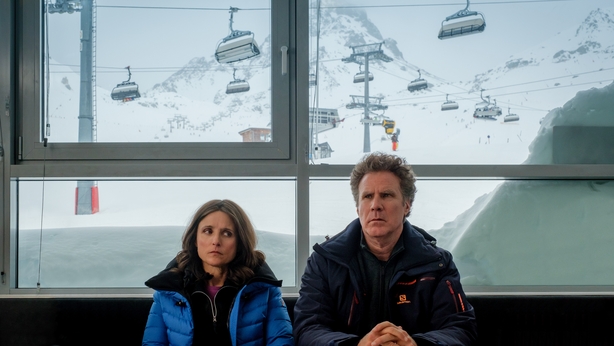 Viewers must decide whether the father's action was unthinking or calculated. How much time do you have to think when an avalanche comes storming down the mountain? What is the state of one's ability to make the so-called 'right' decision? Who is remembering the dreadful event with the most accuracy, wife or husband? Was the man really a coward for leaving the table? Moreover, are both parties entitled to their own individual versions of the avalanche incident? Is the father choosing a version which will protect his honour?
After all, the father's traditional protector of-the-family role is now in question. What is clear is that his wife recalls the incident with a profound feeling of anger, hurt and emotional confusion. Hurt and anger, not just at what happened, but at the husband's refusal to admit, as she sees it, that he was unequivocally in the wrong to not own up to fleeing thoughtlessly. Such are the questions that surface in what is to large degree, the skiing holiday from hell. 
Factor in also two young sons who are, eh, blowing hot and cold about whether they actually enjoy long days out on the slopes anyway. Then there is Pete's buddy from work, Zach (Zach Woods), who visits with his girlfriend Rosie (Zoë Chao). They too get embroiled in the imbroglio, so to speak.
We need your consent to load this YouTube contentWe use YouTube to manage extra content that can set cookies on your device and collect data about your activity. Please review their details and accept them to load the content.Manage Preferences
All of the above debate and marital tension, played out with exquisite style in Force Majeure, is transferred as philosophical freight into Downhill. Directors Faxon and Rash wrote the smart screenplay along with one Jesse Armstrong and it is equally provocative, nervy and unpredictable.
There are elements too that make Downhill a quite different film from Force Majeure. The remake introduces lighter elements like the hotel receptionist Charlotte (Miranda Otto) who is sexually voracious, in her own mind at least. There's a buddy movie sequence for good measure, with the aforementioned Zach.
Thus the story ducks and dives between laughs and tears, between light and shade. It pulls the rug wonderfully  - you feel it's going to be pure comedy all the way as the family sign into the hotel at the start of the tale.
Will Ferrell and Julia Louis-Dreyfus  - the Veep actress is also a producer of the film - are top notch in their mom and dad roles. Downhill is an immensely satisfying cinema experience and a sequel - there certainly is scope for one - would be a most desirable thing.
Paddy Kehoe