Terry Gilliam's long-plagued dream project finally hits the big screen after a 25-year wait, but his ambitious tale feels like it's past its sell by date.
As chronicled in 2002's captivating documentary Lost in La Mancha, the Monty Python member's project was mired in countless issues from the get-go - natural disasters, lawsuits, insurance setbacks, location issues, a cast injury (Jean Rochefort), financial hang-ups, recasts and false starts - all hindered the project over the last three decades.
In a role once meant to star the late and great Robin Williams, Johnny Depp and Ewan McGregor among others, Adam Driver stars as Toby, a big-shot but artistically unfulfilled Hollywood TV commercial director, who longs for the resurgence of his film making heyday.
When he comes across a bootleg copy of his award-winning black-and-white student film about the 'ingenious gentleman' Don Quixote, he hunts down his former cast: his Sancho Panza died from booze, his bewitching leading lady Angelica (Joana Ribeiro) has scarpered to Madrid, and his charming Javier, a deluded elderly cobbler (Jonathan Pryce), is still convinced he's the errant knight.
What follows is a hallucinatory and frustratingly disjointed journey through the Spanish countryside as Toby is forced to reluctantly play his part as a trusted squire to the wannabe chivalrous 'Knight of the Woeful Countenance'.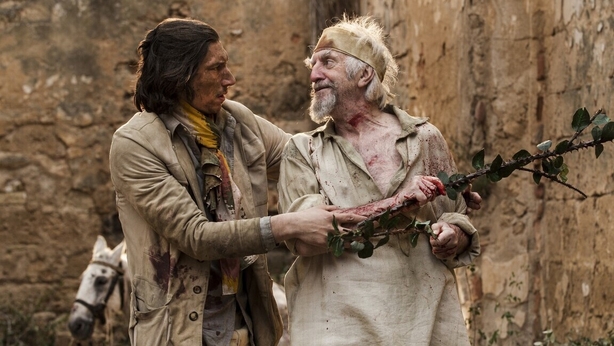 Gilliam and co-writer Tony Grisoni's contemporary take on Miguel de Cervantes' novel, aims to be a daring mockery about our global political climate and the drawbacks of success, particularly when it comes to artistic expression, but that thread gets unraveled by its own sense of self-importance.
Don Quixote has all the markings of Gilliam's typical whimsically chaotic and absurdist flair. His opulent visuals (windmills that become giants) and fascination with society's outsiders are commendable as ever, but the unwavering tone between dreams and reality is nauseatingly blurred.
The shifts from fact to fantasy are jarring and rambling, leaving the viewer to stumble along behind the narrative.
Aided by Nicola Pecorini's digital cinematography and Benjamin Fernandez' production design, Gilliam tries his best to faithfully stick to the spirit of the source material, and the intricate work of Spanish artist Gustave Doré, who illustrated Quixote in the 19th century.
It's our two leads who save the day. Driver has a zany, unhinged energy that allows the silly romp to play out freely.
Pryce, who starred in Gilliam's 1985 outing Brazil, is a deserving successor to those cast in the role before him - the late Jean Rochefort, Robert Duvall, John Hurt, John Cleese and Michael Palin. He's bursting with inspired lunacy and gives the material a madcap poetry of his own.
Gilliam's passion project is a giant feat of obstacles, it's unfortunate that it tilts headfirst into the wind (mill). 
Laura Delaney
We need your consent to load this YouTube contentWe use YouTube to manage extra content that can set cookies on your device and collect data about your activity. Please review their details and accept them to load the content.Manage Preferences