Amanda has that pressing, anticipatory feel of a Michael Haneke movie, an air of slightly smug urban contentment about to be shattered.
David (Vincent Lacoste) is a young, energetic Parisian in his twenties who looks after the letting of flats. He meets tenants at train stations and escorts them to their abodes. He also prunes trees as a municipal park worker.
In the course of one of the lettings, he falls for Lena (Stacy Martin), a young piano teacher who has arrived from Bordeaux. He suggests that she might like to teach piano to Amanda (Isaure Multrier), the seven-year-old daughter of his sister Sandrine (Ophélia Kolb) who is a single mother. David collects Amanda from school and the bond between brother and sister is particularly close.
Reared by their late father, the siblings are effectively estranged from their English mother Alison (Greta Scacchi). She decamped to London 20 years ago, fleeing the French marriage for reasons that are not fully explored.
We need your consent to load this YouTube contentWe use YouTube to manage extra content that can set cookies on your device and collect data about your activity. Please review their details and accept them to load the content.Manage Preferences
David acts almost like a father figure to the young, needy Amanda. He is an utterly decent guy who will have an almighty battle maintaining grace under pressure when the care of the youngster falls to him. The event which causes his sister Sandrine's sudden death - a terrorist massacre in one of the city's parks - is enacted economically but with due resonance. Once that pivotal event occurs, David comes under close scrutiny for the manner in which he reacts to the loss of his sister and to Amanda's sudden dependence on him.
This is a dramatic story but it is interesting how director Mikhaël Hers allows himself the slack in the earlier sections to build an enthralling atmosphere of Paris in late spring/early summer months. David cycles cheerfully, either alone or with his sister, through the city as part of the daily grind. These scenes are the perfect excuse for entrancing shots of fountains and parks and street-life. It's enough to want to make you book that flight right now, but the idyllic air is temporary.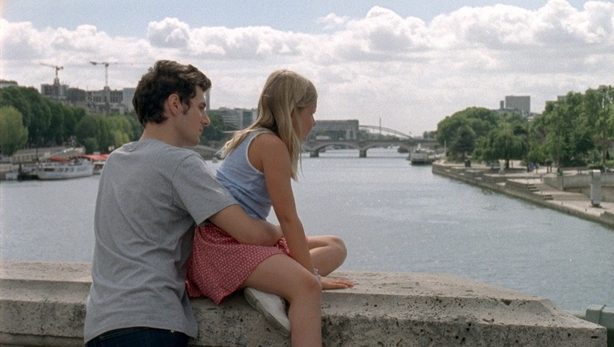 That particular strand involving Greta Scacchi's absent mother is updated in the later stages of the film when David and Amanda visit London to attend a Wimbledon tennis game. The London scenes seem less integral, the English diversion seems superfluous, grafted on for an extra plot-line that the film may not be actually able to cope with, given the amount of drama it has already taken on board.  
However, Amanda is utterly saved by Vincent Lacoste who plays an absolute blinder as the young man whose vulnerabilities are laid bare when too much responsibility falls on his shoulders. We know certain movie roles for their forensic examination of evil in the shape of one vile character.
In the case of the hapless David doing his best against the odds, what we get is a compelling study of goodness. See Amanda at the IFI.