This is so bad it may not even make the grade as a future camp classic
First off, full disclosure - I am not a cat person. Second off - after watching this frankly mortifying film adaptation of Andrew Lloyd Webber's Cats, I'm not altogether sure I am a movie person anymore either.
When the Cats trailer debuted last July, ashen-faced viewers were left traumatised at the first glimpse of what the likes of Taylor Swift, Idris Elba and many, many other very famous people (some of whom should know better) looked like dressed up and CGI-ed up as cat-human hybrids.
Watch our interview with Judi Dench and Ian McKellen
Director Tom Hooper, who is a dab hand at turning musical theatre into movies, bowed to the mob and ordered a redesign and a rethink but it has not been enough. Cats does not land on its feet.
As with Lloyd Webber's 1981 stage musical, which was based on TS Eliot's 1939 collection of whimsical poems, Old Possum's Book of Practical Cats, Hooper's movie concerns a motley crew of London street cats known as the Jellicles. All are competing in a song and dance contest at the annual Jellicle Ball to win a chance to escape the back alleys of London's theatreland and travel to the refuge of the Heaviside Layer.
Watch our interview with Jason Derulo
If dogs and their owners are said to morph into one another, here, the players take on the personalities of the cats they portray. Rebel Wilson plays a flabby tabby who lazes around all day, the already irksome James Corden is a fat cat who put me in mind of moggy-obsessed Uncle Monty from Withnail & I and his immortal line, "It's obsessed with its gut, it's like a bloody rugby ball now! It will die, it will die!"
Superfly R`n'B star Jason Derulo has a wild old time as Rum Tum Tugger, a preening tomcat who thrives on attention, and Judi Dench, swaddled in a huge fur coat, keeps her dignity intact as wise elder cat Old Deuteronomy. Hats off too to Ian McKellen, who has a wheeze as Gus, a washed-up but lovable theatre cat who once was the toast of London.
But most disturbing of all is well-known cat-lover Taylor Swift's turn as the seductive Bombalurina, vamping it up in a posh English accent as she gyrates like a catnip-addled show gal in an abandoned old theatre. Idris Elba camps it up as the most interesting of Eliot's creations, the mischievous Macavity, who lurks about trying to sabotage the whole "Cats from Fame" set-up while cheating his way to victory.
Jennifer Hudson does add some class and a semblance of an actual story. She is the best thing here as Grizabella, a former glamour puss who has fallen on hard times and now lives on the "wasteland" (geddit?!). She really milks her role like she's in Les Mis for moggies as she belts out Memories under a street lamp on the backstreets.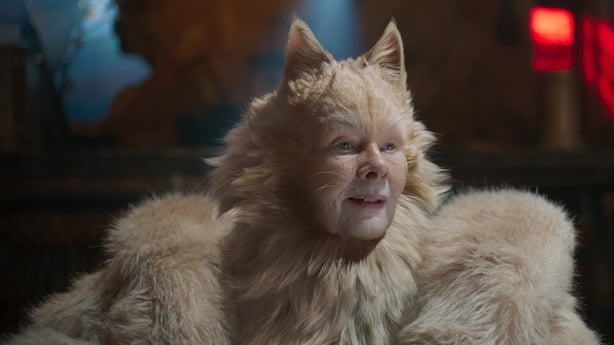 The CGI is slathered on with a trowel lending the whole gaudy enterprise a sickly sweet caramel and stale cream coated veneer. This big-screen Cats was never going to escape its theatrical roots and Hooper doesn't bother as he sticks with the script of a series of cameos of increasingly painful Andrew Lloyd Webber show tunes.
This is so bad it may not even make the grade as a future camp classic. It is impressively mounted and features some inventive choreography (the tap dancing railway cat is great value) but I was almost lost in admiration at how awful this movie really is. It is pure cat.
Alan Corr @CorrAlan2