Lauren Greenfield's latest documentary shows how the Marcos legacy endures and has links with current President Duterte's regime as family scion Ferdinand 'Bong Bong' Marcos campaigns in the Philippines' Vice-Presidential elections in 2016.
Greenfield is expert by now in showing the folding green on film, money to you and I. She got intimate with people basking at the dizzy extremes of wealth in The Queen of Versailles (2012) and Generation Wealth (2018).
In The Kingmaker, she brings us Imelda Marcos, in her mid-eighties and still feisty enough in 2014, the year Greenfield started shooting her film. Born in 1929, Mrs Marcos was First Lady of the Philippines from 1965 until 1986. She was the formidable wife of the President Ferdinand Marcos who died in 1989. For 21 years the nation was held in the grip of the ambitious pair and their minions, what was called "the conjugal dictatorship".
The film moves easily back and forth between the simpering, self-justificatory dowager and the documented realities of what took place under her husband's iron rule. "When I became First Lady it became demanding for me," says the remaining half of the "conjugal dictatorship". "I had to dress up and make myself more beautiful because the poor always looks for a star in the dark of the night." 
Three decades on, Marcos misses "the clout" of being First Lady, because aside from the comfortable life, she had "the power to do things". There were no beggars in her time, she had "a place for them". Manila, the Philippines' capital city, makes her sad and depressed now.
Ferdinand Marcos sought out his future wife, a well-known beauty queen, and proposed to her within 20 minutes of their meeting in 1954. They married eleven days afterwards. She came from the South (Philippine Islands), from a humble background. Her mother died when she was eight. She was always looking for someone who would love her, she says.
Conveniently enough, Ferdinand came from the North, a useful diversity of origins when it came to campaigning. The couple would woo their audiences with song in the early electioneering days, as black and white footage shows. When she got comfortable with all her ill-gotten wealth, she would indulge her penchant for what one contributor describes as "spontaneous acquisition" - buying out jewellery stores in Paris and so on. The consensus, among socialists at least, is that the Marcoses stole billions of dollars from the nation's exchequer through fraud and corruption. Meanwhile, a blind eye was turned by the US government, which still has military bases on the islands.
Given the stash of dreadful bric-a-brac, gaudy artefacts and tasteless gilt thrash that Mrs Marcos's Manila apartment is cluttered with, it is amazing that anything of aesthetic value should have survived the regime's passing. The Juanita bridge, built essentially because Imelda persuaded her husband to build it, is a neat emblem of the regime. What was meant to be a strategic connective route, tastefully designed with vision, is rotten to the core because of its subsequent use. Imelda goes into one of those mildly ecstatic fits about her husband's gift of love from the President to his First Lady. But how deep was his love?
According to a contributor in the film, he had extramarital affairs. He would look at the map and see how far away he could send Imelda as his ambassador to high-profile summits and meetings, allowing him to carry on his clandestine liaisons unhindered. Mrs Marcos is not asked about this - we do not hear her being asked in any case - but she says she only remembers a happy marriage.
Love may have been the PR puff, but the Juanita bridge became a torture device. Detainees were told to lie on the struts underneath. When they began to sink under their own body weight they were sharply pulled up and the torture would resume. Under an eight-year period of martial law, political protest and dissent of any kind were violently suppressed and the Marcos government incarcerated, tortured and killed thousands.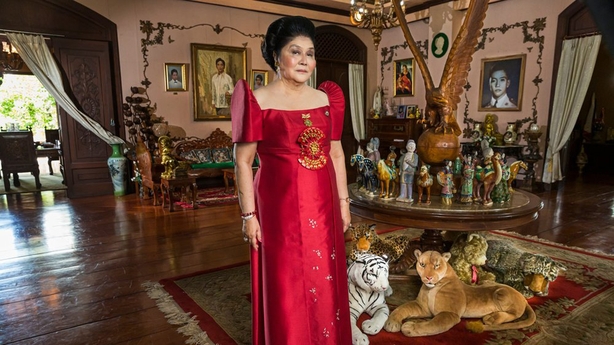 Benigno Aquino, whose socialist programme was anathema to the plutocratic rulers, anticipated his own death. The opposition leader was shot dead in August 1983, as he stepped off the plane on his arrival back in the Philippines.
On two separate occasions in the film, the former First Lady reminds the interviewer how kind and decent she was to her arch rival. When Aquino suffered heart problems as a prisoner in 1980, she says that she allowed him be taken as a patient at the hospital which she had founded. Nevertheless, the mystery of Aquino's assassination remains unsolved. Indeed the madame pouts, self-regarding and affronted, when addressing the question of any involvement on her part in his demise. She does say rather dismissively that "he talked too much".
Fleeing the Philippines for America, after the Marcos family's ignominious ousting from power, Mrs Marcos recalls how she stuffed diamond jewellery into a box of diapers, intended for her grandchildren. This was to hide the diamonds which, she remarks, proved useful to pay the millions of dollars the Marcos clan would subsequently spend on redressing what they believe was the crime of their removal. Back in the Philippines Mrs Marcos got off scot-free on corruption charges, her lawyers arguing that how her husband acquired his millions had nothing to do with her.
Beth Day Romulo, journalist and widow of Marcos's foreign minister General Romulo, is a shrewd observer throughout the film, though she is not heard to condemn Imelda's faux-naif scheming and downright badness. Following her husband's assassination, Benigno's widow, Cory Aquino went up against Imelda Marcos in presidential elections. It was like a cartoon, says Romulo. The two women could not have been more different, she laughs, Imelda all glamour and make-up, while Cory, she suspected, did not even wear nail varnish.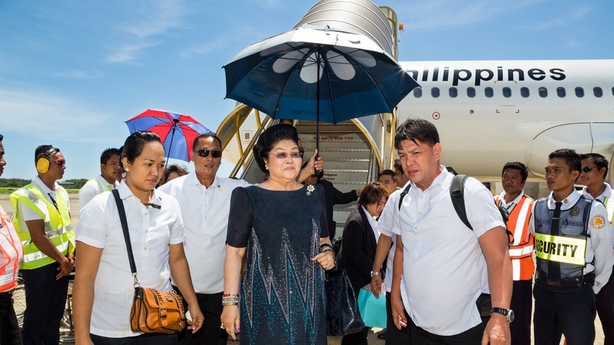 The former first lady's objective is to restore the family to power. We see the aged but unflappable matriarch on the 2016 vice-presidential campaign trail, boosting her son Ferdinand's bid for the position (he didn't win as it happens.) Ferdinand, known affectionately as 'Bong Bong', thinks that his mother, herself a former congresswoman, is the best politician in the world.
This is an unstoppable dynasty, it seems - President Marcos lies embalmed inside a glass case as the film begins, still not buried after 30 years. "He's lying in state in Ilocos, near our mansion," says Imelda with petulant sadness, referring to one of the estimated 50 mansions the family once owned. The rueful joke is that the Marcos family have or had "an edifice complex". Opposition congresswoman Etta Rosales says the former First Lady is using her husband's remains for political purposes, angling for the quasi-mythical "hero's burial".
We need your consent to load this YouTube contentWe use YouTube to manage extra content that can set cookies on your device and collect data about your activity. Please review their details and accept them to load the content.Manage Preferences
Towards the close of this absorbing documentary, Greenfield surveys what is happening now in the Philippines.There are allegations that funding for Duterte's election as President was supplied by Aimee Marcos, one of the Marcos's two daughters.
Seventy-four-year-old Rodrigo Roa Duterte is the current presidential incumbent whose idea of zero tolerance is to preside over the killing of drug users. One of the most moving sequences in the film features a teenage boy laid out in his coffin in a very small room. Two women pray to a statue of the Blessed Virgin beside him, lamenting the deaths of son and husband respectively.
Marcos is clearly a litigious woman. She brings the documentary team into a room which is heaving with bulky mounds of documents, clearly labelled for each of the family's individual court battles. There is a visit too to the cavernous room where the 3,000 thousand pairs of shoes she still owns are stored.
She hands out pesos in notes to children at traffic lights, or to those who queue up for it at a community centre. Most flagrantly of all such despicable patronage, she dispenses them in the children's cancer ward of the hospital which she founded. "Shirley, give me some money to hand out," she says wearily, summoning one of her many aides. She is so shameless or tactless - which is it? - that her request is picked up by the film crew's mic.
Perpetually, operatically crestfallen, Imelda Marcos is bad news, even in old age. Yet she sees herself as the mother, not just of her own three children, but as the mother of the entire nation. See The Kingmaker at the IFI from Friday.