Beanpole - Dylda is the original Russian title - should in theory work as a cinematic enterprise and its intense performances will certainly move those who have the ability to connect directly with it. Indeed, the movie won Best Director in the Un Certain Regard category earlier this year at the Cannes Film Festival.
We need your consent to load this YouTube contentWe use YouTube to manage extra content that can set cookies on your device and collect data about your activity. Please review their details and accept them to load the content.Manage Preferences
The director has cited The Unwomanly Face of War by the Nobel Prize-winning author Svetlana Alexievich as his main inspiration for the film's narrative. Alexievich's acclaimed work of journalism was based on true testimonies of Russian women who survived the Second World War.
There is no point obviously in trying to like Beanpole, it doesn't have a sticker attached that says 'like me,' you will either get its uncompromising delving into deep hurt or you won't. The pace is slow and there are soundless, listless passages. None of this shouldn't necessarily matter, yet the film doesn't rise or even mildly transcend its bleakness, staying safe instead within the chamber of horrors it knows best. So be prepared for hard rations.
The setting is post-Second World War Leningrad in 1945 and an overcrowded war veterans' hospital where the seriously wounded and paralysed are cared for under trying, despairing circumstances. Masha (Vasilisa Perelygina) is a stubborn, casually promiscuous free spirit, who has been an anti-aircraft gunner. She lost her husband in the war although there have been a few husbands, as we later learn.
A serious shrapnel injury means that Masha is unable to bear any more children. While she has been away on the battlefield, her friend Iya (Viktoria Miroshnichenko) who was invalided out of the army with post-concussion syndrome, has acted as mother to her three-year old boy Pashka. Iya has been working as a nurse at the hospital while looking after the toddler as though he were her own.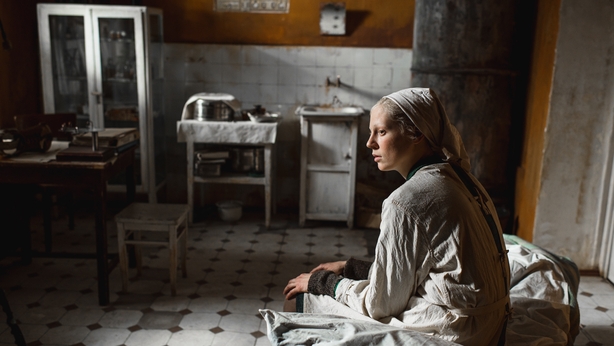 Iya is glazed-eyed,  stunned by trauma, her features immobile in catatonic, staring fits. Her post-concussion syndrome is a kind of paralytic narcolepsy, she regularly falls into a speechless trance, characterised by a sudden facial tremor. In character Miroshnichenko, who is exceptionally tall and willowy, looks somewhat like Tilda Swinton in one of her endlessly formidable roles. Anyway, to reveal any more is to spoil but certainly there is drama between the two women, served up real slow. 
It might be usefully observed that the great Swedish auteur Ingmar Bergman perfected some of the same bleakness in films like Persona - which also concerns the close bond between two young women -  and in films such as Winter Light, Face to Face and Cries and Whispers. Once, in a far distant 1970s time, young Dublin cinephiles took those films very seriously indeed. There is surely a certain time in one's late teens when one may be ripe for Bergman-style angst which in essence is what is essayed in Beanpole. So, go for it, if it's sounds like what you fancy.
However, one could argue that Bergman should be remembered for the broader sweeping, elegiac family dramas such as the early film Wild Strawberries or his mid-career masterpiece Fanny and Alexander.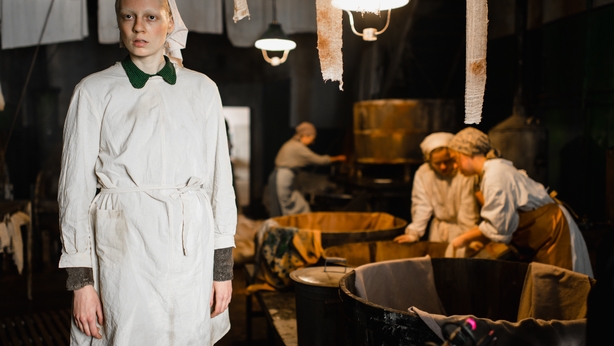 Conversely, one can only declare one's hope that Beanpole's young director, 28-year old Kantemir Balagov, will learn to lighten the almost guaranteed despair in his future work, which, yes, could be truly astounding. He could do so with a chink of light, even winter light, but so long as he stays in war hospitals and the like we will understand if bleakness reigns. That's fair enough.
Paddy Kehoe