This Christmas road trip comedy of errors from first time director Aoife Crehan loses its way
The Irish and death. Death and the Irish. It's a mix of reverence and gallows humour that needs to tread a fine line and one which writer/director Aoife Crehan tackles in her likeable but misfiring debut feature.
A case of mistaken identity sees the corpse of an old man transported across the length of Ireland, from Clonakilty to Rathlin Island, in a biodegradable coffin festooned with a painting of budgies in flight (chortle) by a mismatched trio thrown together by circumstance.
We need your consent to load this YouTube contentWe use YouTube to manage extra content that can set cookies on your device and collect data about your activity. Please review their details and accept them to load the content.Manage Preferences
Taking the cadaver to its appointed burial ground are the motley crew of returning prodigal son Padraig (Michiel Huisman), who's made it big as a lawyer in New York, his autistic younger brother Louis (Samuel Bottomley), and Mary (Niamh Algar), a free-spirited young trainee mortician who seems to be going along for the ride.  
It's a road trip, meets coming of age, meets voyage of self-discovery, meets family drama, meets romance, fueled by that very Irish attitude to death. Oh and the very overt influence of Rain Man and maybe a hint of Waking Ned. It's an exercise in plate-spinning which Crehan does well to keep going.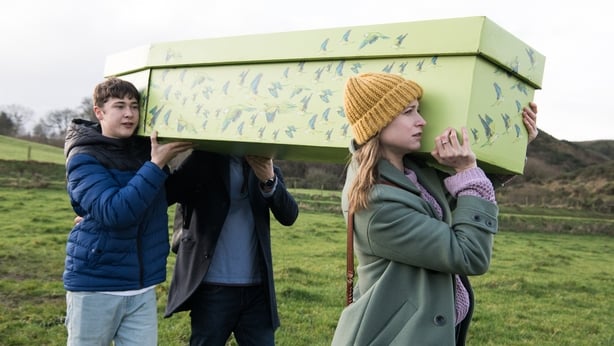 The performances are solid, with Bradford-born actor Bottomley handling the nuances of the Cork accent and the sensitivities of portraying a character with autism with real aplomb. A star is born in the live wire Algar, already impressive in Channel 4 drama The Virtues, and Huisman is just fine as the exasperated leading man at the end of tether at the surreal situation - and company - he's fallen into.
However, we would have liked to have seen more of Colm Meaney as Detective Donall Crowley, after all he was one of the best things about Intermission as Clannad-loving scumbag cop Garda Detective Jerry Lynch.  
It is not without its charms. Sight gags involving an electric food mixer and an air gun raise a giggle and Crehan has carried off a real coup in landing Brian Cox in a minor role as a local priest. Ireland looks great in the winter sun and in many ways, the beauty of West Cork and Rathlin Island are the real stars here.
Alan Corr @CorrAlan