Friends told John and Molly Chester that attempting to farm in harmony with nature would be reckless, if not impossible, but the couple cheerfully bought a farm of effectively dead soil in Ventura County in California, as this charming, offbeat film documents.
It all started really with Todd, the Chesters' beloved dog. He just wouldn't stop barking in Molly and John's small LA apartment and eventually the couple faced an eviction notice. They bought a farm so that Todd could run and bark free. As good a reason as any, surely, to head for the back roads of Ventura County.
The film is so companionable in John's unrelenting grin-and-bear-it voice-over, and so lovable with Molly's all-American positivity that, heck, you even want to know how they got Todd in the first place.
Now that has nothing to do with the farm purchase but go on, tell us anyway. 200 dogs, housed in a dog rescue facility, were soon to be handed over to county authorities, which didn't sound good. The couple visited and spotted Todd in a tiny pen, shared with a couple of Pyrenees dogs. They brought him home, well, not quite home, but getting there.
So it was the silenced Todd that led the way, in effect, to a 200 acre-plus property which lies an hour north of LA where properties bear nice earthy names like Apricot Lane Farms. Investors had heard about the adventurous couple and had duly supplied the money to enable them to buy in an area characterised by large mono-cultural farms, despite the cosy titles. A neighbouring spread, for instance, was the biggest egg-producing facility in the world, and there was a vast raspberry farm.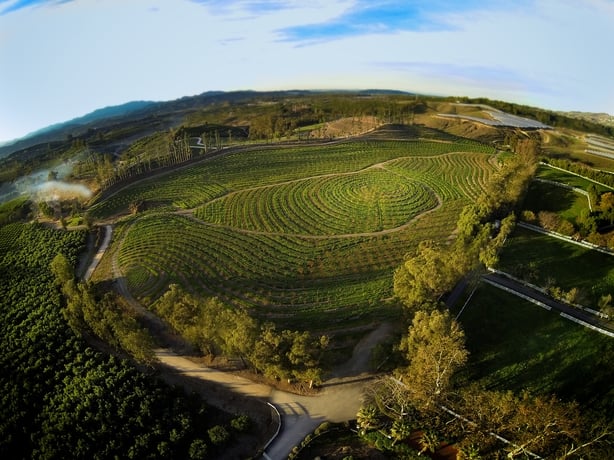 This engaging, quirky film begins and ends with California's recent forest fires and chronicles eight years of old-fashioned husbandry against the odds.The Chesters' property had been through a number of different owners, had seen two bank foreclosures while the soil was utterly depleted of nutrients, due to drought and neglect.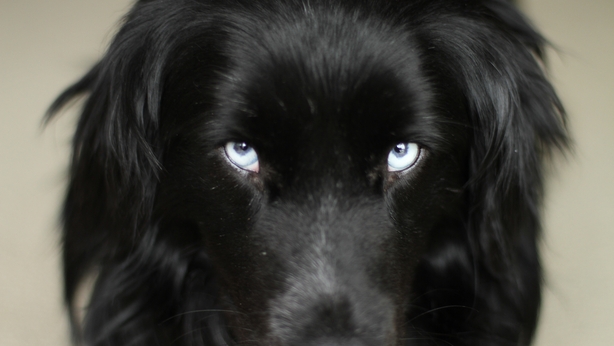 The farming pair effectively faced fields of dead soil, complicated by the spreading tendrils of what farm consultant Alan York calls "devil-weed". The irrigation pond was parched dry and five miles of irrigation pumps were needed. Alan recommended worm compost, which he described as 'the holy grail of soil food' and John recalls how the couple blew the entire first year's budget in six months without a crop sowed, as they concentrated on composting.
They learned how adversity can be turned to benefit. Sheep may eat the cover crops but they leave behind valuable droppings and urine.
Diversity is the watchword, prompted by Alan, who becomes the couple's friend and who sadly passed away during the making of the film. "Our goal is the highest level of biodiversity possible," says the Southerner blow-in, who knows his stuff and follows it through with admirable tenacity. "Diversity, Diversity, Diversity, the link to the whole thing," that's his chant, as it were.
The Chesters' projects included the planting of 10,000 orchard trees, principal among the so-called 'cover crops' which help revive the soil, with plum, peach and apricot. 200 different crops were planted.
We need your consent to load this YouTube contentWe use YouTube to manage extra content that can set cookies on your device and collect data about your activity. Please review their details and accept them to load the content.Manage Preferences
Many different species of animals are introduced, including the pig they re-named Emma, a much kinder name than her former moniker, Ugly Betty. Then there is her best friend, Greasy the rooster. "The day the pig arrived, the farm felt complete," says John. Emma would give birth to at least a dozen piglets in the first birth scene. John was the vet for Emma when she became seriously ill and his ministrations brought down her 106-degree temperature.
100 baby ducks arrive in a special box through the postal system at five in the morning and the Chesters sell duck and chicken eggs at a local market stall - 50 dozen eggs sell out in less than an hour. John and Molly are conscious of the balance needed between the farm and the wildlife. Birds of various species find new habitats on the farm.
Then trouble strikes with the marauding coyote, beginning with the slaughter of about a dozen ducks. John is reluctant to shoot the creatures at first.Meanwhile, the birds are eating the fruit, a valuable cash crop for the Chesters. Then severe drought and a massive swarm of bees in year three, and there is a toxic algae bloom and aphid infestation.
Gophers pose a problem but 87 barn owls eat 15,000 of the creatures, while hawks, weasels, snakes and badgers also help in the culling. Their summary dispatch is another aspect of the tricky balance between farming and wildlife but a necessary one.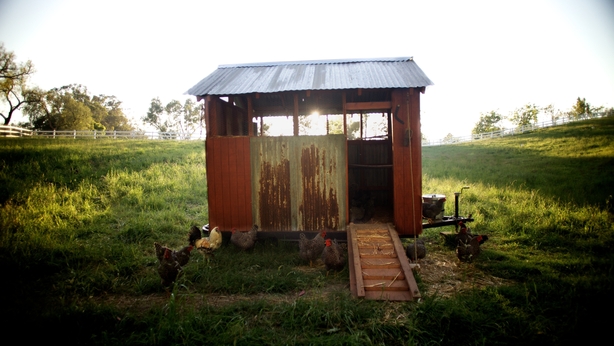 When 18 inches of rain comes after a long dry spell, over 100 million gallons of water are sequestered in the Chesters' irrigation system. Topsoil is running off in other farms in Ventura County but their cover crops are soaking the water like a sponge.
John is good with pithy soundbites of philosophy and he looks up at the Milky Way in the night sky in one memorable scene. "It's easy to forget that Earth is part of it, it's almost impossible to grasp that I actually spin inside that which I see," he muses.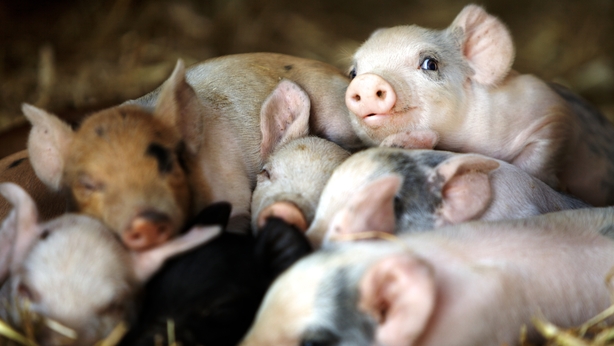 When the spirit is low he remarks in an elegant phrasing: "It's all like this slow disillusionment - our earnest intent alone is not a protector." That's like what someone who came off the Mayflower might have said in hard times. The day John shot the coyote, part of his uncompromising idealism died also, he reveals. But life goes on in the endlessly rotating food chain and Chester is absorbed by, well, the land and its wonderful potential. Micro-organisms are, as John puts it, "alchemising death to health in just one clump of soil."
The problems do not end and snails are found to be eating the leaves of the citrus plants, so the ducks are introduced and they devour thousands of the snails. Another quandary sorted but tomorrow is another day which could bring any challenge.
Paddy Kehoe