Knives Out is a trite, pale comedy that tries to be as infantile as it can be within the bounds of adult entertainment. There really is no other way of putting it, without, er, putting the knife in.
It's a murder mystery modelled self-consciously on Agatha Christie's country mansion, sent up in exaggerated hamming from the likes of Don Johnson, Jamie Lee Curtis, Christopher Plummer, Daniel Craig and Chris Evans all doing their best to chew up the scenery.
It's not their fault, by no means, it's just the silly idea in the first place and the incongruous Christie-style venerability in an era of smart phone, CCTV, computers and the tired old paraphernalia of our day. But that's precisely where the humour lies, you say, to which I say, you say 'tomato.'
Sure, despite the fast-moving developments and dialogue, you will understand the passable plot details. Christopher Plummer's octogenarian crime writer Harlan Thrombey is discovered with his throat cut in his bedroom. Is it suicide or murder? His grown-up children and a couple of grandchildren gather at the big house, the older folk in the main a venal, materialistic lot, shifty and calculating. So any of them might have had reason to kill Harlan, or speed the process up at least, for the lucrative legacy.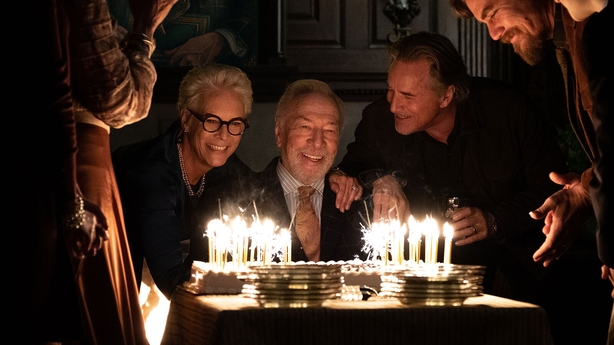 Much of the film works itself out in flashback, as a constant back and forwards motion sees the suspects individually grilled by the eccentric sleuth, Benoit Blanc (Daniel Craig). He muscles in on the local police enquiry, having been hired by an anonymous client. Craig plays Blanc with a weirdly-mangled Deep South accent that you may find funny for about a millisecond.
The crime-writer's son Walt (Michael Shannon) runs the publishing outfit for his father's three mega-selling crime novels which have been translated into thirty languages. Could it be him, didn't he have an argument with dad, who is a control freak? Dad is not permitting any film or TV adaptations of the novels so the profit potential is restricted. Could it be the ne'er do well grandson Ransom (Chris Evans)? Could it be someone who has been cut out of the will?
We need your consent to load this YouTube contentWe use YouTube to manage extra content that can set cookies on your device and collect data about your activity. Please review their details and accept them to load the content.Manage Preferences
Could it be the young South American nurse Marta (Ana de Armas)? Her recurring vomiting fit is decidedly unfunny, but you better get used to it, as it is, well, recurring. It could be anyone, of course, as whatever else the movie is  - and I could think of a few euphemisms more -  it is at least faithful to the old Agatha Christie template.
Bear in mind, however, that you may not be interested in actually finding out 'whodunnit' and you may have to jolt yourself awake at certain points. Forgettable froth from the director of Star Wars: The last Jedi.