Director Paul Feig (Bridesmaids, Knocked Up, A Simple Favor) defended his latest Yuletide offering online by saying "all of our hearts were in the right place" and in many respects this movie is stuffed with endless amounts of warmth.
Like a tasty mulled wine, the ingredients for the perfect movie are all there: it's inspired by a sweet Wham! classic, it stars and is co-written by the ever-punchy Emma Thompson, and it plays out with deliciously talented leads in Emilia Clarke and Henry Golding. Yet, it doesn't deck the halls for a true Christmas classic.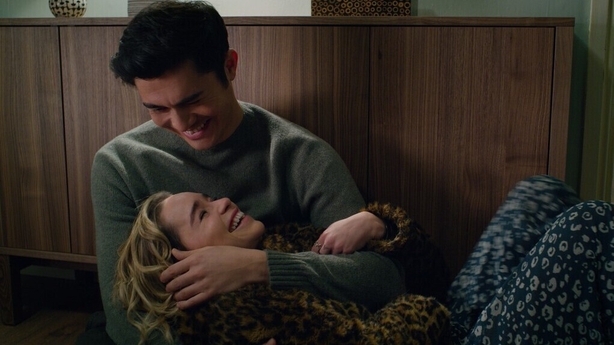 Clarke lights up the screen as perpetual klutz Kate - Katerina to her Croatian family, who relocated to London two decades ago. She's recovering from a chronic illness and spends her days working as a real-life 'Elf on a Shelf' in a kitschy year-round Christmas store, and evenings surfing from one friend's couch to another.
A meet-cute sees Tom, a very charming but underdeveloped Henry Golding, enchanting Kate away from her woes, before disappearing...
Watch our interview with director Paul Feig:
In between the occasionally snappy dialogue, Thompson and co-writer Bryony Kimmings' overcooked script tries to wedge in meaningful subplots exploring Brexit-era xenophobia, along with messages about homelessness and mental health, but the well-intentioned social commentary struggles to be gift wrapped in the same packaging as the fuzzy rom-com.
Watch our interview with Emilia Clarke and Henry Golding:
Not even the slew of cameos, from Patti LuPone as a Christmas obsessed customer to Rob Delaney as a theatre director who heckles Kate during an audition can save the day.
A heavily European-accented Thompson, playing Kate's mother, serves as the film's main source of comedic relief, while Kate's relationship with her boss 'Santa' (Michelle Yeoh) brings a fun energy to the festive flick.
If you make it to the credits, listen out for George Michael's brand-new song, This Is How (We Want You To Get High), which was recorded before the late singer's passing on Christmas Day, 2016.
Last Christmas isn't quite a careless whisper but by the time you get to the bonkers twist (you have been warned), you'll need to get someone to wake you up before you go-go.