The brilliant film-maker Werner Herzog met Mikhail Gorbachev on three occasions to speak to him about his life, notably the period he was General Secretary of the Communist party, attempting to reform Russia and its place in the world.
Seated face to face with Herzog, who proves a sympathetic, hugely engaged interviewer, the former Soviet President cuts a hesitant, cautious figure at 87. He still has that intelligent sensitive face suggesting that here is a man you could do business with. He is somewhat overweight, he suffers from diabetes, but in no way does he seem frail. He will enjoy the gifts of chocolate eggs presented to him at his foundation's offices by Herzog and the writer of the film, André Singer. Alas, the sweets do not have sugar but they are at least chocolates.
The Kremlin commissars who preceded Gorbachev operated in their tight Politburo eyeries, men like Leonid Brezhnev who was General Secretary of the Soviet Union's Communist Party from 1964 until his death in 1982. Brezhnev's elderly successors, Yuri Andropov and Chernenko looked masked, guarded, fragile, as if they were unsure of what way the wind was blowing.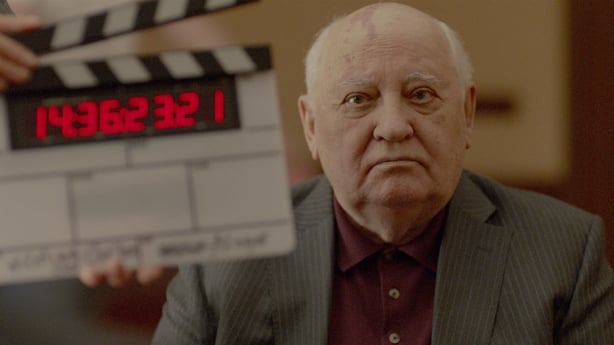 Herzog and Singer's remarkable film draws on a wealth of revealing archive footage. Konstantin Chernenko was General Secretary of the Communist Party from 1984 until his death at the age of 73 in 1985. During that year or so, he was so ill that a special assistant was obliged to prop him up by sleight of hand at the waist for photographs. Fake meetings took place at his hospital quarters in a pretend meeting room, with pretend discussions about matters of state.
Gorbachev seems a million miles away from such subterfuge, it would have been interesting to hear his take on such bizarre face-saving. Herzog does not ask him about Ukraine either -  perhaps the former General Secretary did not want to talk about it. For what it's worth, neither Herzog or Gorbachev name Vladimir Putin once in the course of the entire segmented interview.
Brezhnev was already senile when he decorated a young Gorbachev with a medal, as archive footage shows in Meeting Gorbachev. The future General Secretary of the USSR had to remind Brezhnev why he was receiving the medal, an award granted for overseeing the construction of a canal which would provide much-need irrigation.
He may have grown up in what Herzog describes as 'a godforsaken place' in the Northern Caucauses, but Gorbachev on TV always looked confident, curious, amenable to fresh thinking and willing to listen. Such a demeanour prepared him well for Ronald Reagan, Helmut Kohl and Margaret Thatcher, with whom he got on very well. He visited other countries, including the UK, to see why they functioned and why they had basic foodstuffs and consumer goods in their stores when Russia could not have them.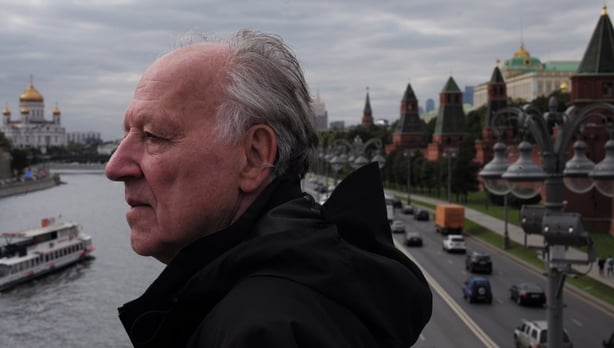 The moves towards disarmament of nuclear weapons and that phrase that is used no more, World Peace, was mildly exciting for those of us who followed the cessation of the Cold War, the one we knew, perhaps you could call it the first Cold War. Mikhail Gorbachev was central to such peace-making. He was and still is a moral person and Herzog's remarkable film wholly bears this out. He was not in power for selfish gain or to feather the nests of his friends. When the Politburo elected Gorbachev as General Secretary or head of government in 1985, there was often nothing in the shops, machines failed for lack of parts, labour morale was low. Goods were transported to the end of train-lines and left to spoil.
A kind of indolent chaos had frozen the Soviet structures, but Gorbachev dismantled sclerotic systems through his policies of glasnost - the policy of more open consultative government and wider dissemination of information - and perestroika, which translates as the radical restructuring of Soviet economic and political models. Herzog's brilliant film renders all of this background with ease into his documentary which is updated with the fresh interview segments.
There was too for the world to see his unusually affectionate and tender relationship with his wife Raisa. Unlike previous Kremlin wives, Raisa was permanently at her husband's side in public appearances before her death in 1997 at the age of 67. She had suffered from leukemia.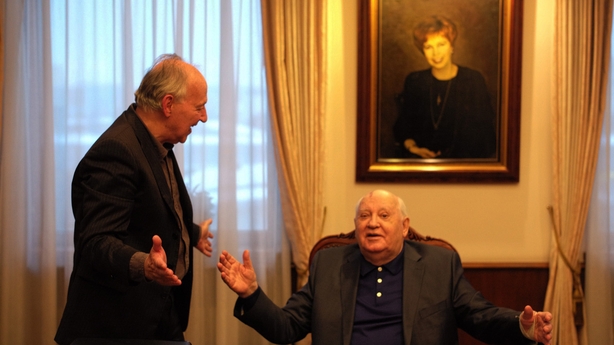 We see footage of the recently widowed ex-premier wandering around an old dacha or holiday home, looking disconsolately in bins, isolated by the loss of his wife, who had been his constant companion since they first met in student days. Raisa's death took my life way, he tells Herzog simply, raising his hands as though to demonstrate that all his pain is contained in that terse sentence. There is no need for elaboration.
Perhaps that holiday place we see him wandering around was the very one he was staying in when Boris Yeltsin seized power by jumping on a tank on August 19, 1991 following a failed coup d'etat. Leaving aside the successes in which he played a significant role, Gorbachev's ultimate failure as leader dates from Yeltsin's opportunism that day. State media reported that Gorbachev was ill and would no longer be holding the reins of power - the Soviet leader recorded a video at his dacha utterly denying any such illness.
Although in large part, it was out of his hands, he is acutely aware of that failure. He will not talk about it, it is an internal problem which has been with him ever since. All of his schemes which were bound up with solicitude for his fellow Russians went for nought as power-mongers returned to the seat of power.
We need your consent to load this YouTube contentWe use YouTube to manage extra content that can set cookies on your device and collect data about your activity. Please review their details and accept them to load the content.Manage Preferences
Yet under Gorbachev, liberty was granted to the states who willingly indeed broke away from Soviet alignment, before the Berlin Wall was knocked down by ordinary citizens with pickaxes and sledgehammers. Hungary, Poland, the Baltic states of Estonia, Latvia, Lithuania regained independence, Germany experienced reunification. Gorbachev did not want the Soviet Union to dissolve, he wanted to grant more rights to the Republics but the Union dissolved against his wishes.
He may cut a tragic figure in the ultimate assessment but Mikhail Gorbachev recalls the cordial atmosphere of detente when Reagan and himself achieved the decommissioning of middle-range nuclear missiles through the treaty signed by both leaders on December 8 1987. 
Miklós Németh, served as Hungarian Prime Minister from 1988 to 1990. He is a key contributor to Herzog's film, and recalls the cutting of the wire fence between Hungary and Austria. At first they cut a certain amount because he wanted to see how far they would get with such transgression. Gorbachev never sent anyone to stop them, and Nemeth is unequivocal in his praise and affection for him. 
When previous Soviet leaders came to visit Hungary, he recalls, they ordered six suits as formal tribute. Special tailors were pressed into service to make individual outfits for hunting, lounge wear, formal wear, and other occasions. Németh knows about this because his wife's father had worked as one of these tailors. Gorbachev when he visited Hungary asked for nothing but he did ask a lot of questions.
Paddy Kehoe
We need your consent to load this YouTube contentWe use YouTube to manage extra content that can set cookies on your device and collect data about your activity. Please review their details and accept them to load the content.Manage Preferences