Irish director Tom Burke's Losing Alaska is a telling document for our times, an absorbing account of how one Alaskan community of some 375 souls suffers the impact of global warming as rising water levels threaten their very existence.
The film gets underway with Bob Dylan on the soundtrack, singing High Water; which seems entirely apposite, as you view overhead shots of the soupy brown Alaskan landscape, pockets of melting ice and what they continually call 'the river' that is getting dangerously close.
The village of Newtok, population 375, is sinking, or slipping away, due to erosion and the thawing of the permafrost. The melting of the sea ice is swelling the body of water that surrounds the village.
The locals are feeling increasingly cut off and should anything dramatic happen in the course of a winter storms, it is a difficult place to get to by sea and air. Nathan, a single parent, rearing his son on his own at present, is cynical. "Life is too short to see us swimming to the nearest town which is about 40 miles, and the water is too cold."  At another point he recalls his nightmare of the previous night. "There was a tsunami in my dream, really scary."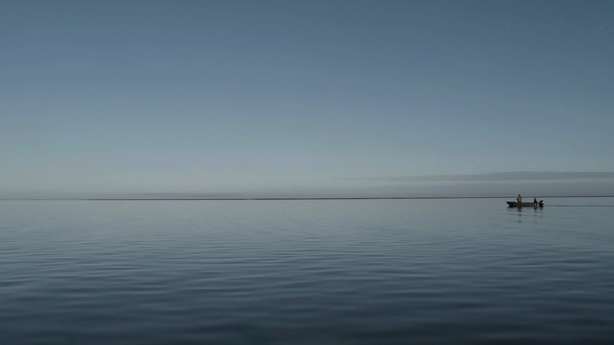 35 feet of land has been lost in three months, one contributor argues that the settlement was established on the wrong place. As he tells it, when the river narrowed decades ago, a barge could proceed no further and simply deposited whatever it was carrying on the wrong side of the river.
Wrong location or right location, whatever the case, the locals feel abandoned by US federal agencies since around 2007-2008 when the idea of moving the entire village was mooted, as serious concerns surfaced. Some locals feel they are the village America has forgot, they believe they are being treated like a third world country. They cannot detect any willingness on the part of the US government to invest in the community. One man talks of 'a bureaucratic mess.'
Meanwhile, there is no running water and the locals use the so-called 'honey buckets' - a plastic hand container - to dispose of their sewage in the sea. There are suicides amidst this community which appears to have its share of Catholics, given the iconography and the occasional rosary beads hanging on a wall.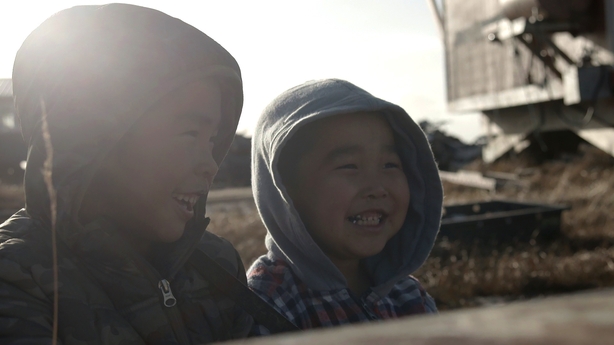 Teachers come from other parts of America, but they rarely stay more than a year or two. They come with illusions that are slowly dashed.
"Teachers forget that it floods here in the fall, it's not a safe place," says the current primary teacher. He is a decent, personable non-Alaskan. His love for the community who embraced him, along with his wife and children, is striking.
He leaves amidst tearful scenes, boarding the small plane, vowing never to settle again in a village as Newtok will always be his village. Unlike other teachers, he had stayed on. "We never had a hard time here,'' he says, his eyes filling with tears.
"We just want to sit at a table with no worries, just like everyone else and just have a cup of tea laughing away with our cousins," says a village leader. He speaks in that hesitant yet gently appealing English they speak for the camera, dispensing temporarily with their Yup'ik language, one of the Eskimo-Aleut family of languages.
Director Tom Burke began filming his account in 2015 when the plan was to build another settlement nine miles away. However, there were two rival village councils, some families were not talking to other families. There was a sadness that people had fallen out, and a bewilderment that folks who used to get along were at loggerheads and could not work as a team to improve the lot of Newtok.
We need your consent to load this YouTube contentWe use YouTube to manage extra content that can set cookies on your device and collect data about your activity. Please review their details and accept them to load the content.Manage Preferences
The obvious hope was that the parties would reconcile and concentrate their minds once again on the move to newly-constructed houses which would better withstand the ravages of the Alaskan climate than their dingy glorified shacks.
As the film draws to a conclusion in the year 2018, families were moving to live with other family members in safer areas, such as the city of Anchorage. The fear was that the new houses would not be built quickly enough. The community was unlikely to move in one fell swoop, but, rather, piecemeal, dispersing and ultimately disappearing as a unit, in other words, Newtok's death knell.
"When you are part of a tribe, it's very difficult to leave and not feel a sense of loss," says another contributor. She knows instinctively the minds and hearts of these subsistence farmers and fishermen who shoot birds and seals for the flesh as their staple diet.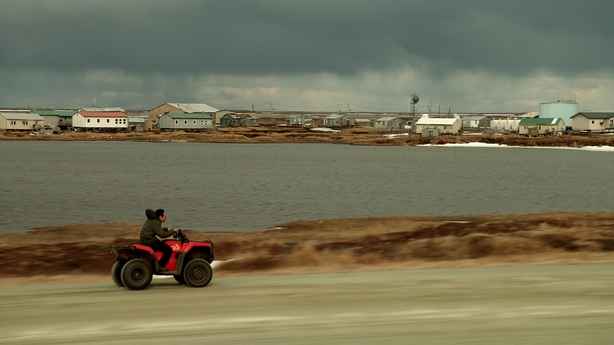 The relocation to higher ground idea is put on the long finger, year after year, up until last year when filming ends. A younger leader, nephew of one of the previous administrators, is now in charge, and he is attempting to heal the old enmities. 
Four houses are built at nearby Mertarvik, but talk of cautious optimism is unrealistic as only two are occupied by the film's close. Somehow one feels that the community is diminishing beyond recognition, fading away. Newtok is one storm away from disaster, as the closing sequence expresses it.
Losing Alaska was recently screened as part of the IFI Documentary Festival 2018 and was made with the assistance of Screen Ireland. It's an important film, underscoring the troubled realities of climate change and its widespread ramifications.
Paddy Kehoe