Waad Al-Kateab and Edward Watts' deeply moving film records the siege of Aleppo in 2016. The film may leave you feeling inert in the face of human evil, or quietly raging against the dying of Aleppo's light.
The local perspective is what marks out the documentary, which won best documentary at the Cannes and SXSW film festivals and a special jury prize at Hot Docs. That local knowledge is what sets the film apart from the otherwise valuable coverage we receive from major news channels. "A journalist visiting Syria can leave any time," Waad recently declared. "I started with Aleppo in my mind and heart."
In this Channel 4 production, which is in Arabic and subtitled in English, Waad is embedded in the purest sense of the word. The young camerawoman, who won an Emmy for her Inside Aleppo reports, is a resident who stays on in the city through its worst months of bombardment in 2016. She remains because she wants to record what is happening and because her husband Hamza Al-Kateab is one of the few doctors in the city, and who is also an activist against the Assad regime.
A young man of incredible resilience and nerve, Hamza leads his fellow professionals, young doctors like himself, to set up their own hospital. They do so because the previous hospital was repeatedly bombed by Assad's Russian allies.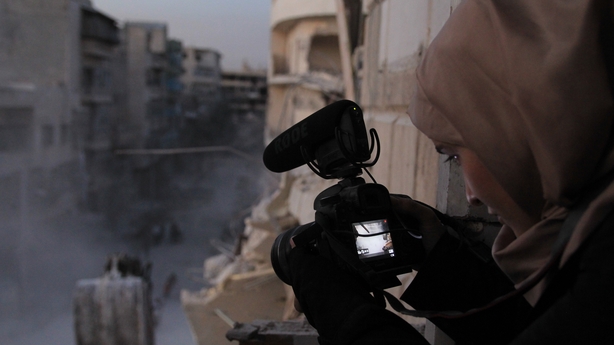 This extraordinary, gripping film takes us back to 2011 and the start of the student protests in Aleppo. Anti-Assad graffiti is sprayed on walls and Waad, an 18-year-old film student at the time, records the scene on a mobile phone. She films the heavy-handed police response to one of the protest marches. She is there some time later when bodies of young male civilians, who have been handcuffed, tortured and shot, are taken from the river in pouring rain and laid out in body bags.
Waad records each atrocity with its effects, the dead and the dying, the wailing family members, the blood on the floor, the broken limbs. And there is her physician husband in the middle of it all, making quick decisions about individual cases.
The Sama of the title is in effect the central character, Waad and Hamza's first-born whose first year of life is spent  being raised to avoid the munitions directed at on East Aleppo. 'Sama' means 'sky' and the girl was named in honour of the sky above Aleppo, which, as Waad offers, should be about sun, clouds, birds, not shells raining down. Her mother begins to see that Sama is inured to the sound of bombs, it pains her that she does not cry as a normal baby should at hearing them. Will she forgive her mother when she grows up for staying on in Aleppo? Or for subsequently leaving? Both questions are pertinent to the story of this besieged family unit staying on under extraordinary pressure.
Much of Waad's footage concerns children, killed or maimed by cluster bombs, chlorine gas, barrel bombs and air strikes. Perhaps the most shocking tableau constructed by her in a few frames - because it is the first of such heart-breaking scenes - is the sequence where Mohamed, the youngest of three brothers is brought in to the hospital, following a shell bombardment. The doctors find that he has no pulse. His two brothers, who are about ten or eleven, embrace his lifeless body, zipped up in the green body bag. Later his mother comes to take him away, refusing to let anyone carry his corpse into the street. "I would never forgive you," she tells the man who offers to lift the boy.
We need your consent to load this YouTube contentWe use YouTube to manage extra content that can set cookies on your device and collect data about your activity. Please review their details and accept them to load the content.Manage Preferences
As you watch, you begin to discern the film's essentially binary rhythm. Waad films truly terrible scenes such as that involving the three little boys. Then she films herself at home, addressing her remarks to Sama and using a mirror as a handy prop. Her living quarters in the early years are located above her husband's hospital, the few rooms protected by sandbags which are masked by pictures. She is there when the victims are brought in at top speed. She fears for her life and that of her husband.
We need your consent to load this YouTube contentWe use YouTube to manage extra content that can set cookies on your device and collect data about your activity. Please review their details and accept them to load the content.Manage Preferences
Waad Al-Kateab is undoubtedly one of the bravest, imaginative film-makers of our times with hopefully many more films to deliver. The family currently live in East London following a year spent in Turkey, Sama is now three and the 26-year old film-maker is employed by Channel 4 News/ITN.
Waad will probably return to Aleppo on some future occasion and think about her ruined garden, the lost flowers she loved, the homeliness and neighbourliness despite the dreadful circumstances. She will not have forgotten the friends who were killed in the bombings, particularly the young male nurses Gaitha and Omar. "The people I lived with in Aleppo became closer to me than my own parents, sister and brother," she told The Guardian. Do not miss this film but brace yourself. 
Paddy Kehoe