A young film student begins a relationship with a British Foreign Office man with rocky results in Joanna Hogg's absorbing film, which works in large part on improvisatory dialogue.
It begins desultorily in the year 1980, as a couple are drawn to each other in a London film school milieu. Anthony (Tom Burke) is the chain-smoking, rather louche Foreign Office man, whose mystery seems bound up as much with, well, his innate mysteriousness as much as with the secrets of the job.
Julie is the eager but unsure young film school student played by newcomer Honor Swinton-Byrne. Anthony gently teases her as to her motive for wanting to make a fictional film set in the Sunderland shipyards, then under threat. The pair begin to meet in a discreet, period restaurant, where the waiters move soundlessly, arranging the champagne on ice. Hogg is very good at leading us delicately into the dalliance, the couple begin to see each other because they like each other's company. Most films cut to the nervy chase, which is not like real life, here there is a gradual kindling of affections. One senses a fatal attraction.
Anthony discovers that Julie's flatmate and his girlfriend are away for a few days and he asks her if he can stay at the  apartment. It's to do with work, he explains, a tad unconvincingly, she agrees. They sleep in the same double bed and argue playfully about where the actual dividing line should be between them in the bed.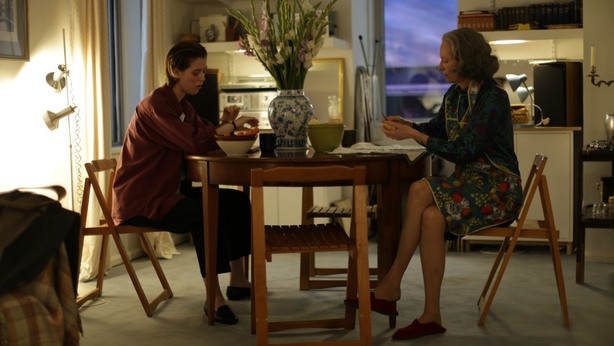 We get to meet both sets of parents of the protagonists, pleasant, well-intentioned people. Honor Swinton-Byrne's actual mother, Tilda Swinton, in a characteristically cool but focused performance, plays Julie's mum,
Anthony is watchful - Burke is brilliant in the film at just being a witness to stuff - when at his parents' place, his father talks amiably about a spell spent as a shipyard worker before he went to art school. Now he commends Julie on her efforts to make a film about Sunderland.
On the visit to Julie's parents, who are prosperous farmers, Anthony cautiously remarks that he is in favour of political status for Irish Republican prisoners. This causes a certain loaded tension at the table, an air of someone stepping out of line. "I am not an apologist for violence on either side," he elaborates. "Is that a Foreign Office view or your view?" queries Julie's father. "Probably mine," he slurs in that distracted Brideshead way of his. 
As the film progresses in its somnolent way, you wonder where the relationship is going and an indiscreet remark from one of Anthony's acquaintances opens a new insight into Anthony' s life. It is quietly explosive moment in a film which almost seems fly-on-the-wall at times and it sets new terms for Julie and how she handles Anthony from there.
The acting all around is fascinating to watch in its raw, improvisational state, it's almost counter-acting, an intuitive, conversational approach reminiscent of the work of Mike Leigh.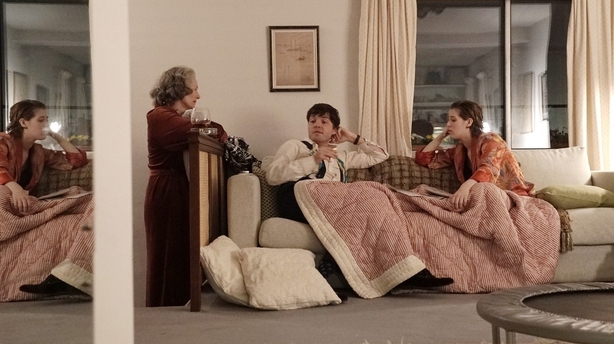 However, at times that slowed-down thing, the effect that you get when people are watching what they are saying, risks tilting certain passages into a directionless vacuum. That doesn't quite happen, the improvisation pays off, but it's a risky tactic.
By way of a contrasting approach, one is reminded of two English masterpieces, Distant Voices, Still Lives (1998) and The Long Day Closes (1992) from the veteran director Terence Davies. The Liverpudlian director maintained absolute control of silence and pacing in those films, and that discipline appears to be lacking just a tad in The Souvenir.
Sometimes the film appears to drift into its own miasmas of feeling, distracted into inertia by its own intensity, as it were, like Antonioni's The Passenger. The Souvenir of the title, incidentally, is the title of a 1778 painting by Jean-Honoré Fragonard which the lovers go to see in the Wallace Collection art museum.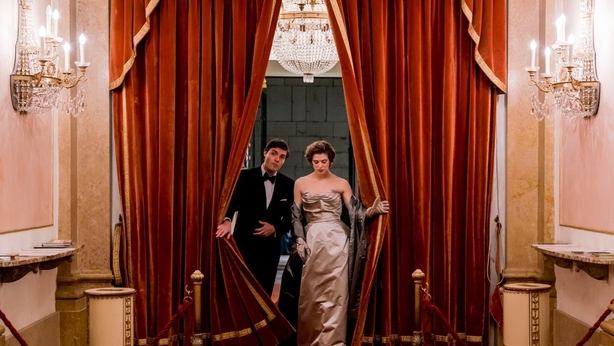 An interlude in Venice is utterly fascinating and the director brings a genuine aesthetic sensibility to the framing and lighting of certain scenes while others are shot by hand-held camera. On two or is it three occasions - I certainly should remember - the camera fixes on a repeating motif of a voluminous sky seen above four oaks in full leaf.
In one of the views, there is a baleful, pewter sky, presaging rain perhaps. In another of the scenes, the rain-clouds have dispersed, but it is still an English sky, mottled with traces of cloud-forms. Rarely does one see such beauty, rendered in a sense for its own sake, in cinema.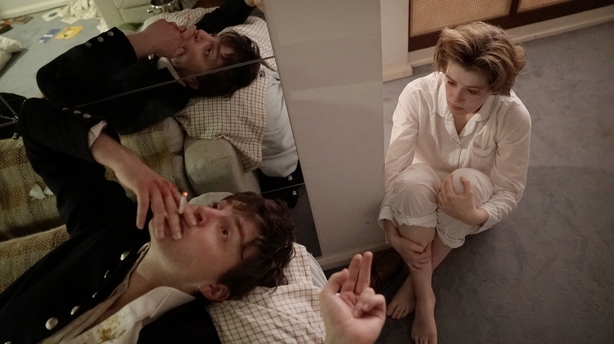 The Souvenir might be glibly written off as an art movie by viewers who cannot engage with what is ultimately a tragic adaggieto of self-destruction. Be patient with it, however, it's worth it. See it at the IFI.
We need your consent to load this YouTube contentWe use YouTube to manage extra content that can set cookies on your device and collect data about your activity. Please review their details and accept them to load the content.Manage Preferences