It's earnest and cheesy and its reliance on daft coincidence is off the scale, but that may well be true of almost every fictional romance since the dawn of time. So bear with it and be patient because there is something cute and winning about this immigration-themed love story.
From a high corridor at New York's Grand Central Station, Daniel Bae, of Korean stock, sees Jamaican Natasha Kingsley looking up in his approximate direction from the concourse of New York's Grand Central Station. Instantly besotted, Daniel charges down to search for her in the milling crowd, but she has slipped his vision. Shorty afterwards, by the quirk of outlandish fate which is this film's currency, he gets the merest glimpse of her in the next carriage on a downtown train.
Establishing that she is in fact the self-same Jamaican beauty, he manages to follow her out of the crowded train station, and saves her from a speeding car as she prepares to cross a street junction. They both land on the sidewalk, he helps her to her feet before inviting her to sit with him nearby. They get talking, and Daniel convinces the budding scientist that he can cure of her belief that there is no such thing as love, that it's all just hormones. What's more, he tells her that if she were to give him a day he would make her fall in love with him.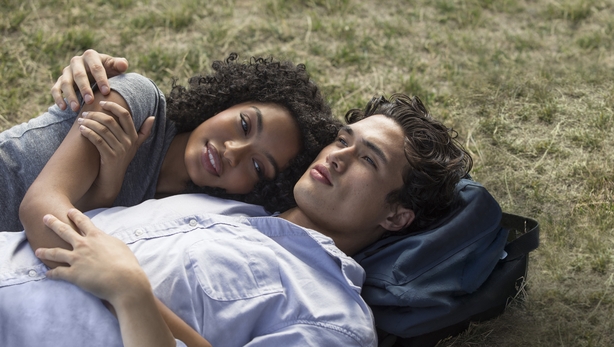 It so happens, Natasha does not have a free day at her disposal, as she is desperately trying to make one last plea to stop a deportation order on her family. They are obliged to return to Jamaica the following day, after nine years in the USA. Natasha is desperate to stay in New York, she wants to go to college and study astronomy, she is fascinated by the Big Bang, the ways of the universe, the stars and the sun that is also a star, yes.
Daniel is the son of a relatively prosperous Korean couple who run a wig store for women. Mom and dad are forcing him to be a doctor, he doesn't want to be one, he wants to be a poet - the collected poems of Emily Dickinson are by his bedside, naturally. He has the day to himself, as it happens, as the interview for a place at Dartmouth College has been postponed until the following day.
Suffice to say, the persuasive Daniel and the (eventually) persuaded Natasha make the best of their time together to talk about their dreams for the future, to share their ideas about love and life in a kind of Eric Rohmer-lite treatment. Meanwhile, they manage, just about, to let their respective tasks involving interviews and bureaucracy fade into the background for a while, the bittersweet love story made all the more intense by the short time span.
Based on a novel by Nicola Yoon, The Sun is Also A Star is also a hymn to the Big Apple with entrancing, unusual perspectives such as the crowned head of the Statue of Liberty filmed at close range amidst other impressive drone work above the canyons of New York.
Sure, Tracy Oliver's screenplay is simplistic and gee whiz earnest but so what? Ry Russo-Young directs with admirable skill and sensitivity. Young love is a delicate flower and its tender blooms flourish here, despite the gaucheries and a few other weedy things in the flowerbed.
Paddy Kehoe