The Brink follows former White House strategist Steve Bannon through the 2018 US midterm elections, and the film also covers his attempts to mobilise far-right European parties for the May 2019 parliamentary elections.
The Time magazine cover sets the scene. Both Donald Trump and Steve Bannon made the cover and the caption used to describe Bannon which is the memorable one, The Manipulator.
The Manipulator - that about sums Steve Bannon up, what we can see of him in the film anyway. Unfortunately, we learn nothing about him, about his background, what kind of family he grew up in, what made him what he is. It's not that kind of film  A Harvard education of some kind is mentioned en passant, but here he is, at 66 years of age, indifferent enough about the fact that he got Trump into The White House. He is not, and has no aspiration to be a friend of Donald Trump. The President has enough pressure without fellows like him crowding his space, he  says. No doubt there are other reasons to do with White House shenanigans of the past.
He tells an earnest young Trump activist on the private plane in which they are travelling that the problem with guys like him is they think they might be buddies with Trump. I liked the detachment and sagacity of that.
Otherwise, it's Bannon and his Breitbart news epoch or him trying to look after his diet. He drinks a green avocado confection made for him by his nephew, who works as his assistant. He settles for crispy bacon and eggs for breakfast, eats popcorn on the run, steps in and out of expensive cars. He bullies one or two people over the phone in a graceless manner, agitated and antsy because he senses victory for the Democrats in the 2018 mid-term elections in which they gain a three-seat majority.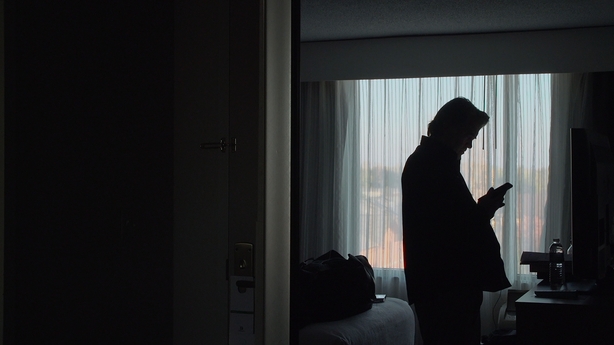 He glad-handles his way through Europe and thrives on the attention of polite, sympathetic crowds in Middle America and in Toronto too as he attempts to garner support for his 'economic nationalism' idea. 
He sits down to talk to Nigel Farage, has dinner with French, Swede and Belgian fellow travellers and meets an Italian female politician who is on the same page. The aim appears to be to solve problems attendant on immigration.
We need your consent to load this YouTube contentWe use YouTube to manage extra content that can set cookies on your device and collect data about your activity. Please review their details and accept them to load the content.Manage Preferences
It's the drive or momentum towards radical change that is in question, it's not like they discuss immigration per se. To be fair, maybe they did discuss immigration and it has been edited out.  
Aside from the European dimension, The Brink takes up the American story as a sequel of sorts to another fly-on-the-fuselage film, Greg Barker's 2018 film, The Final Year, which dealt with the last year of the Obama presidency. That film also involved similar levels of glad-handling and schmoozing. John Kerry, Samantha Power, Susan E. Rice and Ben Rhodes flew frantically around the world, as though such elusive problem-solving would be the key to winning the election back home. An earnest Samantha Power seemed somewhat out of her depth, though she was trying hard. They all seemed out of their depth at the conclusion as candidate Trump emerged victorious.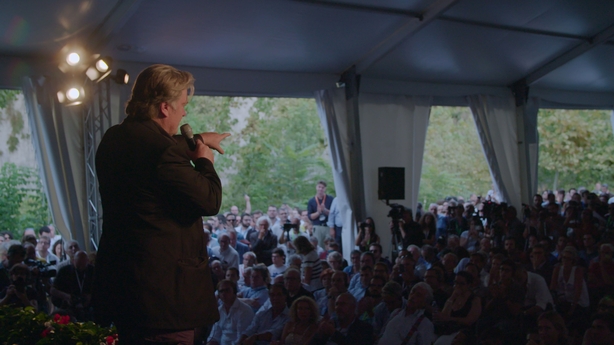 So, here is a slightly grubbier version of such glad-handling and power-mongering. And there is Steve Bannon, dealing with five days of meetings in his hotel room in Venice. Paul Lewis from The Guardian newspaper visits him in that elegant hotel room and tells him that his 'dog whistle anti-Semitism' is 'not funny.' At the conclusion of the interview, a challenged-looking Bannon touches the fearless journalist companionably on the arm, but Lewis is having none of it.
Meanwhile, the seductively beautiful city is discerned through the windows, St Mark's in the middle distance, the gondoliers poling their boats along the green canal, the sun on the bouncy green water. Steve Bannon doesn't even see the place, so busy is he with his smart-phone and his machinations. See it at the IFI.