Never Look Away (Werk ohne Autor) runs to over three hours and is a reasonably engaging human story but it is overly-long and flawed by a certain degree of cinematic indulgence that makes it syrupy and fluffy when it should not be so.
The best thing in it, however, is the enthralling stage baddie, SS doctor Professor Seeband. We gleefully follow proceedings, awaiting his eventual comeuppance and, indeed, the enthusiastic viewer may be tempted to shout 'he's behind you' at certain points.
The film's director, Florian Henckel von Donnersmarck, impressed many with his breakthrough film The Lives of Others, which won Best Foreign Language Oscar in 2007. He also made The Tourist, starring Johnny Depp and Angelina Jolie which did not pass muster for people who expected more from Herr von Donnersmarck. Now, nine years on, comes this German language movie, an over-flowing, milky saucerful of secrets, sinister and otherwise.
The year is 1938, the city is Dresden and six-year-old Kurt Barnert (Cai Cohrs) idolises, and is, indeed, in love with his talented but histrionic aunt Elisabeth (Saskia Rosendahl). He is already showing signs of artistic ability in drawings, taking after his aunt who is a talented pianist. She brings him to an exhibition of 'decadent art' featuring works by Picasso and Kandinsky where the guide uses the occasion to cast scorn upon such artists. Elisabeth tells young Kurt sotto voce that she actually like these paintings.
Following an unfortunate episode, signalling a breakdown, and witnessed by Kurt, Elisabeth is sedated and taken away in an ambulance. Eventually she comes face to face with the cold SS officer and gynecologist, Professor Carl Seeband, played by Sebastian Koch who starred in The Lives of Others. Resources are limited in the Third Reich and those who are seriously handicapped, mentally or physically, must be euthanized. Seeband has the power to make such decisions in Dresden.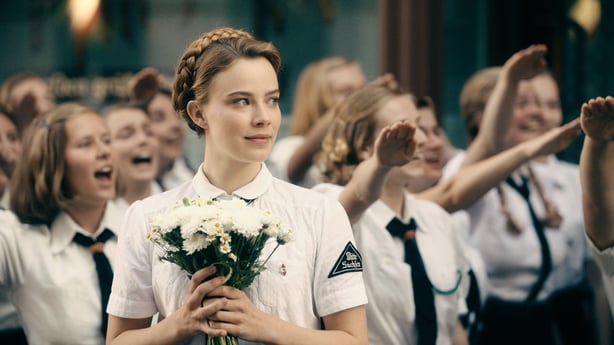 Elisabeth subsequently loses her life in a gas chamber and, thereafter, young Kurt pursues his interest in art, very much against the odds. His father cannot return to teaching when the war ends as it is on record that he was a Nazi, in name that is, though avowedly not in belief. He would fluff over the customary greeting 'Heil Hitler' by rapidly uttering the words 'drei Liter', thereby remaining true to his principles.
The action moves forward to 1945 and the Russians are the occupying force. Professor Seeband is arrested and imprisoned. However, he saves the life of a Russian major's child during his wife's difficult labour, and escapes a death sentence. In fact he is protected, at least for the immediate future from any punishment resultant from his activities as administrator of the euthanasia programme. 
We need your consent to load this YouTube contentWe use YouTube to manage extra content that can set cookies on your device and collect data about your activity. Please review their details and accept them to load the content.Manage Preferences
Kurt falls passionately in love with a fashion design student named Elisabeth or Ellie (Paula Beer). She is studying fashion design at the same college and the couple begin their courtship. She informs him that a room will be up for rent in her parents' house and he ends up living there. This brings him closer to the sinister web that entrapped and saw the death of his beloved aunt.
The lovers make their escape to West Germany shortly after the Berlin Wall goes up in 1961. Kurt enrolls at an avant-garde art college in Dusseldorf, exploring what he really wants to do in art, free from the strictures of Social Realism and the series of earnest murals which had made him famous in East Germany. The portrait is loosely based on the career of the celebrated artist Gerhard Richter, though Richter has not entertained the portrait as an accurate one.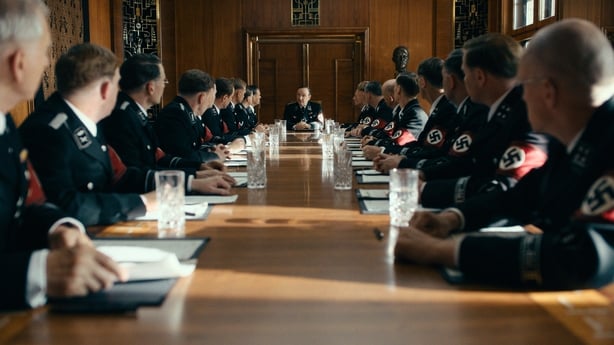 Meanwhile, the net closes in on Seeband, but to reveal more is to spoil. The film has only traces of the grim intimacies and tightly-woven claustrophobia of The Lives of Others. That film was shorter, less ambitious, had a tighter historic sweep and is undoubtedly the better film. 
You can see too many scenes unfolding before they do in Never Look Away, and Max Richter's orchestral score plays a large part in underlining how you are meant to feel. Seeband is little more than an admittedly enthralling stage baddie, manipulative, opportunistic and controlling, even with his own daughter.
Conversely, the earnest young couple, Kurt and Ellie, are the innocents whose somewhat unconvincing passion is intended to transcend all. The love scenes are no more than erotica, as Richter's score swells underneath the amorous transports.
Never Look Away is a conventional film, telling a straight-up story, albeit at undue length. Von Donnersmarck has been described elsewhere an 'old-fashioned' director and this is true. Plot is pre-eminent and its twists and turns are of the essenc, so the story has to be told simply and functionally. It could too be a contender for Best Foreign Film and there is nothing in it to frighten the horses.
Paddy Kehoe