There was arguably no need to make a fourth Toy Story film, but this outing is undeniably funny and heartfelt and will give you all the warm and fuzzies that only Toy Story can.
By any other standards Toy Story 4 would be an absolute knockout, but when it follows the masterpiece that was Toy Story 3 it is naturally held to the highest bar. Although it doesn't quite stay at that level of perfection, it feels like a sort of epilogue or added bonus to what has come before it.
We need your consent to load this YouTube contentWe use YouTube to manage extra content that can set cookies on your device and collect data about your activity. Please review their details and accept them to load the content.Manage Preferences
The film pulls off the Pixar masterstroke of balancing themes and laughs that really play to the adults who have been with Toy Story from the very beginning, with plenty for audiences that might be discovering the wonder of this world for the very first time - what a treat they are in for.
Woody has always been at the centre of things and with this outing even more so. As Bonnie prepares to start kindergarten, he takes it on himself to make sure everything goes as smoothly as possible and it results in the creation of Forky, a brilliant new toy that Bonnie makes for herself.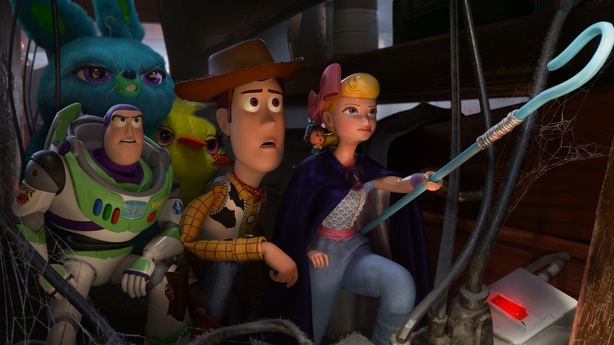 Forky provides a lot of laughs; his existential crisis about his purpose - is he a toy or trash? - is darkly hilarious, while Woody's quest for meaning tugs on the heartstrings.
Elements of their adventures this time around are particularly familiar, but it feels more comforting than overplayed.
There is a sense of home that comes with Toy Story and never has something so seemingly unnecessary felt quite so essential.
Watch Sinead Brennan's interview with Toy Story 4 director Josh Cooley:
We need your consent to load this rte-player contentWe use rte-player to manage extra content that can set cookies on your device and collect data about your activity. Please review their details and accept them to load the content.Manage Preferences
Sinead also spoke to producers Mark Nielsen and Jonas Rivera:
We need your consent to load this rte-player contentWe use rte-player to manage extra content that can set cookies on your device and collect data about your activity. Please review their details and accept them to load the content.Manage Preferences