Halston was one of that rare breed, a one-name icon who lit up American couture in the 1970s and 1980s before it all went tear-shaped. Or should that be pear-shaped.
Although you mightn't think it listening to that cultivated New England drawl, Roy Halston Frowick, the subject of Frédéric Tcheng's absorbing new documentary, came from, well, Iowa. Born in 1932, he grew up in a conservative Midwest family who also lived for spells in Kentucky and Indiana. Fashionista Hell, no doubt, to the future visionary of haute couture.
We need your consent to load this YouTube contentWe use YouTube to manage extra content that can set cookies on your device and collect data about your activity. Please review their details and accept them to load the content.Manage Preferences
As soon as he could, Roy Halston Frowick shook off drabness and high-tailed it for New York, which no doubt has its drab moments, but hey we're not counting. Once on the lower rungs of the fashion design ladder, he worked his ass off for 20 years in relative obscurity. Through dint of focus, determination and chutzpah, the fledgling designer was all of a sudden a rising star on the New York skyline.
Halston's frocks were cut against the bias. He would take a piece of fabric and seize it with a scissors. And voila! You had your dress. The Seventies were to be soft, couture-wise, so he made soft artefacts that flowed easily on the contours of a woman's body. He worked in cashmere and ultra-suede, the silk garments were sourced from factories in China, to which a grand expedition was made. The event was organised with military-style precision by Halston as models and minions travelled in the expensive entourage.
Aside from close pals like the film director Joel Schumacher, the now-elderly males who once worked with the designer are ambivalent about Halston. It is not always clear that they liked him; it's more like they indulged him or they tired of the increasing megalomania.
In contrast, the women contributors are tolerant, affectionately tearful. A succession of former female models, two secretaries, his jewellery specialist and his niece Leslie - who was utterly thrilled when he offered her employment - give their tuppence worth. One ex-model recalls how he could make her feel good, feel empowered. "Remember you are the best," he would whisper in her ear before she walked out on the catwalk.
The designer insisted on doing things his way and "whatever makes me happy" appears to have been one of his catchphrases, uttered in that effete boardroom drawl. He insisted that the perfume bottle he designed to hold his much-touted first foray in fragrance be shaped like a stand-up tear. One hesitates to use the adjective 'pear-shaped' but that too would suffice.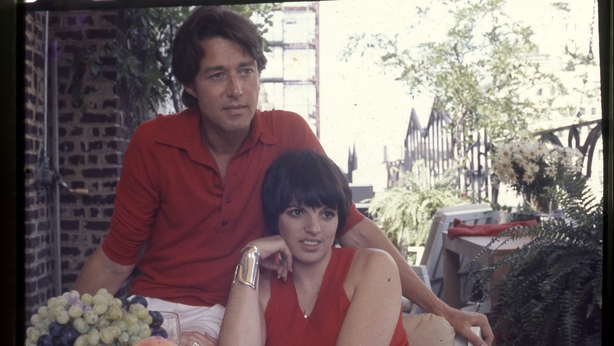 The factory was obliged to make adjustments so that the new bottles could be filled properly, which was hassle, but Halston's fragrance caught on big-time. There were two fragrances for men too - people would step into taxis and the drivers would tell them they were wearing Halston fragrance. A familiar face at Studio 54, he hung out with Andy Warhol, Marisa Berenson, Liza Minnelli, Bianca Jagger and Elizabeth Taylor and designed little numbers for them to wear.
Then the whole enterprise got too big, too spendthrift. A lobster meal was flown to Montauk and the flowers were costing too much. The wildly ambitious designer became increasingly frustrated after his company Halston Limited, owned by Norton Simon, Inc in a seemingly amicable arrangement, was overnight acquired by Esmark Inc in 1983.
The rot set in. The designer started asking staff and models to dress in black at meetings. There is footage of him telling his employees not to walk into the boardroom in pairs but to walk singly as in a fashion show. He was doing drugs; you can hear it in the monotone delivery.
He would shout abuse at hard-working assistants whom he should have been nice to, even for his own sake. In an unprecedented move for a big-name designer, he teamed up with the JC Penney clothing chain which, in essence, dressed middle-America inexpensively. Suddenly his name was on their clothing lines. He instantly lost credibility with chic elitism and his work was summarily dropped by Bergdorf Goodman, his prestigious clients. He had once been their head milliner. Roy Halston contracted HIV and died in California in 1985, on the night of the Academy Awards.
Way back in 1961, he designed a domed pill-box style hat for Jackie Kennedy which she wore to her husband's Presidential inauguration that year, along with that Oleg Cassini wool coat. Unused to the hat, she was touching it to make sure it stayed on. The designer himself tells the only funny story in the entire film relating to that early success that took its own little twist for the good.
"It was a rather windy day and she put her hand on the hat and it ended up to have a dent in it," Halston relates. "So during all the ceremonies it had a dent in the hat, so everybody who copied it put a dent in it, which was so funny."
The mercurial genius of cloth died at 57 but the tarnished legacy lives on. Take a look at Bergdorf Goodman's website and see how Halston Heritage still informs in handbags, footwear, accessories. Nothing ever really dies.
Paddy Kehoe