In Sunset (Napszállta), the latest film from László Nemes, a young woman arrives at an ultra chic millinery emporium in Budapest claiming she is the daughter of the former owners. Quietly determined, she inveigles her way into a murky, anarchic scene in the final days of the Austro-Hungarian empire.
Nemes and his cinematographer Mátyás Erdély, who teamed together for the Oscar-winning, Son of Saul, have a highly imaginative way with sunshine, shadow and Renoir-like dappled-ness. The year is 1913 and Budapest, the second city in the Austro-Hungarian empire, is enduring a heatwave.
At times, some of the luxuriant images that lie between the frames could be imagined on canvas, Impressionist or otherwise and Erdély's painterly vision is remarkable.
We need your consent to load this YouTube contentWe use YouTube to manage extra content that can set cookies on your device and collect data about your activity. Please review their details and accept them to load the content.Manage Preferences
Written by László Nemes and Clara Royer, the film's sublime artistry is manifest in the way Írisz is placed in the middle of a melee or in a crowd to be preyed upon by the camera. In one particular scene, the launching of the hat store jubilee celebrations, characters walk up to her and stare into her face as though defying her to reveal herself.
Yet the suspicion is she does not know her own self, that she is feeling her way. She has traveled from Trieste where she trained as a milliner, she has stumbled blindly into something she doesn't understand. It is a vortex that has gathered her into its unstoppable force.
There is indeed a slight touch of The Portrait of a Lady and Isabel Archer, another young woman caught up in dark forces, although not in that instance, the eve of a world war.
Sound weaves around her, voices whisper mysteriously, coach horses at rest are heard to breathe heavily, in magnified sound. She is there at the centre of it, sometimes fearless, sometimes very frightened, as in the scene where she narrowly avoids what might very well have been a gang rape.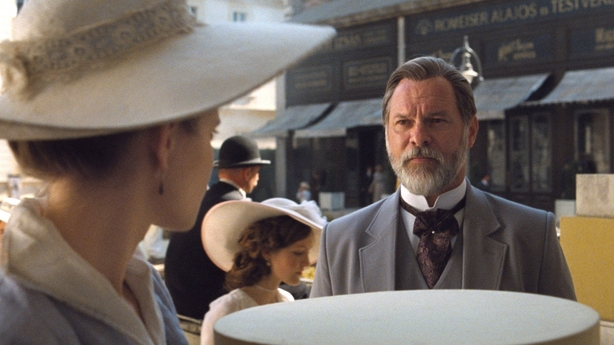 Írisz (Juli Jakab) is the undisputed star of the film, it was conceived for her. Throughout the entire 142 minutes of the work, the camera concentrates on her face and on those burning, intense eyes.  
This was exactly the case with the recently-released Memoir of War. Juli Jakab's committed embrace of her role in Sunset is comparable to the manner in which Mélanie Thierry inhabits the role of Marguerite (Duras) in Memoir of War. Both Jakab and Thierry are astounding actresses who will hopefully star in many fine films in the future.
But back to the film under review. Although it bears the family name, Leiters millinery emporium is celebrating its 30-year jubilee throughout the week-long time-span. Írisz has come to Budapest having seen Leiters' recruitment advertisement, she is intent on being hired and she even offers to work for free.
However, Írisz senses deep unease among the store employees about the fact that she has returned. Her parents died in a fire when she was two, she was placed in an orphanage. She learns that she has an elder brother, which leads to an obsessive quest to find him during this period of revolutionary ferment.
Moreover, she discovers that while Leiters supply hats to the monarchy, it seems there is more sinister traffic,under the store's auspices, to the Empire's capital seat, Vienna.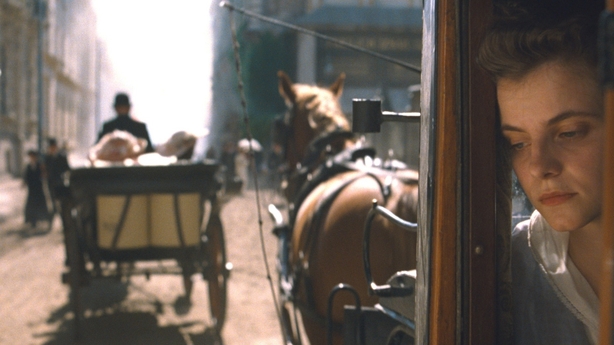 Then there is that mysterious, drug-addled countess whose husband was assassinated. It seems we are not intended to understand the plot details with utter clarity and your reviewer would argue that the film thrives on such lack of resolution, it wants the thread to be fluid and meandering. 
Ultimately director Nemes and cinematographer Erdély do not want us at the edge of our seats, wondering what will next befall our heroine and wondering how it will all end. They are aesthetes who want to enthrall us on the journey rather than the point of arrival. 
Paddy Kehoe