Josef von Sternberg's 1930 classic, Der Blaue Engel (The Blue Angel), starring the late Marlene Dietrich in her breakthrough role - demonstrates how a loner professor's fatal attraction to the showgirl Lola ruins his very existence.
The Blue Angel is one of the first German language sound films, and the first of six pictures made by director von Sternberg in the space of five years with his muse and leading actress, Dietrich.
There is a sense watching the film that the days of the silent era still linger, it's there in those wide glances, those exaggerated facial gestures. Emil Jannings had starred in von Sternberg's silent The Last Command, and in this new German talkie he portrays the fusty old school-teacher Immanuel Rath.
The teacher, or professor, is a pernickety, punctilious type - cape, top hat and cigars - who lives in a drab, book-lined flat, where his cheerless maid. She cooks his breakfast and sees rather humourlessly to his domestic arrangements.
The opening scene illuminates the pedagogue's squalid bachelor state - he whistles to his caged pet bird, who does not respond. This is something he clearly does every morning as he settles down to his egg and coffee at the breakfast table. However, on this occasion, the bird is dead and has given up singing years ago anyway, the maid tells him, as she tosses the bird into the stove.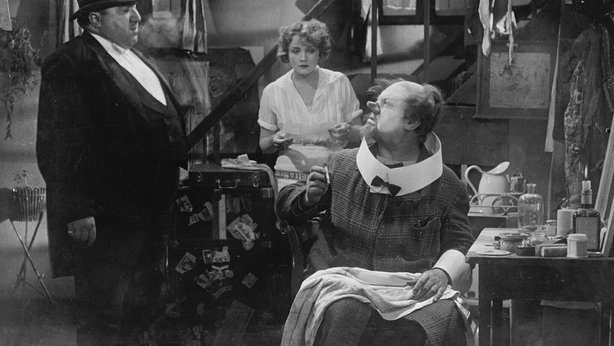 The Professor is curiously bereft, his one companion is gone, albeit avian, there is the sense already of a void to fill. In his classroom, his boisterous pupils continue to taunt him, they are always ready to test him, despite the glacial silence he uses to suppress the slightest hint of misbehaviour.
He is a kind of pantomime professor, blowing his nose in a showy, stagy fashion, taking his handkerchief ceremoniously on each occasion from his back pocket. He peers at the boys over rimless spectacles and makes notes and baleful promises that 'there will be words later' about various infringements.
He may be master of a rather dull, forbidding discipline, and he may be able to teach Hamlet in rather uninspired fashion, but that icy silence covers a multitude of pent-up emotions and suppressed sexuality.
We need your consent to load this YouTube contentWe use YouTube to manage extra content that can set cookies on your device and collect data about your activity. Please review their details and accept them to load the content.Manage Preferences
One day in class, It comes to the Professor's attention via a confiscated saucy postcard that his pupils have been attending the local nightclub, The Blue Angel, for its visiting cabaret show, where the star is Lola, played by Dietrich.
In high dudgeon, the Professor duly descends upon the sleazy venue to hunt his scholars away in a fit of outraged morals, but instead finds himself seduced, despite his buttoned up ways. When they eventually get to meet, Lola subsequently plays him like a puppet, indulging his passion for her, just for her own amusement, it would seem. Perhaps he appeals to her as a respectable father figure, markedly different from the more calculating, rather indifferent company with whom she travels from town to town.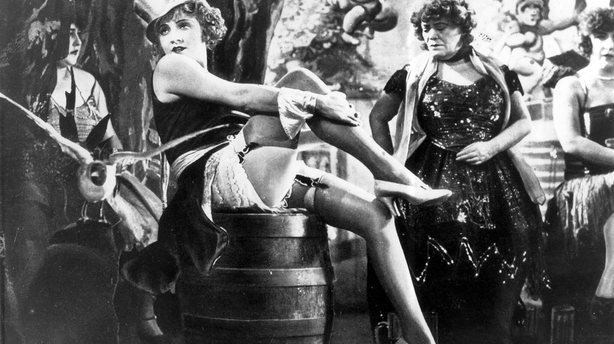 The film then goes about showing us the pitiable descent of Professor Rath, as he fritters away his reputation and his peace of mind on the showgirl. A flirty, fatal attraction, Lola is a curious mixture of neediness and self-reliance, of pride and resilience.
In the movie, von Sternberg uses the fascinating motif of a church bell sounding the hours, followed by the motorized saint figurines circling in and out on their automated track. At another point, the professor tries to test the heat of Lola's curling iron - which she has complained was too hot - by testing its temperature on the pages of a simple date calendar.
It burns and singes the pages through a fan of days as 1925 becomes 1929. There is indeed something in that brief device that appears to prefigure Hitchcock and both these motifs seem to enhance the haunting, fated aspect of the moral tale.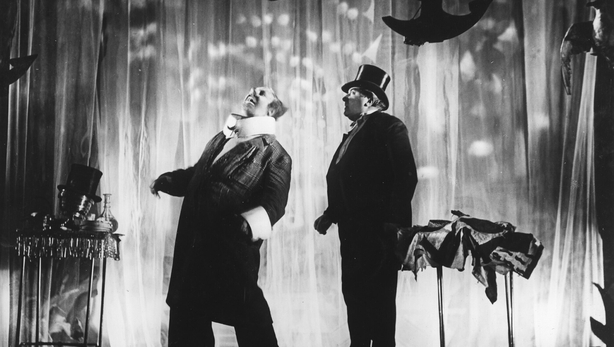 That lonesome train whistle which we hear twice in the film signals the desperate escape which the Professor succumbs to without any kind of realistic plan or care for his future. Recommended.
Paddy Kehoe
The Blue Angel is released in selected cinemas nationwide, UK and Ireland, to coincide with the centenary of the Weimar Republic. See it at the IFI from May 31.