Set at the time of former world champion Muhammad Ali's visit to Ireland in 1972, Float Like a Butterfly sees two communities in conflict, the Settled and the Travellers, as tensions simmer in a rural setting.
July 1972. Muhammad Ali is in Ireland, amidst much fanfare, to fight Alvin Lewis in Croke Park. He is the toast of a family of Travellers who have wired up a TV set to see the impishly mischievous world champion boxer interviewed by Cathal O'Shannon on Teilifís Éireann. There is a certain empathy with the man formerly, or indeed popularly, known as Cassius Clay.
Lalor Roddy's grandfather character tells us - paraphrasing almost to the letter what was declared in a different context in The Commitments - that the Travellers were "the Blacks of Ireland". That single paraphrasing rang alarm bells in this reviewer's ear anyway and suddenly he was not expecting very much from the screenplay.
In the movie, boxing is something that the wary-but-formidable young Frances (played by the excellent Hazel Doupe) is interested in. She is regularly asked to show her muscles or urged to hold up her fists in fighter mode by her father (Dara Devaney) and grandfather. Your reviewer once again experienced some slight nervousness that this was going to be some ghastly affair in which Frances rises earnestly to global fame as she knocks 'em dead. However, the film stays within the parish, as it were, and she doesn't make it to Vegas.
Early on in the story Frances's mother dies during an altercation with the Gardaí on a visit to the campsite. One of their number, a miserable, spiteful officer of the law played by Aidan O'Hare, taunts and insults the Travellers in a sadistic manner. Fictional licence is the director/writer's alternative to hyper-reality, if they so choose, so it's pointless looking for verisimilitude in this film, written and directed by Carmel Winters. Is the guard in question convincing, or typical of his time? Dramatic possibilities allow his creation and so be it.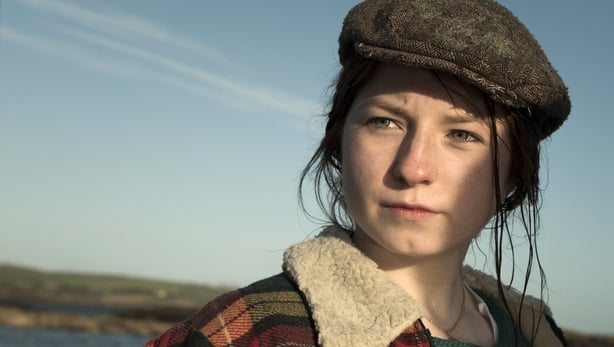 Mammy, now gone to Heaven, leaves Frances, the eldest, along with her young brother and their father to get on as best they can. The mother's absence haunts the film, but not half enough and more could have been got out of that theme. She has not done the signature act or committed the overarching gesture that establishes her as the sheltering, protective mother in our minds. Put another way, she should have been given something more substantial to remember her by than the few bars of a song that is her party piece.
Meanwhile, the father is a proud, feckless character, who takes to the drink in despair at the loss of his wife. He spends time in prison following the aforementioned altercation and comes out sparring for another fight, in thrall to whiskey.
There are the bones of a decent film here but the script is clichéd, while the over-employed score mostly spoils it. Fiddles and pipes and bodhrán are very busy throughout, doing all the thinking for us, jocular one moment, mournful the next. Vulnerability - and this film is about vulnerability and old wounds and suffering - is often signalled best by silence. A score used sparingly speaks loudest. (The title Float Like a Butterfly, incidentally, comes from Muhammad Ali's proud summation of his particular talent for gliding smoothly around the ring, always paired with the second boast, Sting like a bee.)
Float Like a Butterfly won the FIPRESCI Prize at the Toronto International Film Festival and it scooped the Director's Choice award at the Irish Film Festival in Boston. It also won the Audience Award at the Cork Film Festival. Congratulations to all concerned that it is doing well, but it failed to strike a chord with this reviewer.
We need your consent to load this YouTube contentWe use YouTube to manage extra content that can set cookies on your device and collect data about your activity. Please review their details and accept them to load the content.Manage Preferences