A woman on an anarchic mission to destroy the electric power supply in Iceland is also faced with the prospect of an adoption coming through. She is betwixt and between, like the film itself, which lies somewhere between eco-protest and absurdist drama.
Woman at War is one of those off-beat films that steal into art houses now and then. You know the kind, an eccentric Scandinavian vehicle that, in the interests of rather limp comedy, jettisons the cut-and-dried story.
The perpetually frazzled 49-year-old Halla, walks around the Icelandic countryside cutting power lines and such like. Her accomplice in protest is a gruff sheep farmer in whose remote farmstead the woman finds herself as the film commences. Her family come from the locality, she explains to the man, she lives in the capital, Reykjavík.
The farmer knows her 'people,' she may well be his cousin - his grandfather exercised droit de seigneur, or as he puts it himself 'stepped in for a few husbands.'
In any case, he lends Halla a car so she can get back to Reykjavík where she is a choir mistress of a small group of genial souls who suspect nothing about her extra-curricular activities. That is, except for the government minister who is in on the anarchic conspiracy to destroy Iceland's power. He too is a member of the choir.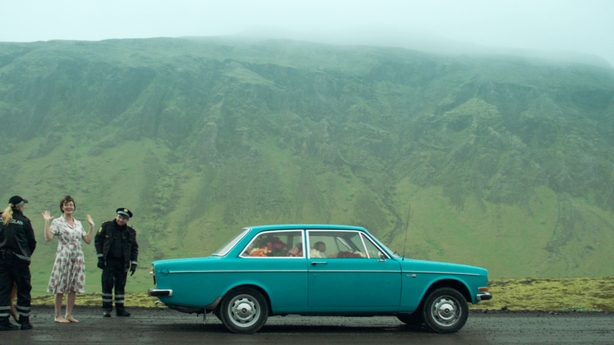 Meanwhile, on her forays into the countryside where she believes she can commit her acts of sabotage without being noticed, there are police helicopters and drones attempting to track her down. The woman undergoes all manner of humiliation to evade the forces of the law, hid by the farmer with his sheep in his trailer as they go through a police cordon on one occasion.
Then there is the hapless South American tourist who is repeatedly arrested on suspicion of involvement in the acts of terrorism. He is entirely innocent, a shaggy-haired youth going about the land with his motorbike, harming no-one, even if he calls every cop and prison officer he encounters hijo de puta.
A trio of musicians - tuba, drums and accordion - appear in most scenes, staring blankly at the woman on her crazed peregrination throughout the land. If it's not these dumb show Greek chorus figures, then it's a trio of Ukrainian women singers in folk dress. They are Ukrainian because Ukraine looms in Halla's immediate future in the shape of the four-year-old girl whom she plans to adopt.
It's all rather ho hum in the end, striving for what is a slice of toothless comedy, despite the rather shallow eco theme. There is a riff on twins too in the story - Geirharðsdóttir also plays Halla's identical sister, Asa, which causes some confusion for the authorities.
I'd imagine some Icelandic kids might have found it funny, but I'm not even sure about that either.
Paddy Kehoe