In Ash is Purest White, the imperious Qiao (played by Zhao Tao) and her edgy lover Bin (Liao Fan) are a Bonnie and Clyde couple, inextricably tied together despite fallings-out and prison spells.
Jia Zhangke's marvellous work is set in China in a period of transition beginning in 2001. While there are societal changes and the economy is adapting to new demands, it's the love affair at the heart of the movie that captivates. Jobs are threatened in a city known for its mining enterprise while capitalists are fulminated against in a broadcast by Qiao's father, a die-hard Communist, shouting, in vain it seems, into a radio microphone attached to a factory loudspeaker.
Qiao and Bin are in partnership running a nightclub and a mahjong club, the latter the kind of place where a hothead might pull a gun if offence or honour were in question. The hardened lovers keep an uneasy peace in the grotty rooms. (Mahjong, incidentally, is is a tile-based game that was developed in China during the Qing dynasty and has endured to the present day.)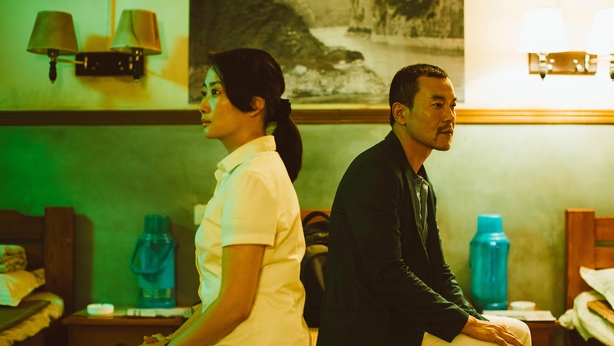 Thus it goes, with dancing to the disco hit YMCA and the new fad for ballroom dancing. A business crony, or gang brother, is having trouble with houses he has constructed; someone is spreading rumours that they are haunted. Bin promises him he will sort it but the builder is stabbed to death hours later.
Bin and Qiao are a decidedly non-tactile couple, they do not kiss once throughout this lengthy film. A taste for danger seems to unite them as much as any kind of feasible love affair. Later they are separated when they undergo jail sentences. Bin serves a year in prison; Qiao serves five years after she saves Bin's life. 
There are train journeys and car journeys, other lovers and flirtations and many miles come between the star-crossed lovers before they resume their affair. This time around they are embittered, troubled. They have seen too much; they are no longer starry-eyed, and the disco dancing - not to mind the ballroom dancing - is over. Qiao and Bin and their milieu are reminiscent of the shady characters who moved with sinister, louche grace through Rainer Werner Fassbinder's films back in the 1970s.
In Ash is Purest White, director Jia has switched on noir sidelights into a murky Chinese underworld while credibly building a certain sympathy for the two gang leaders of the piece. See it at the IFI, Dublin.
We need your consent to load this YouTube contentWe use YouTube to manage extra content that can set cookies on your device and collect data about your activity. Please review their details and accept them to load the content.Manage Preferences