Donbass is in effect a series of 13 fictional snapshots, with a screenplay from writer-director Sergei Loznitsa, based around real amateur footage from the beleaguered area in Eastern Ukraine.
Co-produced with French, Dutch and Romanian companies, the film was made with the support of the Creative Europe Programme (Media of the EU) and it was winner of the Cannes Un Certain Regard Best Director award in 2018.
Since 2014, the Donbass region in Eastern Ukraine has been a battleground between pro-Russian separatists, nominally Putin supporters, and nationalists inclined to the West. World War II, Stalin's reign of terror and famine are still alive in people's memories and lace the voiced insults and the meaningful silences alike. There is some black comedy - fake news inevitably rears its head - and the fictional scenarios in Donbass are based on real events which have actually been filmed in Ukraine. The snapshots, or set-pieces, get murkier and more sordid as the film progresses.
Two pro-Russian activists face an impromptu court martial which sentences the men to five days' detention for straying from their base and looting. The immediate punishment for one of them, a repeat offender, is to be made to walk between two lines of men who beat him with sticks. The man's comrade in thievery does not get the stick treatment, as it is his first offence.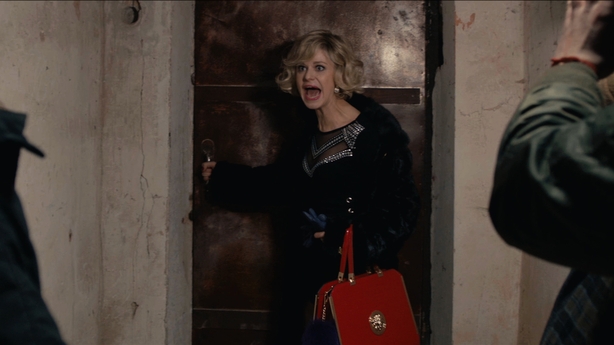 In the next scene, a Ukrainian nationalist, a so-called 'fascist' is tied to a lamp-post and jeered at by townspeople, men and women alike, the elderly and the young. The youths blow smoke in the man's bloodied face and administer punches and blows. Both these scenes are enacted with such gritty verisimilitude that you will almost certainly find yourself looking away. The angry attackers don't look like actors; they look like extras being actors. It is a chilling scene because you really do not know how vicious it is going to get.
We need your consent to load this YouTube contentWe use YouTube to manage extra content that can set cookies on your device and collect data about your activity. Please review their details and accept them to load the content.Manage Preferences
The following scene is equally dispiriting for entirely different reasons. It shows an utterly boorish, moronic pair getting married in an anarchic Registry Office ceremony, attended by their thuggish Russian separatist militia friends. The anthem of Novorossiya ('New Russia') is sung amidst wild embraces, while phone footage of the beating of the Ukrainian man we have just seen is enthusiastically shown by one of the guests.
Elsewhere, the Ukrainian national anthem is sung - at least the film brings us both sides in the ongoing conflict. A tough-looking female Ukrainian commandant asks all the males to get off a bus. She makes them stand in a line and asks them why they haven't enlisted to defend Ukraine. One of them says his mother is sick. She says we all have a sick mother; it's our motherland. "I'll divide you into two squads and send you to the front now," she adds summarily, as the men are asked to strip to the waist for inspection.
Director and writer Sergei Loznitsa was born in 1964 and grew up in Kiev, Ukraine. He has directed 18 documentaries and three feature films, all selected in competition at the Cannes Film Festival. Donbass is his fourth feature. Because the movie is a series of un-glossed snapshots, there is at times a bitty, fragmented air, a sense of un-linked mini-dramas. However, it is well worth seeing, if you can bear its visceral mini-dramas and unnerving set-pieces.
Paddy Kehoe