Paolo Sorrentino's latest film, Loro, plays fast and loose, painting the Berlusconi years in garish shades of outlandish mayhem and crazed decadence
High-handed interference in the Italian judiciary, alleged serpentine trails of corruption, and 'bunga bunga' sex parties have all become a kind of shorthand to sum up the Silvio Berlusconi era of Italian politics.
'Bunga bunga' made the news recently once again with the death of the Moroccan-born model, Imane Fadil, a key witness in the trial in which Berlusconi faces charges of bribing models, escorts and actresses to lie about the alleged parties.
In 2011, the then 74-year-old politician was alleged to have paid for sex with a 17-year-old belly dancer named Karima El Mahroug, along with 32 other women who were given cash and jewellery. Miss El Mahroug, it was also alleged, was under the legal age for prostitution. Berlusconi was acquitted on appeal in 2014.
New charges have since been brought; Berlusconi has always denied any wrongdoing.
Would Berlusconi, the Mediaset mogul and controlling shareholder and former owner of AC Milan, be offended by Paolo Sorrentino's lively and irreverent account? Probably not, if we are to believe the constant declaration by his character (Toni Servillo) that nothing offends him.The film is not a visceral exposé, it's a vaudevillian romp and Il Cavaliere himself might even be amused, though if he is amused by the closing scenes then there is something wrong.
In this breezy interpretation, he is not taken aback by the words of the aspiring 20-year old actress whom he is trying to seduce. She tells him that his breath smells like her grandfather's breath, "neither bad-smelling, nor sweet." Later, we hear him telling a crony that the girl's grandfather and he must use the same denture cleaner.
That is not the only reference to dentures, there is a Buñuel-esque gag involving false teeth on the occasion of Berlusconi's visit to the town of L'Aquila following the 2009 earthquake and surrounding area, with the loss of 309 lives. Wearing an aid worker anorak, Berlusconi walks through the tent village, unsmiling and awkward around bad news.
Unsmiling he may be in L'Aquila, but throughout much of this delightful farce, Berlusconi, who was Prime Minister in four governments, wears the permanent grin of the bloodied but unbowed. He plots a return to power and fulminates against the Leftist newspapers, pleading that he is no worse than other politicians. He tries to lure six senators to join Forza Italia, his party. That number, he is advised, will allow him to form the next government.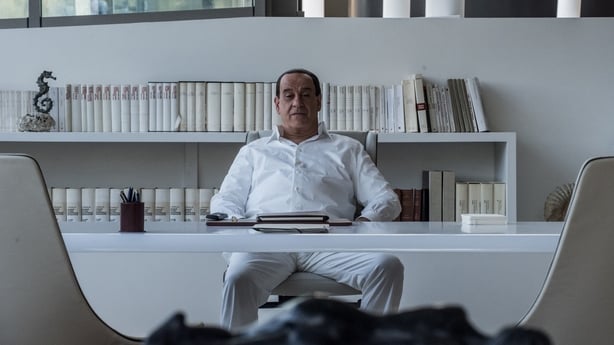 There is a priceless scene in which he picks up the phone to dial a random number from the White Pages. He adopts an intimate, confiding tone, pretending to be an estate agent trying to sell a spacious apartment to a hard-pressed looking woman. The lady is amazed that he knows her husband ran off with a 24-year-old beautician. How do you know so much about me, she queries. Because I know the script of life, he replies, that plastic smile lighting up with secret knowledge.
Berlusconi's relationship with his restless, disappointed wife Veronica Lario (Elena Sofia Ricci) is brilliantly enacted, everything else hovers and plays around this central motif. The movie is quite like Paolo Sorrentino's 2013 film, La Grande Bellezza (The Great Beauty) in visual tone.
So you get the lavishness and luxury, the scantily-clad dancing girls, the shallow decadence, the shifty, ruthless characters. As in La Grande Bellezza, there is that sense throughout the first half an hour of watching an expensive music video, fuelled by loudly percussive Euro disco.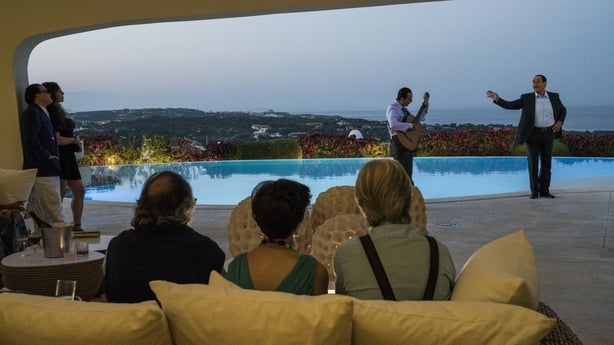 Berlusconi, the former cruise ship singer and salesman, is brilliantly played by Servillo, who bestrides the film in exactly the same way that he bestrode La Grande Bellezza. That film, which one suspects loses everything on the small screen, was, in essence, a great, frothy homage to Federico Fellini's masterpiece, La Dolce Vita.
As Loro, which runs to 151 minutes, enters its last act, the shadows fall, the dancing stops, the faces turn disconsolate. The party appears to be over although you never can tell with Berlusconi. The mood has darkened irrevocably and the closing scenes of devastation at L'Aquila seem to point up something much bigger than Berlusconi, something sinister at the heart of Italian statehood.
Paddy Kehoe