Director Neil Jordan has a stab at psychodrama in his new film, Greta, which is saved - and only just - by the presence of French veteran, Isabelle Huppert.
If you are the type of cinema fan who happens to like sudden loud noises on the soundtrack and unexpected appearances from malign presences - and that malign presence is Isabelle Huppert - then this one is for you. The screenplay was co-written by the director with Ray Wright on whose original idea the movie is based. Wright's credits include remakes of Pulse and The Crazies.
Greta (Huppert) is the piano teacher who leaves her handbag on the New York subway train. It's a seemingly treasured personal belonging - the stress is on 'seemingly' - which is found shortly afterwards by the young waitress Frances (Chloë Grace Moretz).
Frances is able to trace the owner and her address in New York easily from information inside the handbag. Being a decent girl, she ignores her flatmate Erica's advice (Maika Monroe) that they should both treat themselves to a luxurious health treatment using the cash. Rather than stealing the money, Frances finds Greta, who welcomes her into her house and makes her feel special.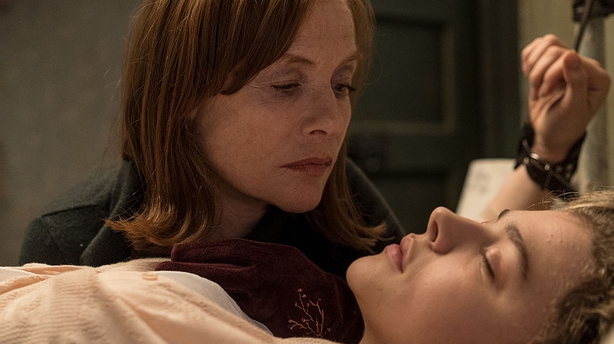 Frances is a kind of surrogate daughter for Greta, someone with whom she can be maternal with - it might seem early on in the film. There certainly appear to be certain conditions favouring the sudden flowering of warmth between the two women.
Frances lost her mother the previous year and Greta is widowed and perhaps a little unhinged with loneliness. Her late husband was a French pianist who taught her the Listz piece that becomes the recurring musical motif. Both female leads are bereaved and vulnerable, or so it goes in theory. Greta has a daughter, Nicole, from whom she appears to be estranged. The relationship is mysterious. Whatever the case, Greta begins to stalk Frances on her mobile phone and the inexperienced young girl is torn between sympathy and irritation at the older woman's cloying advances. 
The history of the use of the telephone in cinema history is no doubt a rich one. However, that is different from the use of mobile phones which are, in the main, very poor cast material, as, indeed, are computers. Screens within the greater screen of things? No sirree. The very nature of mobile phones - functional and ubiquitous as sliced pan - never adds anything much.
Indeed, their central use here in climactic scenes shot on the metro pulls the film right down - it had been going well -  and jolts it into silliness. The story then begins to spiral into terror and violence in scenes executed with a kind of knowing, nudge nudge wink wink melodrama. But the 'knowing' bit doesn't matter, it's still garish melodrama. Meanwhile, Stephen Rea, in a fine turn, plays the cop who senses something murky.
Ultimately, Greta is disappointing in light of what we have seen Neil Jordan produce in elegant, bold mid-period films, notably The End of the Affair (1999) The Good Thief (2002) and Breakfast on Pluto (2005), all of which are masterpieces of cinema.
Each of these films numbered among the most intelligent, absorbing films of their particular year, or even decade. There was a sense of a literary genius at work, and it always helps when the writer or director has the heft of great literature at his or her back, either as inspiration or direct model. Sadly, the same cannot be said of Greta, but it will hold your interest.
Paddy Kehoe