Don't Go grafts the Hollywood mystery thriller on to an Irish landscape in which Stephen Dorff (Blade, Public Enemies, True Detective) plays the American writer Ben Slater. Angsty and edgy, Ben is married to the more composed Hazel, played by the Golden Globe-nominated Australian actress Melissa George (In Treatment, Grey's Anatomy, 30 Days of Night).
Following the loss of their daughter Molly after a fall at their Dublin home, the bereaved couple move to a disused hotel in the West of Ireland where Hazel sets about an expensive refurbishment.
Meanwhile, Ben, who has not written anything since his first, successful book, The Reality Delusion, finds employment as a teacher in the local school. Oddly enough, despite being a rank outsider in terms of the Irish pedagogic system and the matter of school discipline, he soon becomes a dab hand at confiscating mobile phones.
On one occasion he even seizes dope from a pupil. Hazel and her mysterious, self-destructive pal Serena (Aoibhinn McGinnity) end up smoking the drug after Hazel discovers it in her husband's pocket. There is something about the way Melissa George smokes the spliff that is unconvincing, but that I suppose is a caveat. Watch out for Serena, though, she is trouble.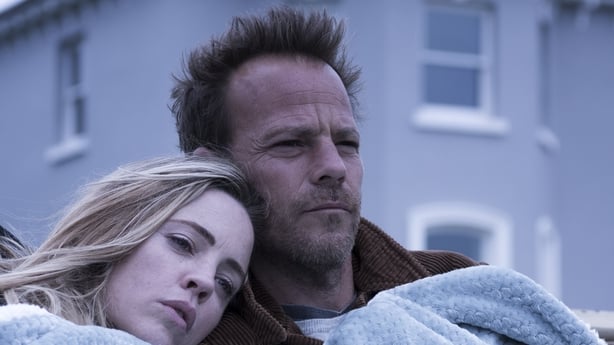 Meanwhile, Ben teaches Macbeth to his class and is constantly bumping into the local priest, the nosy, sarcastic Father Sean, played by Simon Delaney. Sean is the kind of curate who might say of a fine evening "go and see a shrink, you're a f****** lunatic" before he revs off in his car with a big dirty grin.
In fact, he does say that very thing which set your reviewer trying to think of the kind of priest who might talk in such terms. Perhaps a priest in a Magical Realism novel.
Ben, by the way, is accused of lunacy by the priest because he has begun to imagine that his dead daughter is trying to make contact. He has seen the mysterious phrase, Seas the Day, on his computer screen and he has also seen the same words written in the sand.
He has a recurring dream - with variations - about the memorable day spent at the little cove when he and Hazel once built a sandcastle for Molly. So he goes to the beach with a bottle of whiskey and drinks himself to sleep.
Stephen Dorff has that rangy, combative air that Ethan Hawke had in another, ahem, mystery thriller Sinister and he swigs whiskey from the bottle, as Hawke did on that occasion. Always judge the quality of a film by the manner in which actors have been directed, or perhaps not directed at all, to imbibe drink and drugs. It should convince you.
The film's producer, Nathalie Lichtenthaeler believes that "the emotional aspect of the little girl and her father will play strongly to a female audience while the fantasy and mystery element will attract males as well." The producer boasts of "a highly successful roll-out in the US last year " and she is "delighted to present Don't Go to Irish audiences."
Your reviewer was less than delighted when Ben's recurring beach dream, in its final version, went into a sudden narrative reverse thrust and modified radically, or wiped, if you like, the action up to then. A puzzling finish, as dream over-hangs reality. Must have been something in the whiskey.
Paddy Kehoe