In Happy as Lazzaro, whose original Italian title is Lazzaro Felice, director Alice Rohrwacher has aimed to make a meaningful but surreal parable for our times rather than an attractive period piece, which is what it is for the first half. The film begins with real promise but fizzles in its second act into a foggy portentousness.
Lazzaro (Adriano Tardiolo) is the obliging young peasant lad who seems happy but distracted - duine le Dia, you might say in Irish - a mixture of the mystical and the self-absorbed. Nevertheless, he applies himself unstintingly to farm work in the tobacco plantations owned by the exploitative Marquis de Luna and her slime-ball agent.
There is an odd disjunction or oddity - the peasants seem to be marooned in the 1940s or 1950s, barely scraping a living in a remote Italian village beneath the mountains. Ancient pieties and pagan beliefs linger and also the worship of martyred saints. The priest, though kindly, has an air of stern authority which, one senses, could be marshalled in an instant to strike fear.
So, it could be almost 100 years ago, it could be a period piece. Then the Marquis de Luna (Nicoletta Braschi) arrives with her spoilt, unhinged son, Tancredi (played as a youth by Luca Chikovani). He springs a flip-top mobile phone out of his pocket while his tee-shirt, blonde-dyed hair and flamboyant necklace place him much later than the time period associated with the peasant garb.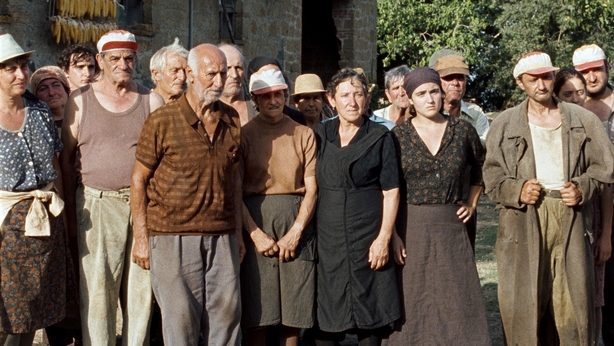 Utterly sick of his controlling mother, Tancredi decides to hide out in the mountains, pretending to be kidnapped and demanding a billion Lira from her, through a faked ransom note. Somewhat manipulatively, he also compromises poor Lazzaro by making him his accomplice in the stunt. The ruse does not fool the Marquis, who knows his fantasies well.
So far, so engaging, and you feel this will stay localised and likely end in a tragedy that appears to be purring around the corner. However, this is not where director Alice Rohrwacher wants to take the film at all. She has plans for us, whether we like it or not. She wants to surprise us with more meaningful fare. The plight of migrants features in an acerbic hiring fair scene, whereby the ones who get picked to work in the olive fields are those who cut their margins and offer to work for a Euro an hour.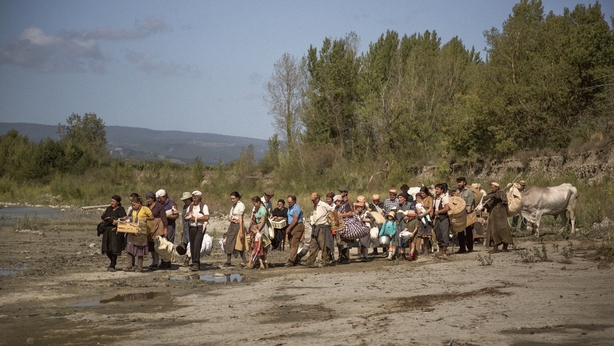 The film thereafter wanders into magical realism in a manner mildly reminiscent of Theodoros Angelopoulos' Ulysses's Gaze, although they are not directly comparable films. Lazzaro travels in time into an unnamed, contemporary Italian city where he is exposed to skulduggery, thuggery and moral cowardice. Allied to the magical thinking strand, the movie attempts to ground itself in relevance through eccentric set pieces that might be trying to point up the evils of property, servitude and homelessness.
That's a tall order and a big ask for a movie audience. Nevertheless, one has to admire the director for aiming to make a meaningful, if riskily ponderous parable, apposite for our time. Moreover, newcomer Adriano Tardiolo is never less than mesmerising as the mercurial Lazzaro.
Rohrwacher could have opted for a period slice of life from the Italian countryside, replete with beauty and terror like Bernardo Bertolucci's 1900. Accordingly, I would have preferred that, even if it was an imitation or pastiche job.
Paddy Kehoe