Winner of the Special Jury Prize for Documentary at the Sundance Film Festival, Minding the Gap begins as though it were about to be some blissful film about skateboarding, but it cuts to a darker chase.
Opening proceedings with a brilliant skateboarding sequence, director Bing Liu - who is, or at least was a skateboarder himself - introduces us to his friends  in the small city of Rockfield, in the Illinois Rust Belt. You can sense the invitation of those empty ramps that lead from one floor to the other in the multi-tiered car park. You can see how a young fellow might want to race up and down the graduated slope for hours, spending time with your mates on a summer's day.
Zack Mulligan laughs a lot, the young black man Keire Johnson seems equally chilled. There is not a hint of the troubled backgrounds they will soon talk about with intelligence and, occasionally, through tears of frustration and grief.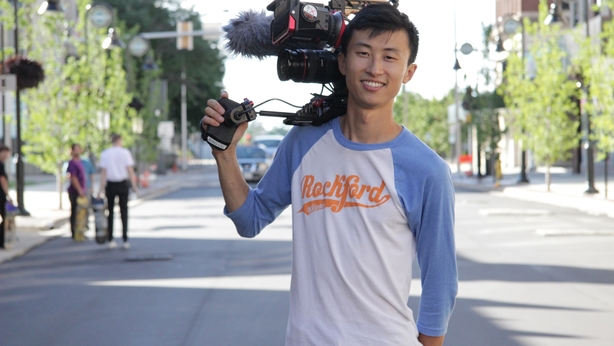 Such is Liu's skill that what appears at first to be a jaunty film about young male daring takes on its darker tinges with a real sense of pace and control. Zack and Keire's fathers, shadowy presences in the film, were carpenters when times were better in Rockfield. It's teetering into rust belt cliché to suggest it, but one cannot help thinking what Zack and Keire might have made of themselves, if they had gotten a better throw of the dice? Further education doesn't seem to have been an option from the off.
So skateboarding is the great release, the passion that distracts from tensions at home. Could be a violent father, a violent stepfather. Could be the mother with a new boyfriend who is a making a kid uneasy. 
Bing's mother Mengyve looks uneasy, troubled at the start of her interview. Indeed she is faced from the beginning with hard questions from her son the film-maker concerning his late step-father who administered savage beatings. The young lad's step-brother Kent recalls Bing's 'unnerving screams' that were 'almost scarring.'
Keire speaks of his deceased father, John D Moore (1959-2011). "One of the last things I said to my dad was `I hate you.'"
All this makes Minding the Gap seem bleak, but the film unwittingly flips itself back into position all the time, like a skateboarder might, to land on the sunny side of the street.
In the case of Zack, it has to do with his ability to mostly laugh off his troubles. "It's hard to get who Zack actually is," says Keire in a quiet moment. "There are so many versions of him that he will, like, tell you about. It's fascinating because I feel, like 'I don't know the real you.'"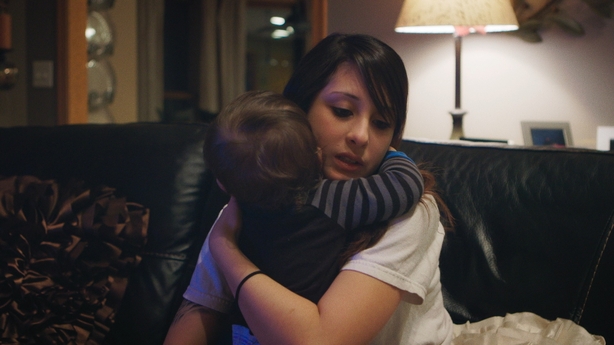 Whatever about his mercurial, charismatic personality, young Zack has responsibilities now. Barely out of his teens, he is father to young Elliott - his girlfriend Nina, mother of the baby, is not yet 21. Zack is so crazy about his son that he says he would work 14 hour days to look after him. But there aren't enough hours to go around, Rockfield has been beset by serious unemployment. People leave for other cities - Denver, Colorado becomes the city of choice for both Zack and Keire.
The camera tracks the novice parents, there are rows about time spent minding the kid.  Zack works as a roofer, Nina works in a fast food joint. Meanwhile, Keire finds a job as a dishwasher and graduates to the fryer. He is genuinely happy about that move upwards, initially anyway, thus that sunny side of the street the film ineffably finds. There is resilience of a kind.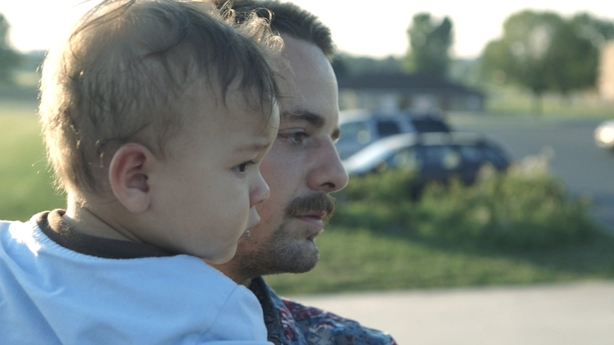 Meanwhile the camera picks up telling billboard slogans around the city. 'Dad is the one who picks you up when you fall' goes one.' Another advertises the benefits of boys and girls clubs: 'It's 3pm. Where are your kids?  Yet another bears the message: 'You do not have to be perfect to be a perfect parent', along with a website address, adoptus.org.
A message on one of the skateboards says: 'this device cures heartache.' The skateboarding obsession is explained well by one of the guys, it's about having power over something in a pretty powerless situation. "You have to control the most small minute details to make you feel normal in a world that's not normal."  
These are fascinating young men, who, one hopes, will always have the knack of picking themselves up. They drink and smoke weed, they wear their hearts on their sleeves, everything is talked out. Almost anything is fair game when it comes to helping their buddy make the film. They give honest replies to awkward questions.
Tender and perceptive, and a balanced picture of extraordinary lives - and one of Barack Obama's ten favourite films of the year -  Minding the Gap is unmissable for anyone interested in this neglected corner of America, a million miles from Trump Tower.
See it at the IFI in Dublin.
We need your consent to load this YouTube contentWe use YouTube to manage extra content that can set cookies on your device and collect data about your activity. Please review their details and accept them to load the content.Manage Preferences