Set in a sordid, hidden Strasbourg, at some variance with the venerable image, Sauvage features a mesmerising performance from Félix Maritaud as the 22-year old rent boy Léo who is looking for love and security of a kind behind that tough, insouciant exterior.
We need your consent to load this YouTube contentWe use YouTube to manage extra content that can set cookies on your device and collect data about your activity. Please review their details and accept them to load the content.Manage Preferences
That rather pat usage, 'security of a kind' is the best this reviewer can come up with, because Léo, despite his marginalized, criminal status is like many another 22-year-old youth. So, security, yes, but not just yet - 'let me exhaust the possibilities of freedom before that,' he might say. A young man, he is still in part a boy, seemingly with no family members to lean on in Strasbourg, the city he works in, or should that be 'barely survives in.'
He is still wanting fun and thrills, but he wants comfort and support too from the tempestuous Ahd (Eric Bernard). Ahd is the older guy who also works as a prostitute on the secluded road through woodland favoured by a variety of young men who offer their bodies for cash to other men. Ahd looks out for Leo in his impetuous way but he is bad news in the end. Léo seems better off away from him, even if he must be alone in the process.
In the meantime, his life is in chaos. He has no fixed abode, no regular access to washing facilities, and he is ill with something that involves a worsening dry cough. There are visits to three doctors in the course of Léo's story, the first of which occurs early on, involving not so much a doctor, as a doctor fantasy indulged in by Léo's client.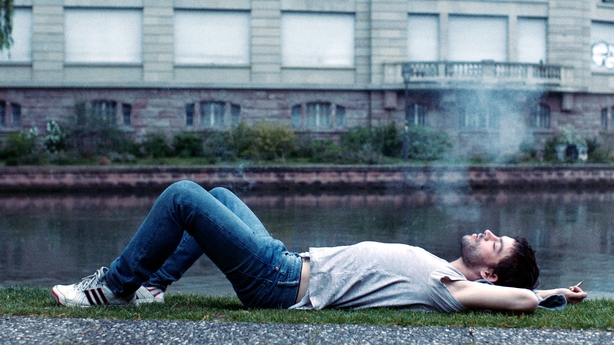 That visit has a surreal, Buñuel-like air about it, setting a kind of indeterminate, off-balance tone, as though the film is attempting to transcend mere naturalism. Equally surreal is the sight of Léo on his knees on the footpath, washing his face and drinking from rain water. There is a strange, almost biblical beauty to these actions which are repeated once, as though they were elements in a mysterious parable underpinning the film.
Whatever the case, that desire for thrills, or if not, something self-destructive – maybe it's both - has pulled Leo into a downward spiral of drug-taking, involving crack, cocaine, heroin, dope, basically whatever's going. Meanwhile, his spirit is tested beyond the point of endurance by unsavoury encounters with the clients who hire his services, vicious, sinister side-characters in the main.
The story veers expertly from gay disco scenes to tough encounters in the bedroom, to moving glimpses of Léo in a vulnerable state, revelatory glances into the state of his torn soul and corroded sexuality.
Sauvage has some of the gritty pathos of Jean-Pierre and Luc Dardenne's classic, L'Enfant, which won the Palme d'Or in 2005 and the protagonist could be the story continued perhaps of the young boy in 400 Coups. In fact, the brilliant closing scene echoes somewhat the ending of François Truffaut's enduring gem.
In sum, writer-director Camille Vidal-Naquet's debut augurs very well indeed for the future of French cinema. This reviewer will be keenly interested in whatever she comes up with next and she has already created a near masterpiece in Sauvage. 
Paddy Kehoe