Director Mimi Leder's (Pay It Forward) long-overdue return to the big screen is an ode to Ruth Bader Ginsburg's glass-shattering influence and trailblazing career, but when it comes to giving a perspicacious account of the woman behind the legend, it fails to do her justice.

The emotionally stirring screenplay, written by Justice Ginsburg's nephew Daniel Stiepleman, predominantly focuses on bullet points from the early years of the pre-Supreme Court RBG, as she navigates her way - with few female classmates - through Harvard Law School in the early 1950s. The latter stages of the film centre on Ginsburg's work as a lawyer in the early 1970s and a landmark sex-discrimination case.
When it comes to the crunch, the movie's strengths are diminished by cookie-cutter courtroom drama and legal parlance, when instead it should have committed more time to the cultural icon's accomplishments, including her appointment to the highest court in the US in 1993. An acclaimed documentary about Ginsburg, RBG, is among this year's Oscar nominees.

British actress Felicity Jones is mostly believable in the role but she has a few wobbles pulling off a Brooklyn accent (Natalie Portman had been in line to play the role).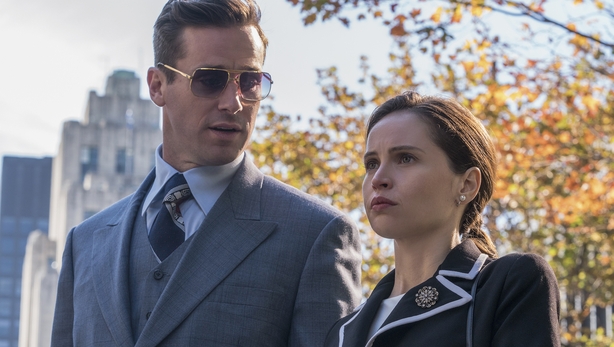 Armie Hammer helps to anchor proceedings as the ever-supportive spouse, while Justin Theroux, as an American Civil Liberties Union (ACLU) lawyer, and Christian Mulkey, as the defendant in the case, make for a decent supporting cast. Kathy Bates makes a welcome cameo as an early civil liberties fighter, lawyer and judge.

Does the movie feel like a made-for-TV project? Yes. Does it feel like Oscar-bait? Yes. But is it ever a waste of time raising the issue of gender equality?
On the Basis of Sex has buckets of appeal but when it comes to underselling the great RBG's legacy, the movie is guilty beyond a reasonable doubt.
We need your consent to load this YouTube contentWe use YouTube to manage extra content that can set cookies on your device and collect data about your activity. Please review their details and accept them to load the content.Manage Preferences