Now here's an absolute treat.
One of the many things that Hollywood has tended to excel in is the buddy movie. From Laurel & Hardy to Thunderbolt and Lightfoot, Thelma and Louise to Midnight Run, and many more besides, it's a genre that's served cinema-goers very well.
Strictly speaking, Can You Ever Forgive Me? isn't a buddy movie, but the two leads and their characters work so well together, that's basically what you've got here.
Melissa McCarthy stars as Lee Israel, a semi-sociopathic writer, mainly of hagiographic Hollywood biographies, who is down on her luck in early Nineties Manhattan. Her scandal-free style is out of favour as warts 'n' all books are the new currency.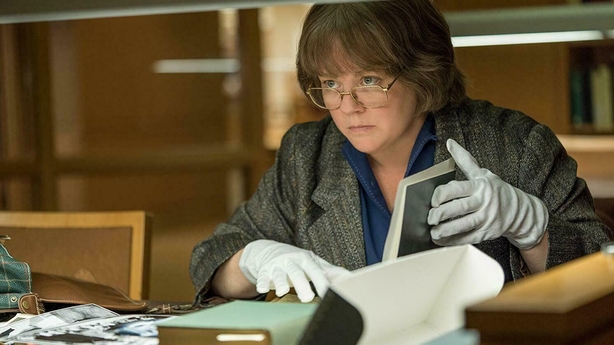 Struggling with financial troubles, writer's block and alcoholism, and with her agent unable to help dig her out of a commercial hole, Israel is forced to sell her possessions to cover her expenses - including a personal letter she received from Katharine Hepburn.
Then she discovers a letter from singer/actress Fanny Brice folded in a book. She sells it on, but is told it would've fetched more if it had a more interesting or personal touch. Which gets her thinking . . . and she begins to forge and sell letters by deceased writers, playwrights, and actors, filling them with intimate or witty detail to command a higher price.
Richard E Grant then pops up as Jack Hock, a gregarious-but-fading hustler who becomes Israel's drinking buddy and accomplice. After an initial burst of success, their illegal activities eventually begin to catch up with them, but – as ever – it's all about the journey.
McCarthy and Grant are superb in their roles and are an absolute treat together. For both, this film is a huge plus as it shows – after a few phoned-in roles – that McCarthy is superb with strong material, while Grant puts in a captivating performance that has me wondering why his mantelpiece isn't littered with awards instead of him being known chiefly as 'yer man from Withnail and I'.
Here's our interview with Melissa McCarthy and Richard E Grant:
We need your consent to load this rte-player contentWe use rte-player to manage extra content that can set cookies on your device and collect data about your activity. Please review their details and accept them to load the content.Manage Preferences