Not quite Supercalifragilisticexpialidocious, but a very good show.
A full 54 years after the celebrated original, magical nanny Mary Poppins makes her return with Emily Blunt in the lead role, supported by a starry cast of acting veterans, all of whom seem to be having a lot of fun.
Colin Firth is a seemingly gentlemanly and trustworthy banker named Wilkens, Julie Walters does her clucking house maid thing again, David Warner is good value as Admiral Boom, and Meryl Streep literally has a turn as Mary's eccentric, East European Aunt Topsy.
We need your consent to load this YouTube contentWe use YouTube to manage extra content that can set cookies on your device and collect data about your activity. Please review their details and accept them to load the content.Manage Preferences
Mary Poppins Returns is a decidedly old fashioned affair - even the animated sequences are hand drawn - and the songs, by Marc Shaiman and Scott Whitman, are similarly cut from the same melodic cloth as the first movie, although not quite as memorable.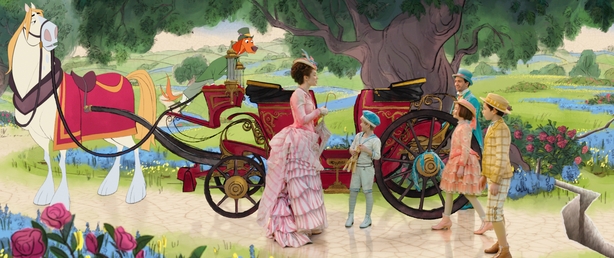 But it's Blunt's portrayal of Mary that is - quite rightly - the most interesting thing here. Unlike Julie Andrews' rather prim nanny, Blunt has made the home help with the bottomless carpetbag and the talking umbrella, slightly more haughty and maybe even vain. She's added a pinch of vinegar to that spoonful of sugar.
It works. Blunt's Mary has the cut glass accent but you also get the impression that this nanny could kick ass as much as clear up a messy room in a whirlwind of flying tea cups and discarded newspapers.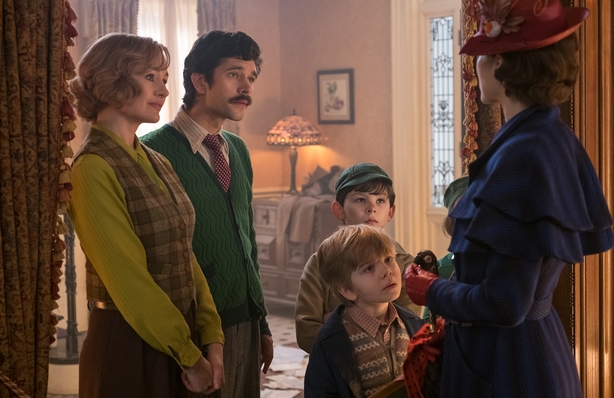 Set twenty years after the events of the first movie, Mary floats back into Depression-era London to find that the grown-up brother and sister Jane (Emily Mortimer) and Michael Banks (Ben Wishaw), now a widower father of three, are in financial difficulties and in danger of losing their picturesque house on Cherry Tree Lane.
Like falling into the pick and mix in the cinema foyer, pastel colours dominate in a luminously gorgeous, almost fairytale London and the highlight of the many song and dance sequences is a bicycle ballet at night led by chirpy lamplighter Jack (Lin-Manuel Miranda).
In a role that Julie Andrews herself turned down, Angela Lansbury wanders in from the set of Bedknobs and Broomsticks to play an elderly lady selling balloons in the local park, and, of course, a certain someone from the original movie has a cameo role.
Not quite Supercalifragilisticexpialidocious, but a very good show. Twee stars out of five.  
Alan Corr @CorrAlan2