"We are misfits, solitary, misshapen,'' says the disillusioned young Sinan Karasu (Aydın Doğu Demirkol)  who is about to graduate from college in the absorbing Turkish feature, The Wild Pear Tree whose title is Ahlat Ağacı in the original Turkish. The film is directed by Nuri Bilge Ceylan who directed the Palme d'Or-winning Winter Sleep  (Kış Uykusu)
That opinion in quotes above amounts to bleak words from a young who at this late juncture in the film is talking to - and indeed talking for, as he would see it - his father Idris (Murat Cemcir). He includes too his grandfather Recep (Tamer Levent) and the tree of the title is the young man's simile for the stubborn ways of all three.
Grandfather Recep is the gruff farmer and widower, farming in the gentle, brown uplands close to Canakkale, a modest-sized city and site of the battle of Troy. In the middle of the three generations is his son Idris who teaches during the week and is gambling on horses and losing. At the weekend, he travels to the family farm he grew up in, where he maintains an uneasy relationship with his father, the patriarch of the family. Idris has Quixotic plans to dig a well on the farm, while his hard-pressed wife Asuman (Bennu Yildrimar) has returned to baby-sitting to earn money.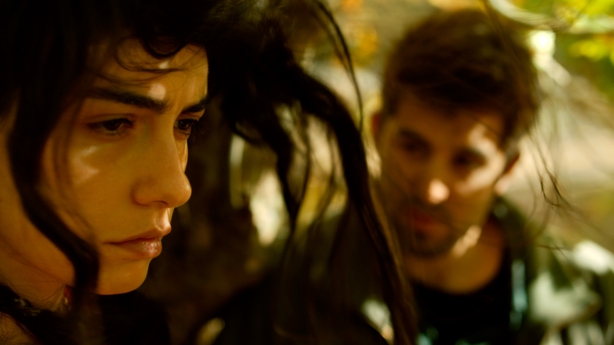 Meanwhile, the family car is for sale and Idris - an enigmatic, mercurial character played with remarkable sensitivity by Cemcir - is continually in debt. His serene disposition is at odds with the family's financial hardship, which tends to infuriate his confrontational son Sinan. Mother sits at home by candlelight as the power has been cut while Sinan's sister is obliged to study in a friend's house where there is light.
Meanwhile, the imam in the countryside dresses casually and lends his ageing motorcycle to a local man, joking ruefully about getting it back in the right condition. 
Life is frugal in The Wild Pear Tree, in other words, reminiscent of the endemic poverty in Victor Erice's immortal Spanish  film, El Espiritu de la Colmena  (The Spirit of the Beehive) which was set in a similarly spartan rural setting.
As mentioned, the Turkish director won the Palme d'Or in 2016 for his film Winter Sleep which was set in a quiet rural area in the Cappadocia region of Turkey. Both films reveal an almost Tolstoyan vision of humanity under duress. That breadth of reflection is what elevates the films to true greatness, that ability to maintain a remarkable maturity of tone throughout. The film under review has three writers, including the director himself Nuri Bilge Ceylan and his wife Ebru Ceylan who had a significant role in the screenplays for both films.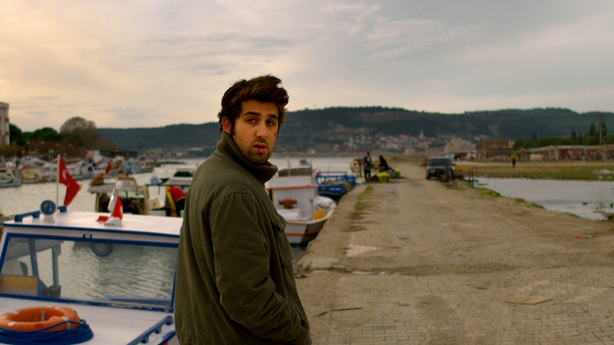 In the course of its quiet trajectory, The Wild Pear Tree holds a mirror up to life and its endless struggle, its brief joys and inevitable sadness. Anyone who has ever attempted to write creatively will be moved by Sinan's dreams of becoming an author of note. Clearly he hopes that this will be achieved beyond his native Canakkale, whose provincialism infuriates him - he is too familiar with the place and its perceived limitations, like many a youth who has left a small town.
Yet we can see that he is ultimately bound forever to his native heath in his imaginative stirrings. He is tied to the place, not just by literary aspirations and the fact that his first, self-published book is set in the locality. He will remain close to Canakkale, even spiritually, perhaps from a distance, in what will be his life ahead. A sequel would indeed be a worthy project to conjure with.
In its absorbing to and fro of mood and dialogue, The Wild Pear Tree brilliantly conjures the moments when people at odds with each other can suddenly connect. At such rare moments, Nuri Bilge Ceylan's characters see through the failings and sense the often intractable worth of the people they share their lives with. This cannot be an easy thing to achieve in cinema or to make convincing in a screen-play but Nuri Bilge Ceylan and his wife Ebru have managed both with astonishing skill. 
The Wild Pear Tree opens at the IFI on Friday November 30. Tickets on sale now.
We need your consent to load this YouTube contentWe use YouTube to manage extra content that can set cookies on your device and collect data about your activity. Please review their details and accept them to load the content.Manage Preferences