The overwhelming feeling after sitting through almost two hours of the latest Robin Hood iteration to hit the big screen is: Did we really need this movie?
Similarly to Guy Richie's frenetic, frequently confusing re-imagining of the King Arthur legend, Robin Hood manages to be both action-packed and mind-numbingly boring. Quite the feat.
Peaky Blinders director Otto Bathurst makes his feature debut with Welsh actor Taron Egerton, probably best known for his role in Kingsman: The Secret Service, taking on the leading role of Robin of Loxley.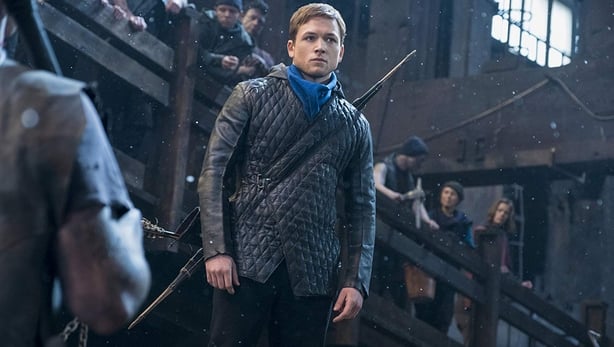 He's a charming young Nottingham nobleman with a heart of gold, as evidenced from the opening sequence when he wins over a masked Marian (Eve Hewson), who he has caught trying to steal one of his horses. Robin doesn't hold a grudge and a romance quickly develops between the pair, recounted in a mortifying montage where the young lovers kiss and twirl around his bedroom.
The spell is broken when Robin is drafted to fight in the Crusades in Arabia by the Sheriff of Nottingham (Ben Mendelsohn) and he is forced to go to battle in a war his heart is not in. After years away, Robin is unceremoniously ejected from the war effort due to stepping out of line. He returns home to discover his land has been seized by the despotic sheriff, and, even more heartbreakingly, Marian has moved on with another man, Will Scarlet (Jamie Dornan).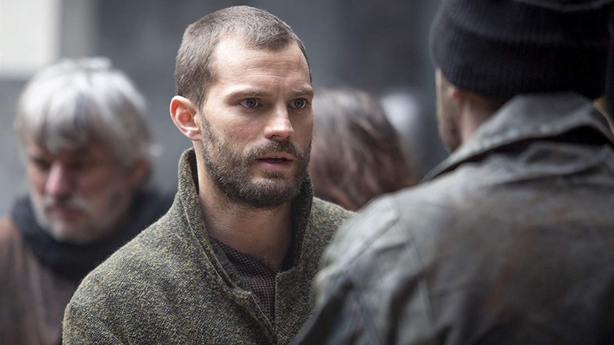 So shocked is our Robin by this development that he actually throws up and runs off before Marian can catch sight of him. While nursing a broken heart, Robin is taken under the wing of John (Jamie Foxx), a warrior he met at the Crusades, who decides they must take up arms against the tyrannical Sheriff of Nottingham for once and for all. 
Thus we are treated to one of the more enjoyable sequences in the film, as John gives Robin a masterclass in archery and bestows upon him a bow that gives the arrows the force of gun shots. Handy that. Along with some improvised, powerlifting-style exercises, Robin transforms before our eyes into a fighting machine who can fire off arrows seemingly faster than the speed of light, even while falling backwards through the air. It's impressive stuff.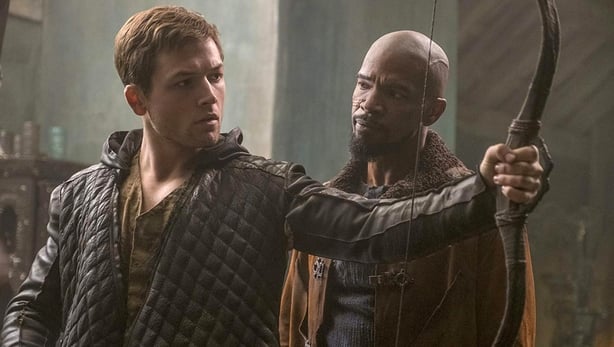 Having completed his origins journey from a preening, spoiled nobleman to an avenging outlaw, Robin sets out to reclaim the riches the Sheriff has built up through crippling taxation. With the townspeople at breaking point, a masked Robin (now known as 'The Hood') quickly becomes a hero. As his notoriety grows, the sheriff and his superior, a Cardinal played with menace by F. Murray Abraham, become ever more determined to stop him in his tracks.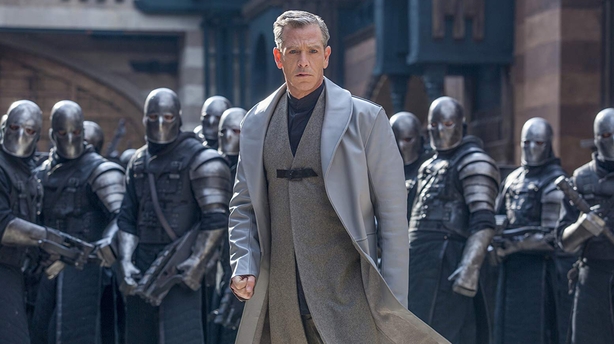 The overstuffed plot, blandly imagined and CGI-heavy landscapes, weak dialogue and lame attempts to be relevant combine to make this Robin Hood origins story a laborious watch. Even the seriously impressive cast can't do much to drum up excitement, with the always excellent Ben Mendelsohn and Jamie Foxx struggling under the burden of a deficient script. Eve Hewson, as the only female character of note, does her best and has undeniable star quality, but she doesn't have nearly enough to do. It's a pity she wasn't given a run out in one of the many, many action sequences.
As with King Arthur: Legend of the Sword, which was intended to the the first of six films, Robin Hood tees itself up nicely for a sequel in the closing moments. Judging by how quickly the audience members darted from their seats as the closing credits rolled, there won't likely be a huge appetite for this.
 
We need your consent to load this YouTube contentWe use YouTube to manage extra content that can set cookies on your device and collect data about your activity. Please review their details and accept them to load the content.Manage Preferences