Good Favour is a narratively experimental film which follows the strange events that occur following the arrival into a Central European religious community of a young man bearing the signs of trauma.
An unkempt young man in a dirty t-shirt, with circles of acute tiredness or suffering beneath his eyes, stumbles out of a wood into a clearing in Central Europe (yes, that's how the publicity locates it). He feels his way with trepidation through this settlement of wooden or clapboard houses where the men, women and children live together in a Spartan self-sufficient religious community, ruled by the Gospel.
The women are clothed in Puritan-style dress, there is an odd buttoned-down feel to each character as though something was being withheld, or dark emotions were being restrained by the adults. They try to show strength but weakness pokes through in furrowed brows and clenched lips. They have been having a hard time, some of their beasts have been dying and their remains are dumped in a large plastic refuse container.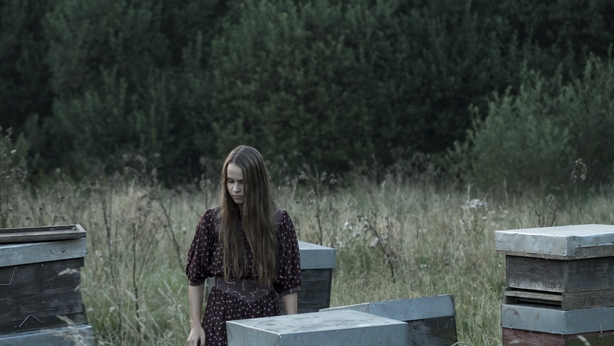 After some initial mistrust, the new arrival, named Tom (Vincent Romeo) is welcomed into the fold. He has a fever and a wracking cough and he spits blood. He is cared for by the community with a purposeful tenderness and given jobs to do when he recovers somewhat. He chops wood, or helps with the bees and the honey-making, he hangs out with the young folk in and around a pond in the woods where mock baptisms are performed.
But are they in fact 'mock baptisms'? One of the immersions turns very dark indeed and the compelling allure of Good Favour is bound up with how things can turn on a sixpence. The mood can darken all of a sudden and you do not know what is happening and have no idea how the scene will transpire. 
We need your consent to load this YouTube contentWe use YouTube to manage extra content that can set cookies on your device and collect data about your activity. Please review their details and accept them to load the content.Manage Preferences
Tom becomes like a spiritual visitant, is cautiously seen as a saviour of some kind and there are distinct Christ-like similarities. In the remarkable climax of the film, a deer and a young boy interchange in a daring surrealism that utterly works.
There are shades in Irish director Rebecca Daly's film of Pier Paolo Pasolini's 1968 tour de force, Teorema, wherein a mysterious figure known as 'The Visitor' played by Terence Stamp, inveigles his way into a bourgeois Italian family and effects all manner of domestic disruption.
Teorema had far more sexual presence than Good Favour, physical attraction is only hinted at in faintly subterranean - or should that be sub-aqueous threads -  in Daly's absorbing film. You will certainly leave the cinema musing and reflecting about what you have just seen. 
Paddy Kehoe
Read Rebecca Daly's piece on the making of Good Favour here