Loosely based on a short story by ETA Hoffman, with extracts from Tchaikovsky's music in the soundtrack in  and a ballet sequence to boot, The Nutcracker and the Four Realms is a colourful and fast-moving fantasy.
It's Christmas Eve and we meet Clara (Mackenzie Foy) our demure but steely young heroine, in the company of her two siblings. Father decorates the tree and he does his best to animate his brood. It's not so easy, mother is not present, she died and passed on to another realm, leaving this bustling pre-Christmas Victorian London scene behind her. However, she has left a jewelled oval-shaped case with an accompanying note to the effect that Clara will find all she needs within.That is a cryptic message with a neat moral which Clara misses but eventually understands.
Unfortunately, the key to the precious bequest is missing. She brings it to her grandfather, one Drosselmeyer, (Morgan Freeman) a kindly man whose quarters are a strange amalgam of toy-shop and aviary. Drosselmeyer adopted Clara's mother and remembers her with great fondness, but, whatever about that, he cannot open the thing. He shows Clara a toy carousel which has decided to move backwards, and Clara being handy with the old mechanics ,fixes it for him in a jiffy.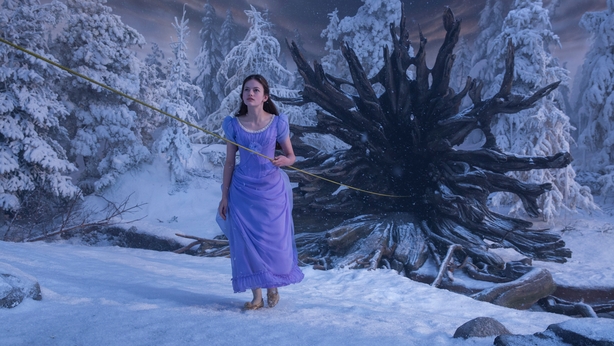 Wandering at something of a loose end around a Christmas party at vast mansion to which the family have been invited, Clara finds herself lured by the presence of a rope which brings her up various sets of stairs out of sheer curiosity.
A door opens, she enters a snowy landscape and spies what she knows is the key to her precious possession hanging from a branch. Just when she is about to pounce on it, a mischievous mouse grabs it and runs away with it.  The key becomes momentarily forgotten as she ventures onward through the Land of Snowflakes, Land of Flowers and the Land of Sweets.
In the process of familiarising herself with the unmistakably Russian-tinged domain where she has found herself i.e. onion domes and Tsarist-era uniforms, Clara discovers that she is in fact a princess. Her mother is the absent Queen of this parallel, but, yes Russian-looking universe whose denizens have fallen into internecine strife as Mother Ginger (Helen Mirren) and the Sugar Plum Fairy (Keira Knightley) finally confront each other in the climactic battle of the piece. Tin soldiers come marvellously alive and Clara's flair for the old mechanical engineering proves useful in the various challenges she faces with great courage.
Will our heroine save the parallel day in this parallel universe and be the ultimate peacemaker?
We need your consent to load this YouTube contentWe use YouTube to manage extra content that can set cookies on your device and collect data about your activity. Please review their details and accept them to load the content.Manage Preferences