Juliet, Naked tries hard but the movie flounders between the streams of lame comedy and the springs of affection.
Chris O'Dowd plays Duncan, a lecturer in Television Studies at a college in an English coastal town. He is an obsessive fan of the music of Tucker Crowe (Ethan Hawke), an obscure, cultish American musician who cut some kind of dash some 20 years previously.
The idol's reclusive persona is shrouded in mystery nowadays, but Duncan has all the concert bootlegs on cassette tapes, the posters and memorabilia, including rare photos of Tucker, all arrayed in a special shrine-like room.
Meanwhile, O'Dowd's lecturer lives in what is clearly a precarious marriage with Annie (Rose Byrne). The couple have decided not to have children while Annie stoically indulges her man's Tucker Crowe obsession. One day the original, acoustic demos for the famed Tucker Crowe album Juliet arrive in the post for Duncan. These demos are to be released as Juliet, Naked.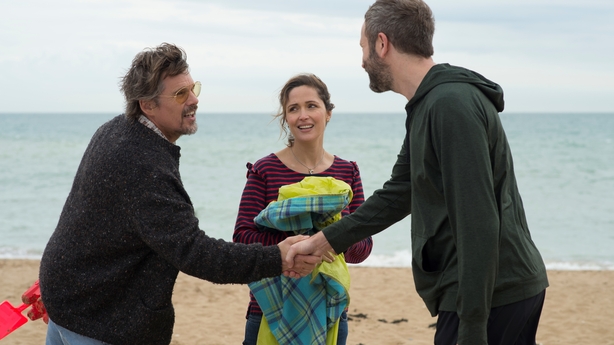 Annie opens the envelope, arguing that she must open the post for Duncan as he never seems to get around to it. She listens to the raw early tracks on her laptop and comments on a fan forum that they are no great shakes. Her 'off-message' comment, as it were, draws a bemused response from Tucker Crowe himself who responds in kind. The musician does not share the idolatry about the album, be it the demos or the finished product, and, it transpires, he does not like or understand the obsessive adulation.
A flirtatious on-line relationship begins to develop between Annie and Tucker, while Duncan begins to hang out with a new female teacher at his college. So the two parties, Duncan and Annie, are pulled away from each other by other loves. The fun, such as it is, begins when Tucker decides to come to England to hook up with Annie.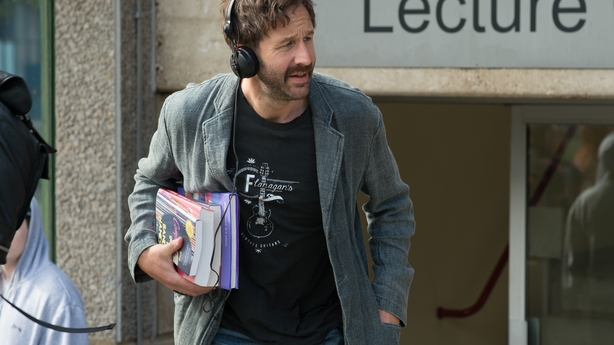 It's kind of Polly Simmonds territory really and Juliet, Naked, the 2009 novel by Nick Hornby on which the film is based seems slight. Hornby's 1995 novel, High Fidelity was a strong story also dealing with rock obsessiveness, and it too went on to be a successful movie, starring John Cusack.
The more recent work revisits, perhaps unwisely, the same kind of adulation/rock fetish territory which only goes so far as a sustainable theme in fiction. Not having read Juliet, Naked, however, I cannot comment on its bearing upon the artefact of the screenplay, which, it seems, is just too goofy, scatter-gun and slippy for real smartness. The movie appears to prefer to please all of the people some of the time by being a cute, accessible comedy that will not task. But then again, if you think that's a good thing, Juliet, Naked is for you.
We need your consent to load this YouTube contentWe use YouTube to manage extra content that can set cookies on your device and collect data about your activity. Please review their details and accept them to load the content.Manage Preferences