Mike Leigh takes on a historical epic that doesn't labour the modern day relevance but is overlong with a dull script
A young British bugler staggers shell-shocked on the fields of Waterloo; a man, old before his time, stoops over a thrashing loom in a north of England factory; in Parliament, the Prime Minister calls for Wellington to be honoured for his victory over Napoleon with a reward of £750,000 . . .
We need your consent to load this YouTube contentWe use YouTube to manage extra content that can set cookies on your device and collect data about your activity. Please review their details and accept them to load the content.Manage Preferences
From the carnage of the battlefield, the drudgery of dark satanic mills, to the pomp of parliament, Mike Leigh sets the scene for a showdown between the peasantry and the uncaring ruling classes in the run-up to the infamous massacre at a pro-democracy rally on Manchester's St. Peter's Fields in 1819.
It's Leigh's most epic movie and he does a superb job of contrasting the scope and scale of the times with the day-to-day struggle of ordinary people. Great events in Europe and America are inter-cut with scenes of potato peeling on doorsteps in Manchester while the agitation for universal suffrage is pitched against braying magistrates and the villainous pomposity of MPs, terrified by the events of the French Revolution, cautioning against mob rule.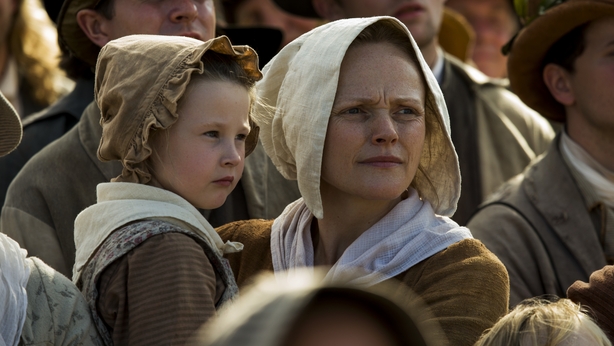 However, the veteran director takes far too long to get to the guts and, indeed, gore of his movie. There is a lot of clanking exposition and an exhausting running time bogged down in far too much speechifying in dark taverns or on the windswept moors above Manchester.
These fine words are long-winded and full of sophistry down south but the further north we travel, the oratory becomes more passionate and plainly articulated in scenes that recall Ken Loach's The Wind That Shakes the Barley.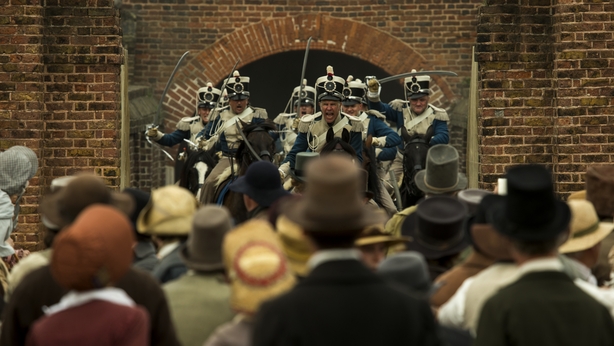 Rory Kinnear is front and centre as reformer Henry Hunt, and there is more than a touch of Daniel O'Connell about him in how he marshals mass audiences of up to 100,000 people and becomes a thorn in the side of the establishment. Kinnear's performance as liberal land owner Hunt is a well-observed combination of vanity and passion and he is ably assisted on screen by Maxine Peake as the mother of the family who serve as the prism through which we witness the action.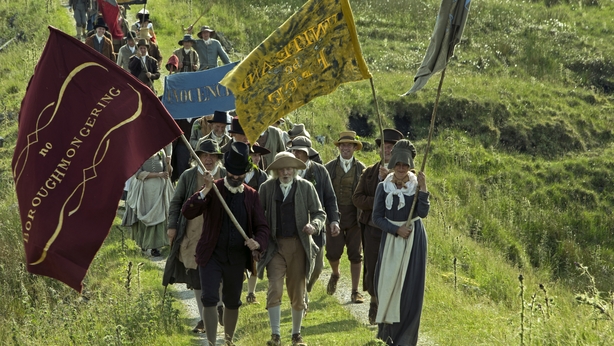 It is beautifully shot and the costume department have a real eye for detail. All human life is here - from paupers to Princes, Dickensian factory owners to government spies - but despite the sheer drama of these historical events and their relevance to today's fractured world, Peterloo fails to ignite real passion and anger.
Alan Corr @corralan