Goosebumps 2 is a spooktacular sequel to the 2015 hit, carrying over its charisma and delicious scares to new audiences, while bringing fans of the perennially popular '90s monster book series on a nostalgia ride. Unfortunately, it never manages to create the magic we keep hoping will materialise.
Based on R.L. Stine's 400-million-selling series of children's books, the story centres on two likeable leads - Sonny (Jeremy Ray Taylor) and Sam (Caleel Harris) - who accidentally awaken a creepy and evil ventriloquist dummy called Slappy (voiced by Jack Black).
There is nothing new or innovative about the formulaic tale. It's not nearly as memorable as its source material, but there are a lot of technical tricks in store.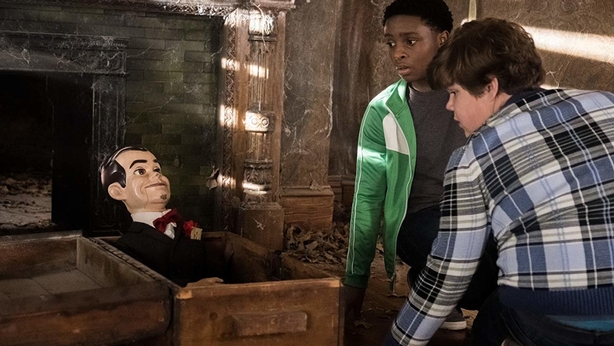 When it comes to inventive production design, viewers are in for a treat. The cinematography is superb, while the atmospheric set pieces are gothic and spellbinding.
As every Halloween costume and decoration in the town of Wardenclyffe comes to life, from jack-o'-lanterns to a giant spider made entirely of purple balloons, and a hilarious scene involving a bowl of gummy bears, your little ones will get sucked into a CGI carnival.
Wendi McLendon-Covey, Ken Jeong and Chris Parnell provide just enough laughs to keep adults entertained. Black revives his role as the author of the hit horror novels, but his brief cameo, which is no longer than 10 minutes long, feels like an afterthought. Watch out for his small ode to Steven King's IT.
Goosebumps 2 is far from being a Halloween classic, but it's the perfect tween brew. Adults may need a brew of a different kind once the movie is over.