"Superhero fatigue" is a phrase frequently bandied around these days, for good reason, but Venom just about manages to stick its hideous head above the fray because it is, well, just plain weird.
The Marvel comic book character is one of Spider-Man's most famous antagonists, but this movie presents a simple origins story distinct from his web-slinging foe.
Tom Hardy is on peak Tom Hardy form as Eddie Brock, a San Francisco-based investigative journalist who purports to stand up for the little guy, but who turns out to have some extremely questionable sleuthing ethics.
Watch our interview with Venom stars Tom Hardy and Riz Ahmed below.
We need your consent to load this rte-player contentWe use rte-player to manage extra content that can set cookies on your device and collect data about your activity. Please review their details and accept them to load the content.Manage Preferences
He is sent by his editor to deliver a puff piece about Silicon Valley tycoon Carlton Drake (Riz Ahmed), the megalomaniac founder of the Life Foundation, who is surreptitiously carrying out some seriously dodge experiments involving human "hosts" and gelatinous, writhing extraterrestrial alien symbiotes.
Not cool, man.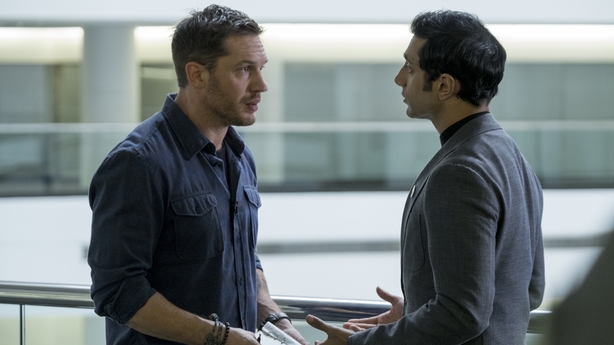 Of course, the ever-scrupulous Eddie can't contain himself from asking Dr Drake the hard questions and soon finds himself out of a job and kicked to the curb by his fiancée Anne, played by the toweringly talented Michelle Williams in an utterly thankless role.
A few plot contrivances later, Eddie comes into contact with one of Carlton's amorphous symbiotes and it's here the real fun kicks off.
Tom Hardy seems like he's genuinely about to burst out of his own skin as Venom begins taking over his body, and the madcap scenes with Eddie trying desperately to reason with the new voice in his head are laugh-out-loud funny.
A sequence in a fancy restaurant when Eddie gatecrashes a date between Anne and her new beau Dan (Reid Scott) is a particular highlight and has got to be the new gold standard for embarrassing ex-boyfriend antics.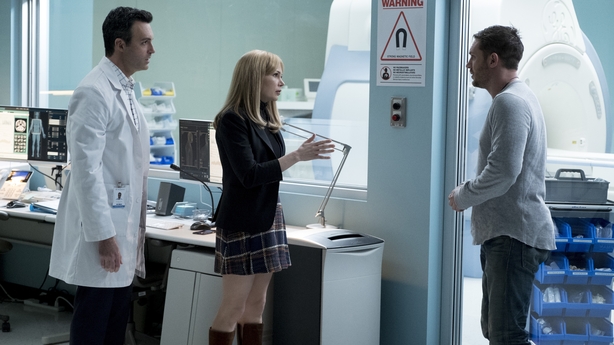 It takes too long for Venom to fully rear his generously-fanged, obscenely-tongued head and for the movie to fully get into flight, and just when it starts flowing, the obligatory action set-pieces start kicking off as Venom is endlessly pursued by Carlton Drake and his interchangeable goons. 
Cinematographer Matthew Libatique has gone for a moody, Dark Knight-esque palette for the film, which is generally quite pleasing but renders the action scenes shockingly incoherent and generally yawn-worthy.
There's much to criticise here, from Michelle Williams' flimsily drawn character, to the wildly uneven tone, strangely unthrilling, sanitised action sequences (gotta get that PG13 rating!) and cringeworthy rawk music soundtrack.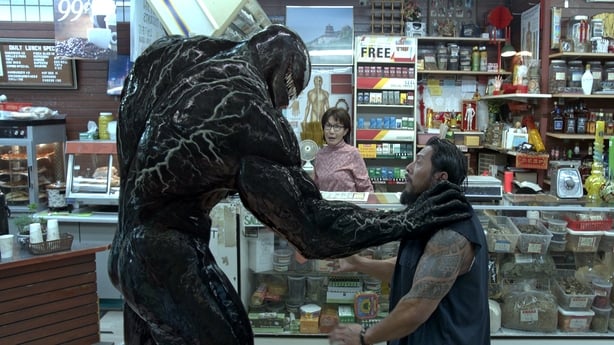 However, despite it's many flaws, the overarching impression of Venom is positive. It's undeniably a lot of fun and is at its best when it leans in to its offbeat sense of humour.
Like he does with Eddie Brock, Venom gets under your skin and slowly begins winning you around. It's hard to resist being charmed by this character and Hardy's freewheeling performance as the symbiote's initially unwilling host.
And it tees up the possible next instalment very nicely, so make sure to stay for the post-credits scenes.
Sarah McIntyre
We need your consent to load this YouTube contentWe use YouTube to manage extra content that can set cookies on your device and collect data about your activity. Please review their details and accept them to load the content.Manage Preferences